Happy Monday, friends! Hope you all are staying safe during this crazy time! I know some friends who are off school for six weeks already… that's like, half of Summer. How will we keep these kiddos busy?! Hopefully this list will help you come up with enough "material" to keep some of your sanity!
Just remember, in times like these, I very much believe that extra screen time won't kill our children. I know this is a hot topic and that some of you may not agree with me but I know that my kids will most likely be watching a new movie every day (a reward for good behavior used while I cook dinner) AND THAT'S OK! I have to remind myself this on the daily, so I just thought some of you may need to hear it as well. Mike will tell you that TV raised him after school on most days and the dude went to West point and has an Engineering degree.
While I do feel like we should keep them busy by doing hands-on activities, I also know that our kids will survive the screens!
---
Most of the things below can be free however, I did link some Amazon things in case you're wanting something new and shiny in hopes for some extra minutes alone! I get it.
If you have been asking for my Kiwi Co Box code: REDHEAD or click on this link for the discount! These would be SUCH a great idea right now, 100% my kids favorite days are Kiwi Co delivery days! Too bad we just did ours.
---
1.Barbies in the sink. Berkley will spend over an hour bathing barbies in my kitchen sink!
2. Mud kitchen outside: Bust out some pots, pans, spoons, and old Tupperware and let the kiddos dig! We are doing this today, actually.
3. Go on a nature walks and collect things along the way. Dump into a bag and bring them home. Let the kiddos tape/ glue on to paper for a little "collection"
4. Nature walk scavenger hunts. My kids LOVE doing this. I've linked a free printable!
5. Forts! We've built a ton of forts lately and Amazon even has indoor building sets if you're needing a little help.
6. Paint a box house out of cardboard boxes, my kids love this.
7. Dance parties! The YouTube channel GONOODLE is a great resource for this
8. Just Dance game when the kids want a screen but you want them moving! Can be played on Xbox or Switch or PlayStation.
9. Many online sites such as artforkidshub.com, Kahn Academy, Scholastic are allowing free play for a few weeks!
10. Fingerprinting in the tub, always a hit
11. Fingerpainting on a bathroom mirror, an even bigger hit!
12. Shaving cream the counter top, messy but fun. Could use baking sheets to keep it a little more contained. Ask you child to draw letters, their name, play pictionary, the options are endless!
13. Paint rocks! Simple, but my five year old daughter loves this activity so much! She always wants to put it back in the yard after she's done.
14. Tea party with a set or just use cups and things that you already have at home!
15. Picnic at the park or just outside in your yard if you don't want to leave. My kids dig a picnic.
16. Make play snow: 3 cups baking soda + ½ cup white hair conditioner
17. Build towers with solo cups, shoot down with nerf guns
18. Tie Dye kit from Amazon, make shirts!
19. Write pen pal notes to friends or draw pictures for friends – with fun pens! Berkley has already started doing this today and we plan to deliver them to cousins 🙂
10. Kinetic sand… why this simple thing keeps my kids busy for hours I'll never understand.
11. Start a hanging art display for kids to hang their art that they create over the break! Make an art display in their room for them to enjoy!
12. Teach how to organize or sort things, such as a closet if you are taking the time to organize (like I am!).
13. Restore barbie hair "Barbie salon". Use hair conditioner or soak in fabric softener for awesome results!
14. Rearrange your kids bedroom for a fun change that they can take ownership of! My kids LOVE when we do this!
15. Water balloons. Outside or in the shower, doesn't matter, they'll love it.
16. Shave balloons covered in shaving cream with a plastic knife, try not to pop them! Did anyone else do this at any of their 1990's birthday parties?! When it pops the shaving cream goes everywhere- you've been warned.
17. Popsicles outside- easy.
18. Glow sticks in the bathtub. Turn the lights off and throw in some glow sticks… you just gained 45 minutes to bath time.
19. Bake a special treat!
20. Make your own playdoh. Tons of recipes online!
21. Play board games – Here are some of our favorites!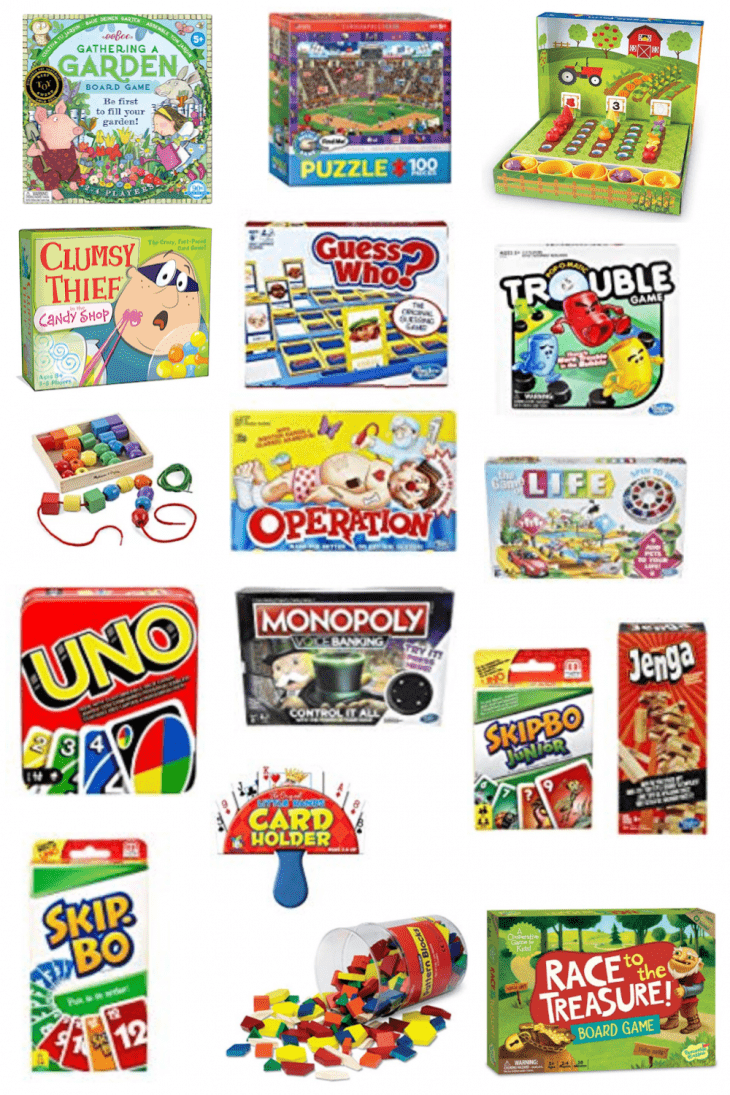 Gathering A Garden Game | Puzzle | Pop Up Game | Clumsy Thief | Guess Who? | Trouble | Wood Beads | Operation | Life | UNO | Monopoly | Skip-Bo Jr. | Jenga | Skip-Bo | Card Holder | Wood Shapes | Race to the Treasure|
---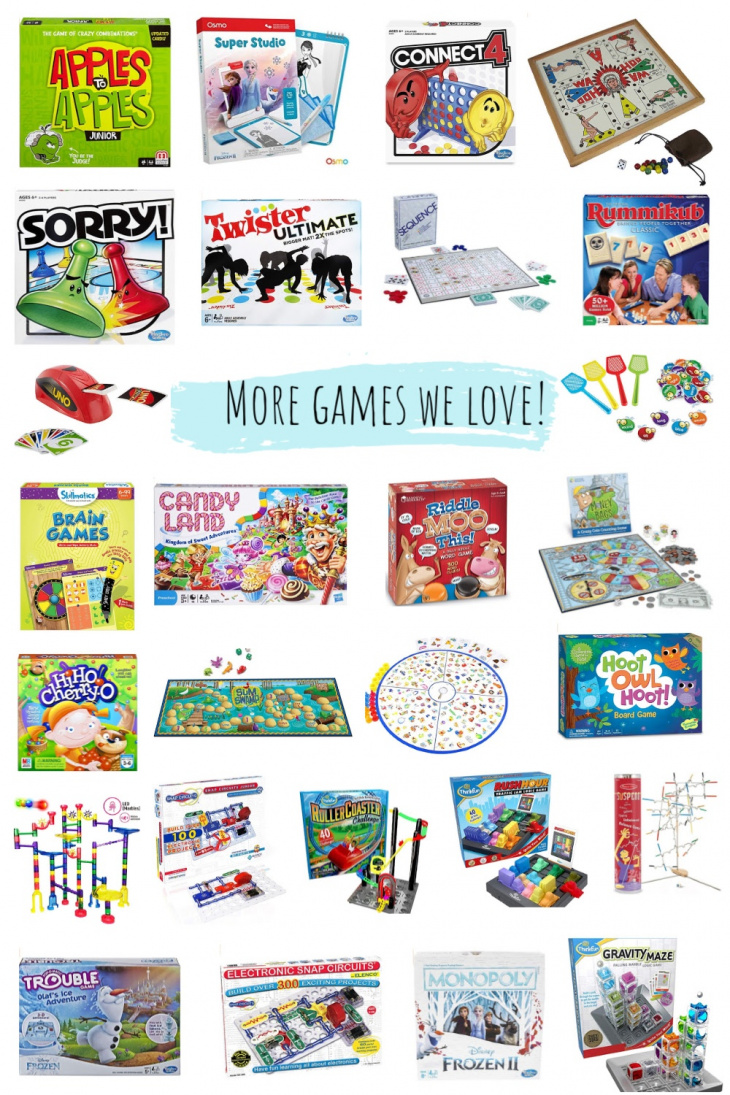 Apples to Apples | Osmo Super Studio Frozen 2 | Connect 4 | Wa Hoo | Sorry! | Twister Ultimate | Sequence Game | Rummikub | UNO Attack | Sight Word Swat | Brain Games | Candy Land | Riddle MOO This! | Money Bags Coin Value Game | Hi Ho Cherry-O | Sum Swamp Math Game | Vatos Game | Hoot Owl Hoot! | Marble Run Game | Snap Circuits Jr. | Roller Coaster Challenge | Rush Hour | Suspend Family Game | Trouble-Olaf's Ice Adventure | Snap Circuits | Monopoly Frozen 2 |Gravity Maze|Guess Who | Trouble | Race to the Treasure |
---
22. Work through a fun workbook I linked the Summer workbook that we completed this Summer. My kids loved them because they are a little bit of everything and have all grades!
23. Giant notepads. Hang this up on the wall or lay on the ground and let them draw and write on this massive pad. Practice letters, words, spelling tests.
24. Cut up magazines. Find words, colors, items, make vision boards, birthday wishlist… so many things to do with this!
25. Cut playdoh. Kids love cutting, why not cut playdoh, ball it up, and do it all over again.
26. Fun Scissors for scrapbooking! Scissors with crazy cut lines.
27. Make instruments with all the toilet paper rolls we will all have LOL!
28. Create a "craft station" and organize art supplies.
29. Make jewelry
30. Invest in some walkie Talkies, my kids have been playing with ours non-stop. It's not a quiet activity but they entertain themselves!
31. Slack line and swing that we have in our yard- just need two trees!
32. Go to the park (we go to one in a neighborhood that no ones lives in yet)
33. Make homemade pizza!
34. Cosmic Kids Yoga YouTube channel is so fun, my kiddos love this channel!
35. Minno Channel: This is a Christian channel that my kids love! We have it on our Apple TV
36. Pretend play "Airport, library, grocery shop" teach the kids how to play and then they should be better at playing alone 🙂
37. Rides bikes and scooters outside
38. Outside chalk, a great staple
39. Buy a hammock! Again, need those trees.
40. Plan fun dress up days for a week! Crazy hair day, PJ day, Princess/superhero day, ballerina day
41. Nerf gun battles with gear to the max
42. Make t-shirts with Fabric Markers
43. Craft Kits from Amazon- Linked up some of our favs below!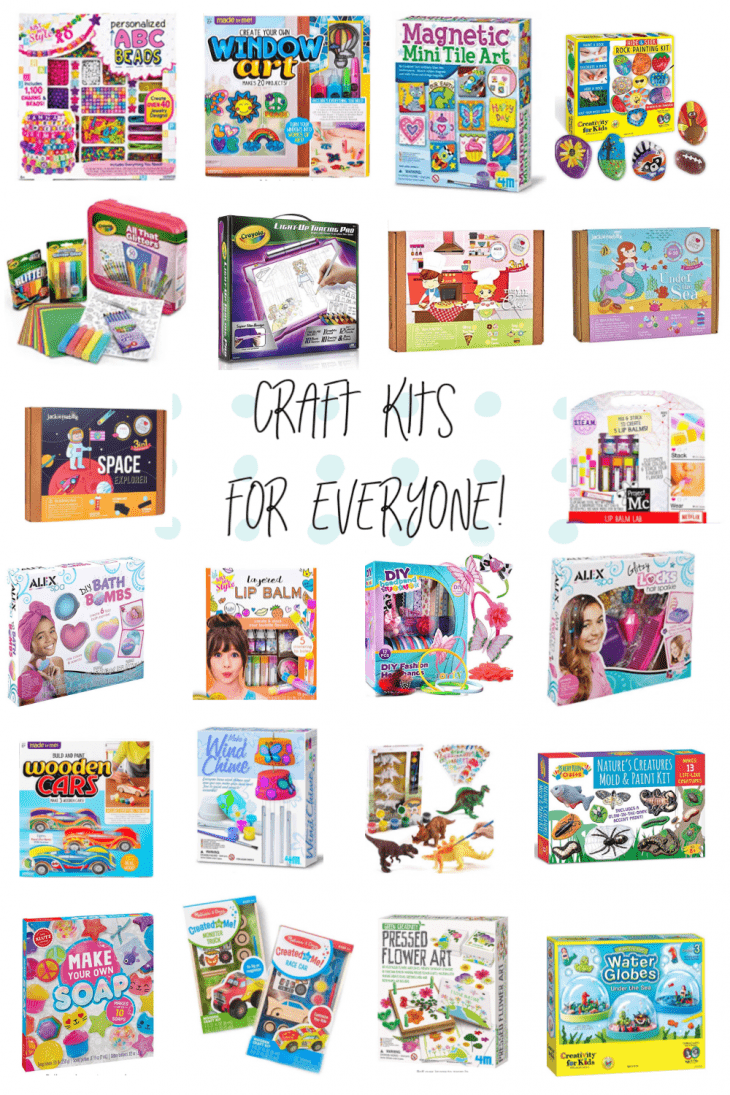 Beading Kit | Window Art |Magnetic Tile Kit | Rock Painting | Glitter Coloring | Light Up Tracing Pad | Food Craft Kit | Under the Sea Craft Kit | Space Themed Craft Kit | DIY Lip Balm Lab | DIY Bath Bombs | Layered Lip Balm Kit | DIY Headbands | Glitter Locks Hair Sparkle |Wooden Car Kit|DIY Windchime|DIY Dinosaur Craft | Creepy Crawlers Craft Set | DIY Soap Kit |Wooden Craft Sets | Pressed Flowers Craft Kit | Build Your Own Snow Globe|
44. Make an obstacle course with things in your house or with these things from Amazon!
45. Von's favorite puzzles from Amazon. Complete the puzzle then it's a spot and find puzzle game. They are AWESOME.
46. Plant seeds or make a garden if you don't kill plants as often as I do.
47. Use these not-so-messy paint dabbers so create art.
48. Watch Frozen 2 on Disney+ 873 times.
49. Practice a new language!
50. Indoor bowling with this Amazon set
---
Hope this helped spark some creative ideas for you! Stay safe guys!
All items are linked here in my Amazon Storefront. There are MANY lists there, workbooks, educational things that don't have a screen… lots of ideas!