My own show on HGTV…can we all freak out together now?
If you've been here during the last couple of years then you most likely know about this tv show. I feel like I've been pregnant for three years and haven't had my baby yet! This has been SUCH a long process but has been so much fun, a "once in a lifetime" opportunity that I will always and forever be grateful for.
For those who have watched me through it all, have seen the behind the scene tid bits as well as watched me do stories from the back seat of my car (I had to be really careful not to show any of the homes I was renovating) I appreciate you so so much! You've been patient, you've been cheerleaders, you've honestly been like best friends to me during this crazy process.
I CAN'T WAIT TILL WE GET TO WATCH TOGETHER!
Premiering March 25th at 7pm CST!!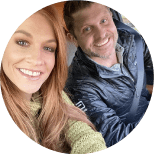 Meet the Todryck's
We are #TeamTodryk! Jenn, Mike, Von, Berkley and Vivienne… while pretty home décor photos may have brought you here, we hope you stay for the every day fun! It's loud, the words fart and poop are used way too much, but we love God, love doing life together and love sharing all of it with YOU! Welcome to the family!