One of my biggest challenges during the day is keeping my oldest toddler busy.
Can I get an Amen…?
My three-year-old is the opposite of an independent player. He is constantly whining for my attention and wanting me to play with him, which is great, but as all of you stay at home moms know, we would never get anything done if we played with our kids every minute of the day.
And we would probably need to be checked into a mental health facility because I can only do an ABC puzzle 14 times in a day without losing all of my sanities. This is the kind of stuff that makes moms start talking to themselves. 
I am just starting to understand how my son's brain works. He is a constant thinker, 24/7 that kid wants to be learning something and when he is engaged in a learning activity, his behavior issues seem to cease. He doesn't whine when playing with his spelling flash cards, he doesn't throw things or get angry when he is quietly reading at his play table… when his mind is engaged he is much happier, in result, making me happier and mentally stable.
As a desperate attempt to keep my son busy so I can unload the freaking dishwasher in peace, I have been on a six month quest to find the best educational toys that keep him busy, even if it is only for 15-20 minute time periods (because lets face it, for a three-year-old that's a freakishly long time to play with one toy).
If my son sounds like your child or if you are just wanting your child to get a head start on spelling, reading, and mathematics, then I highly recommend the games that I have linked in this post. These games have been a big hit in our house!
1.Learning Journey Spelling
I like how this game also has the animal picture included on the pieces and not just the letters. I noticed that my son first started looking for the correct animal part and then started hunting for the actual letters after we played a few times.
2.The Learning Journey First Words Matching Game
This game is great because eventually they memorize the sight words and can do it without your assistance. I can sit Von down with this game and tell him that I will be back in ten minutes to check his work. Just enough time to switch a load of laundry or PEE ALONE, for heaven's sake.
3.The Learning Journey Match It: Counting
I use this game with my three-year-old as well as my two-year-old. I don't worry about matching both parts of the puzzle with my youngest, I just focus on her getting used to using her little pointer finger to count all of the objects correctly.
4.The Learning Journey Match It: Mathematics
Get ya fingers ready for this game! Or pipe cleaners! My three-year-old loves to count pipe cleaners when we practice 2+2!
5.Sight Words Bingo Game
Currently, this is my son's favorite game. It is a hands-on game, meaning that it's most effective if we, the parents, are sitting down with them calling out words for them to find on their Bingo cards. We play this every day!
6.Sight Words Bingo Game: Level 2
A more advanced version of Bingo for kids who are reading larger words.
7.Crazy A's Card Game
Both of my kids love anything flash-card related, so this one is always a hit even if we aren't actually playing the game correctly, he likes to shout out the words.
*Tip: Do something ridiculous when they get the word right. They love it and holds their interest a tad longer! I make a loud sound or do a burpee. A workout and educational! See what I just did there?…
8.Bob Books Beginning Readers
I love all of the BOB books series. We have all of them. There are even more than I have listed here on Amazon!
9.Bob Books Sight Words- Kindergarten
10.Melissa and Doug Spell Wooden Toy
This activity is really good for the young ones who are still learning letters, to the older ones who are learning to read. I love buying toys that can grow with my kids for years to come. Makes me feel like I got my money's worth!
11.Melissa and Doug Mess-Free Glitter Sheets
While this toy is not educational, I thought it deserved a shout out because it is awesome! We took it on the plane on our last vacation and it was very helpful, to say the least! This allows the kids to play with "glitter" without actually having to use the dust of the devil. I only wish glitter upon my worst enemies, never my own home.
---
I used to think that the only toys my toddlers would be interested in were toys that moved and made sounds but recently I have realized that it's actually quite the opposite. While none of these games are flashy in any way, I can see that my child really likes the challenge, which is something that our Mr. Potato head toy is lacking. I usually have Von sit on a barstool at the island in my kitchen so I am close by and ready to answer questions as well as praise him when he does something right without my help. That way I can unload the dishwasher, fold laundry, or whatever else needs to be done while he plays. We both win! I mean, am I really winning when I am doing the laundry…? You know what I'm saying.
Good luck with your baby beasts. Mommin' ain't easy.
-Until the next time this Redhead rambles.
---
For more posts like this, please follow Life as a Rambling Redhead on Facebook! (It's a good time.)
For Farmhouse home inspiration and more personal photos follow @theramblingredhead on Instagram!
Or Subscribe to my blog so you never miss a post! (scroll down to subscribe!)
---
This post contains Amazon affiliate links that if you were to use, I wouldn't be angry. In fact, I'd be stoked since they help support this blog! Thanks so much, friends!
---
Pin For Later!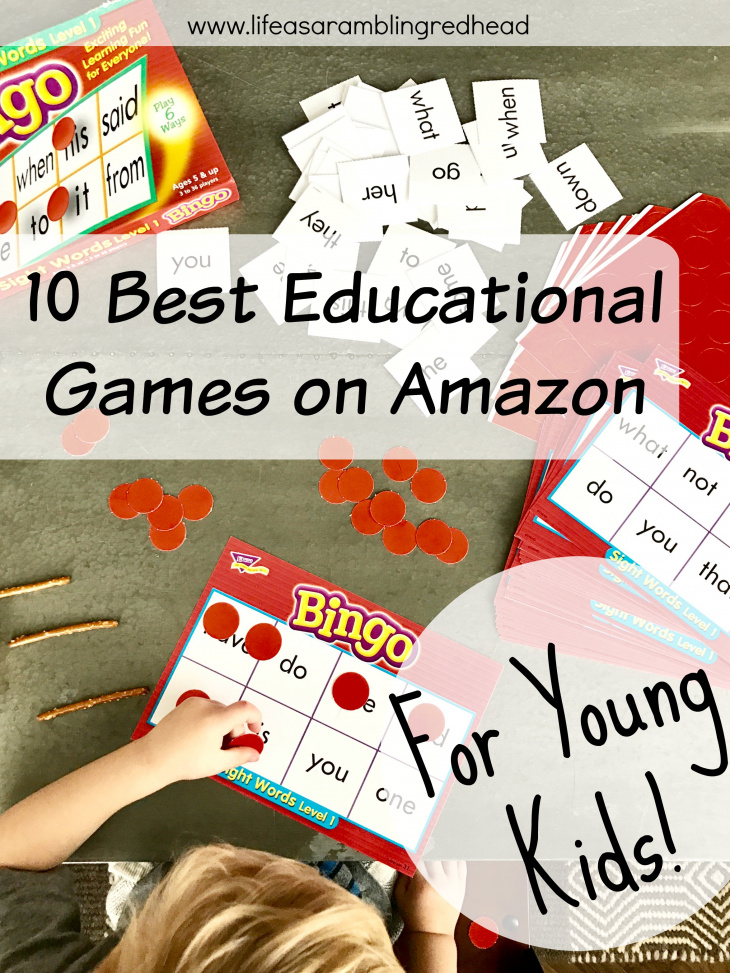 ---
READ: 8 Creative Activities to do with The Toddler You Don't Know What To Do With.