ALL SOURCES ARE LINKED AT THE BOTTOM OF THIS POST 🙂
---
Can you tell that I am having a hard time naming my house style?
Rustic, farmhouse, with a touch of industrial… either way, it's a renovated 1980's traditional home that we weren't looking to buy but instantly fell in love with. I saw so much potential and find it oh so cozy. If Mike wants to make me move again (this would be move number four in our six-year marriage), I fully intend on supergluing my entire body to the floor.
Except my mouth.
Because I will need my mouth to avidly protest and shout mean things at my husband for taking me from a home that I put so much blood, sweat, and tears in to.
No, I will not leave this house without a fight. A fight that would involve massive amounts of Gorilla Glue.
---
When we renovated this house last year, I had no idea how much work it would be even though we had a contractor (a poopy contractor but that's another very bitter story…). We still would like to renovate a couple bathrooms, but for now, we are enjoying what we have done!
If you missed my home renovation post with before and after pictures, read it here!
If you missed my white kitchen renovation post, read it here!
I feel like this house was made for Christmas. It has the "home for Christmas" feel, like when you go home to visit the house you grew up in. It's got old charm which is exactly what I fell in love with and what took me away from my new custom built home four miles down the road.
I hope these pictures give you some ideas and inspiration for decorating your homes for the happiest time of the year. I live for decorating for Christmas! And I love being able to share it with you 🙂
---
So, come on in!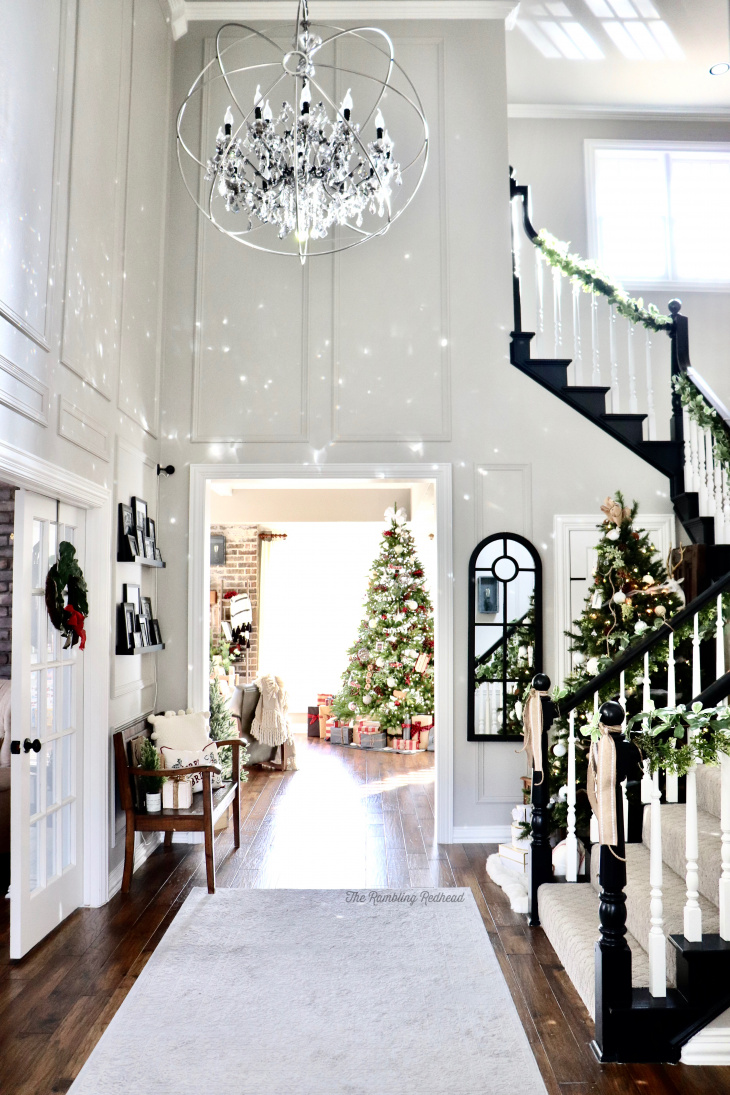 ---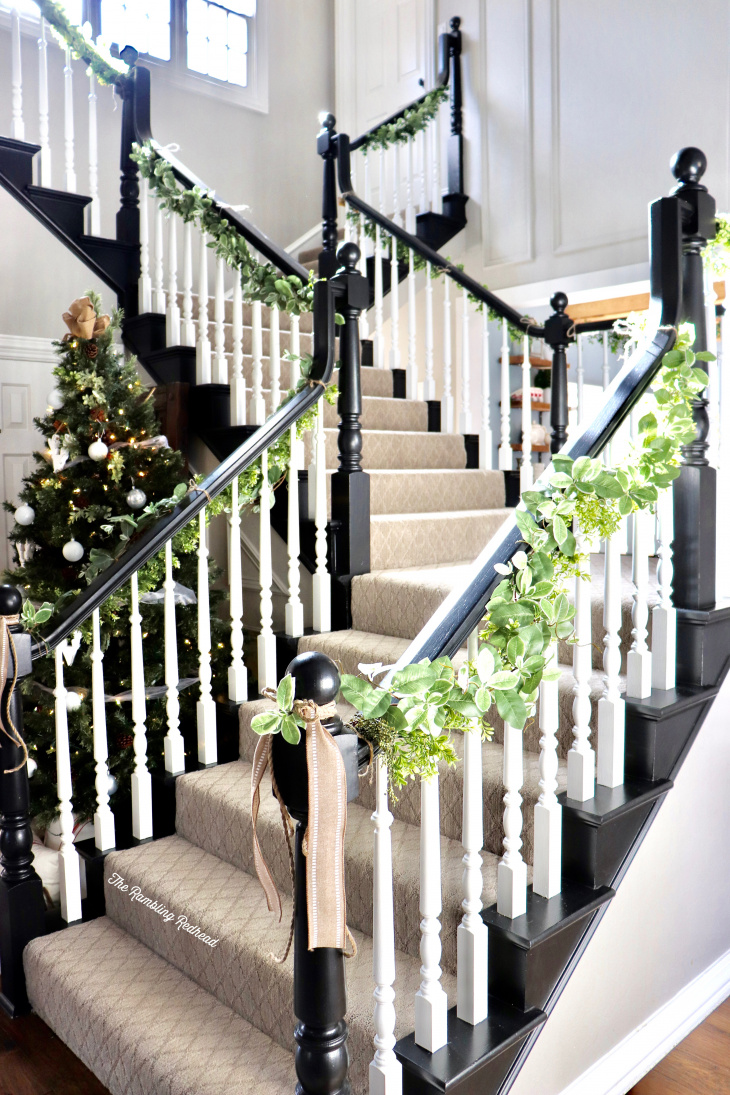 This was a super simple DIY garland I made in about ten minutes! See how I did it HERE!
---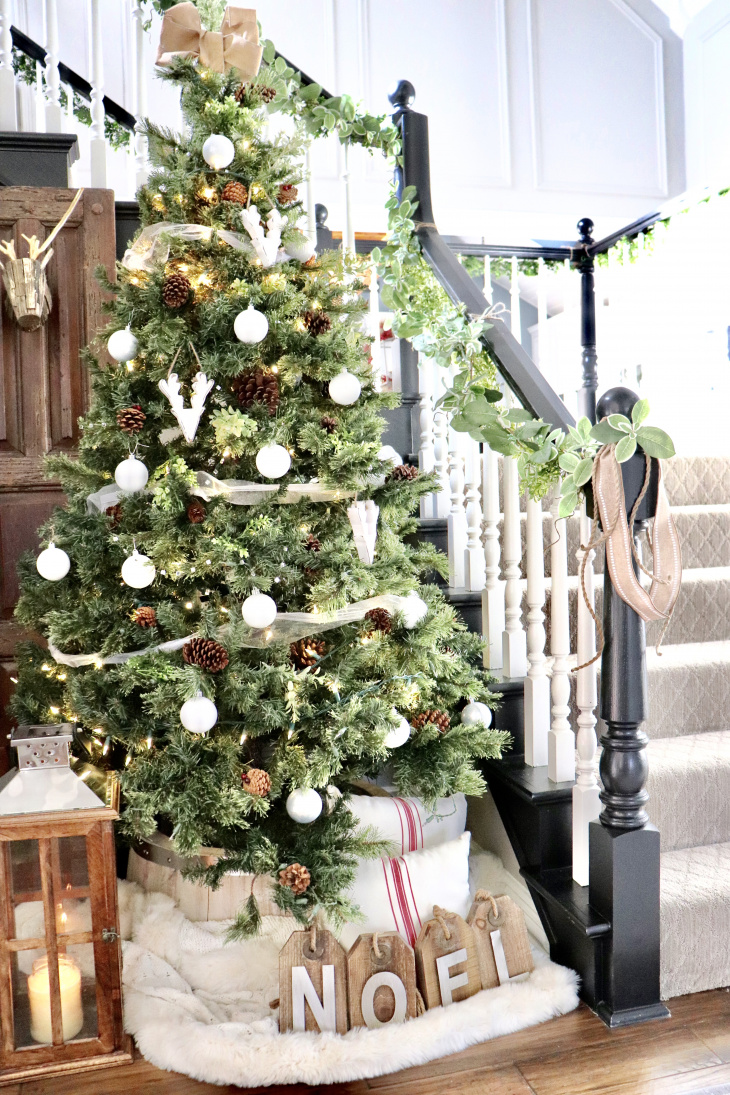 This tree used to be our main Christmas tree up until this year. I got a larger tree on clearance during Black Friday sales and I must say, I feel super fancy with two decorated trees! Let's see how fancy I feel after Christmas when I have to take them both down and pack it all up!
---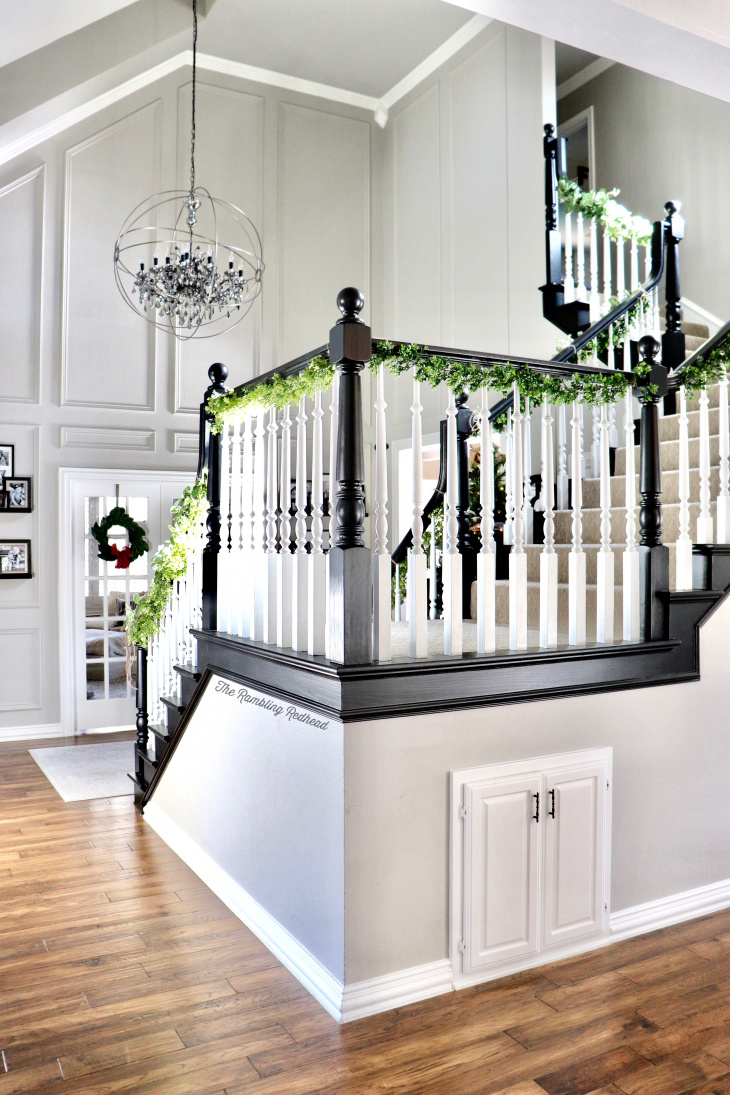 Little behind the scenes knowledge, there used to be a wall here that closed off the kitchen from the staircase and entry.
We knocked that sucka' down. Our house is much more open now but still has the coziness of a closed floorplan.
---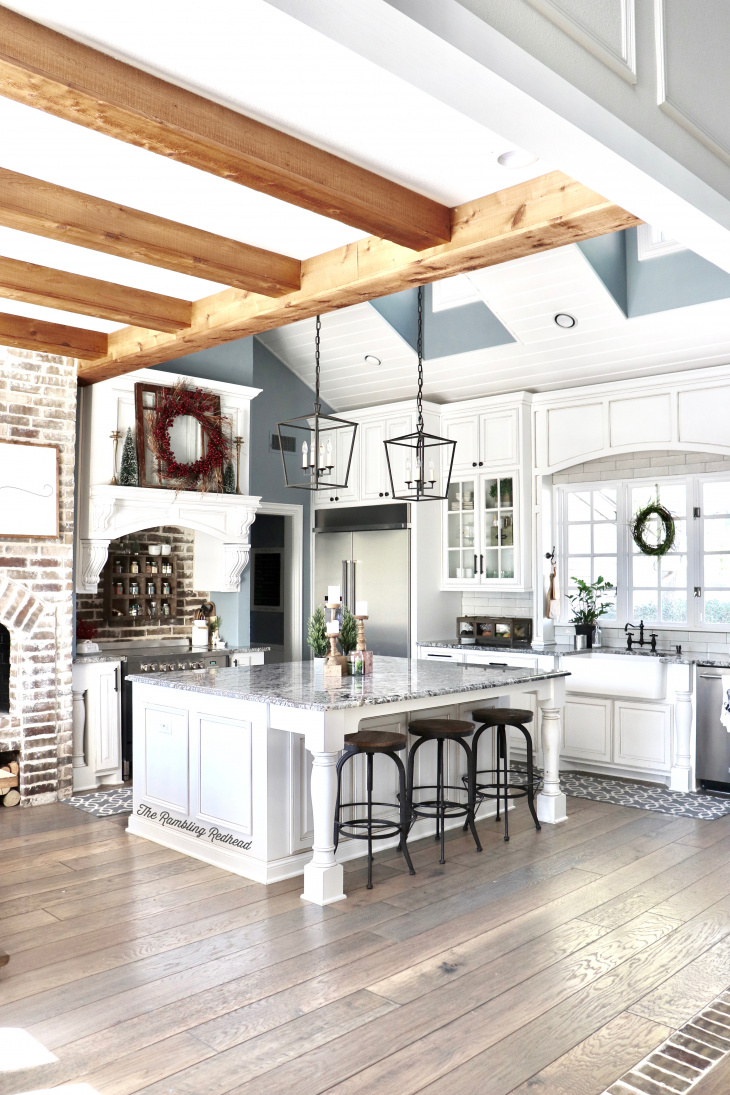 We gutted our kitchen to the studs! It was a complete renovation job and it was miserable because we lived in it. Horrible idea!
Don't live through a renovation unless you love living in constant angry thoughts 😉
---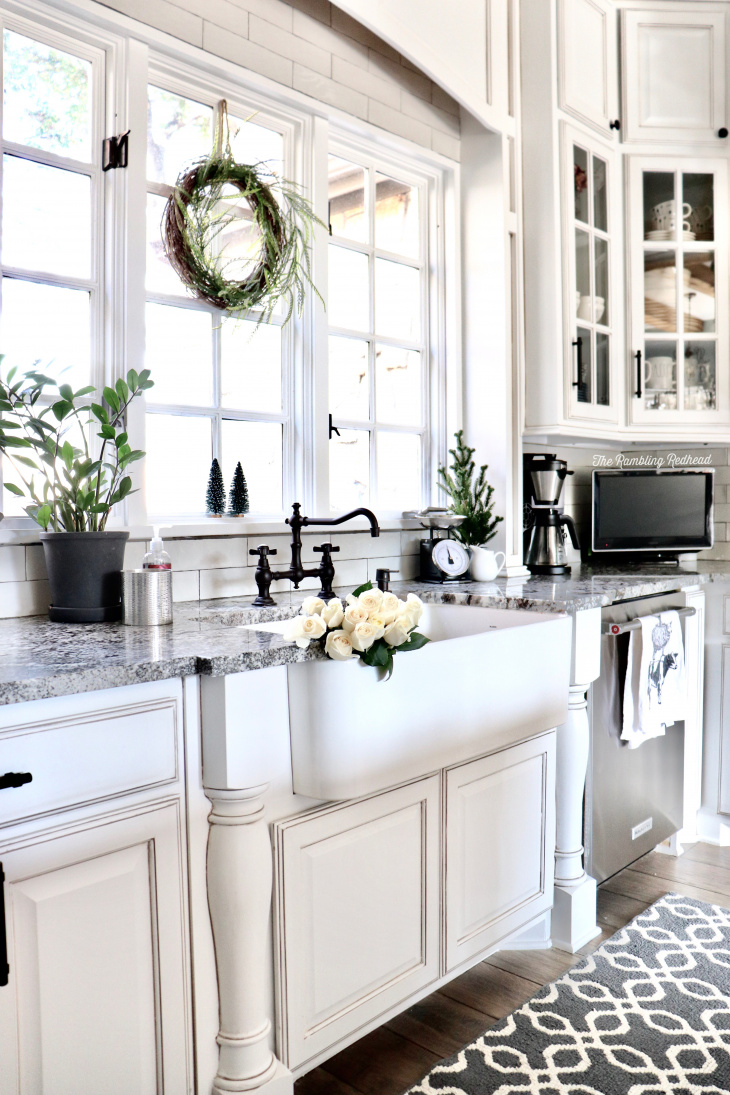 ---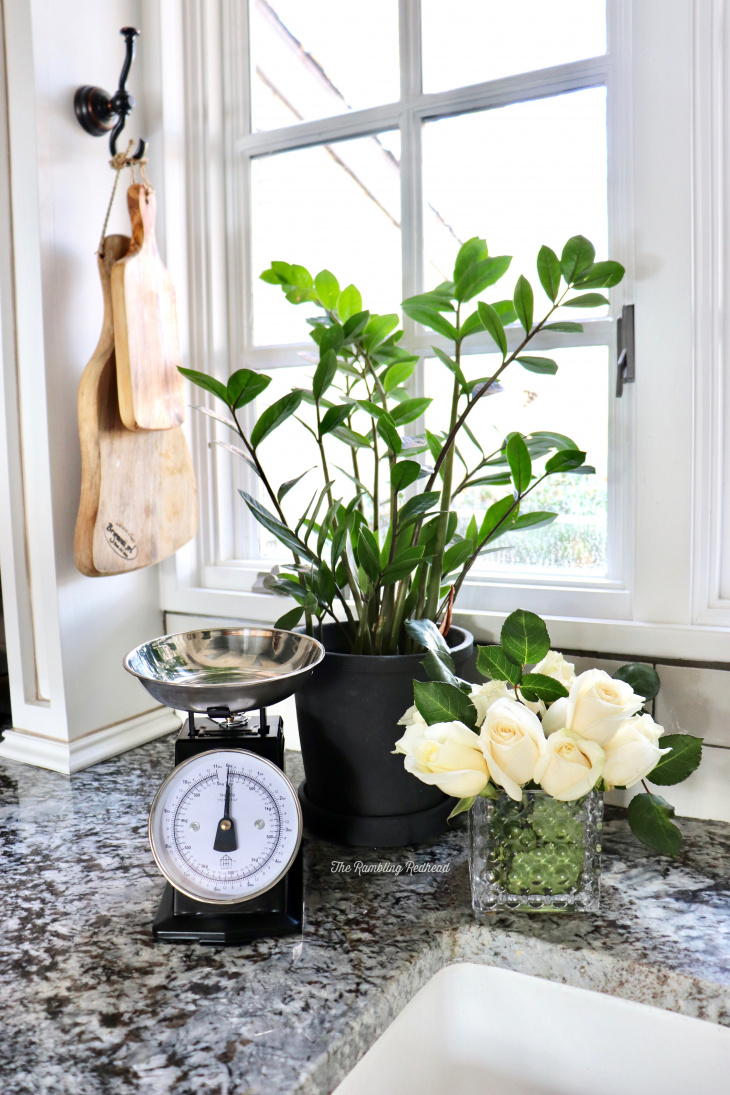 I still keep my flowers and spring greenery around in December because it's Texas! I mean, it's December 13th and it was seventy-three degrees outside today. It's really hard to decorate with pine branches and flocked pinecones when your kids are begging you to go swimming.
---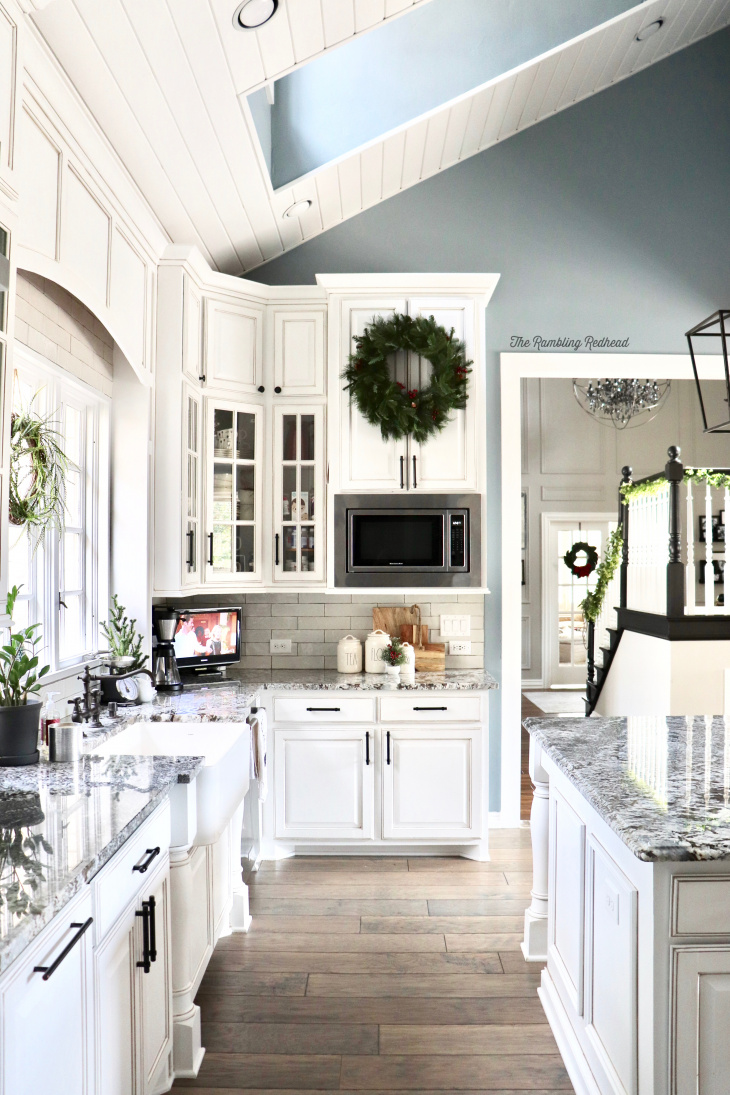 Adding the shiplap on the ceiling was my favorite addition!
Note to self: Quit buying wreaths. We're all set in the wreath department.
---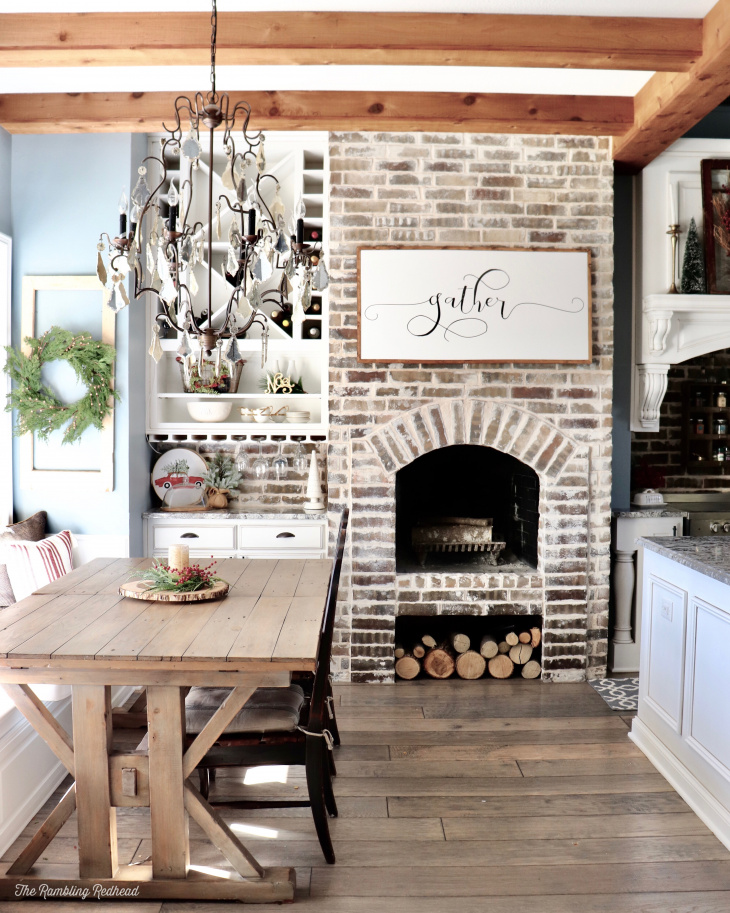 The beams were a close second favorite addition! And that window seat… all the heart eyes. There was no way I was ripping that bad boy out!
---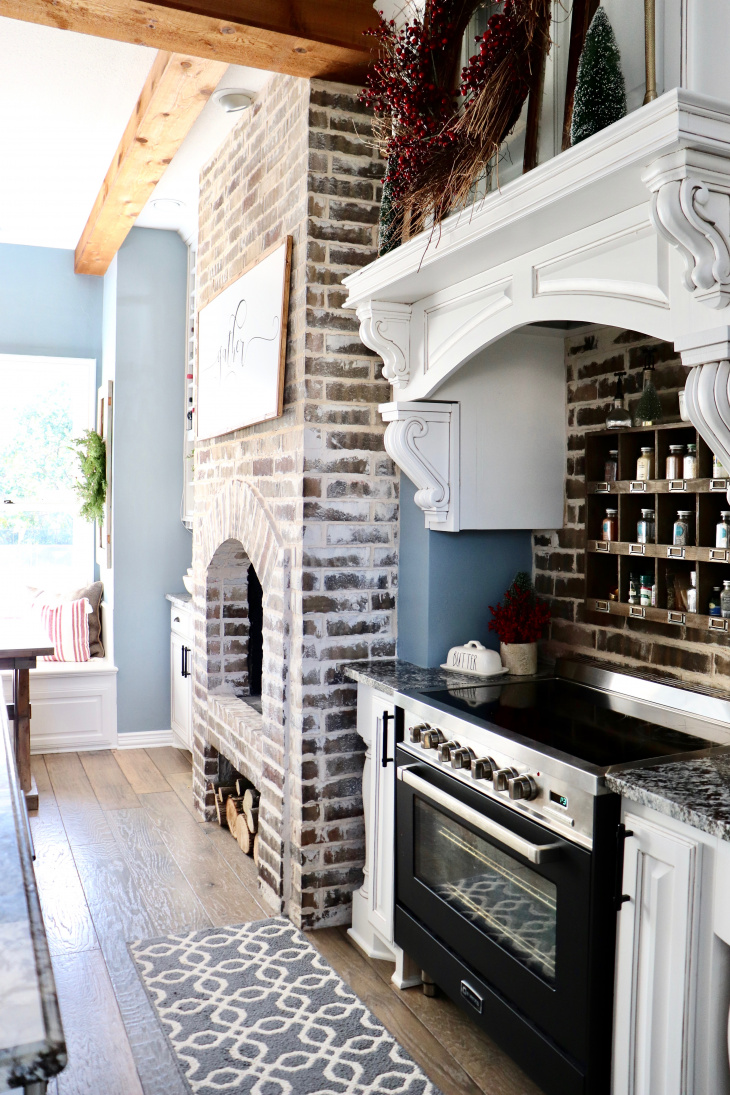 People are shocked when I tell them how much I love my electric stovetop. I had a large 6-top range in my last house and cleaning it was torture. This stovetop is SO easy to clean! Putting gas in the house was an absolute fortune, so we passed and I am beyong okay with it!
---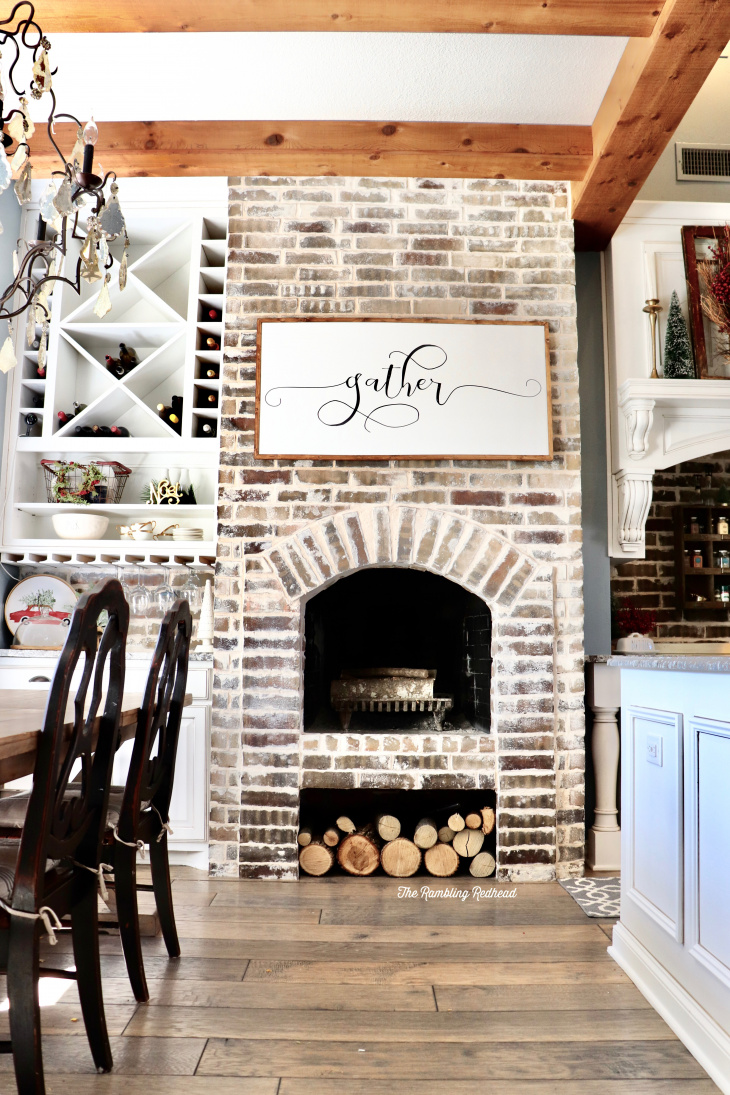 I get asked if this is a pizza oven often. Although it would be cool if it was, it is just a regular fireplace. A fireplace that I love staring at. I feel like if the kitchen had a face, this would be it 😉 This is the face of the kitchen!
---
Shop My Kitchen:
[show_shopthepost_widget id="2956279″]
---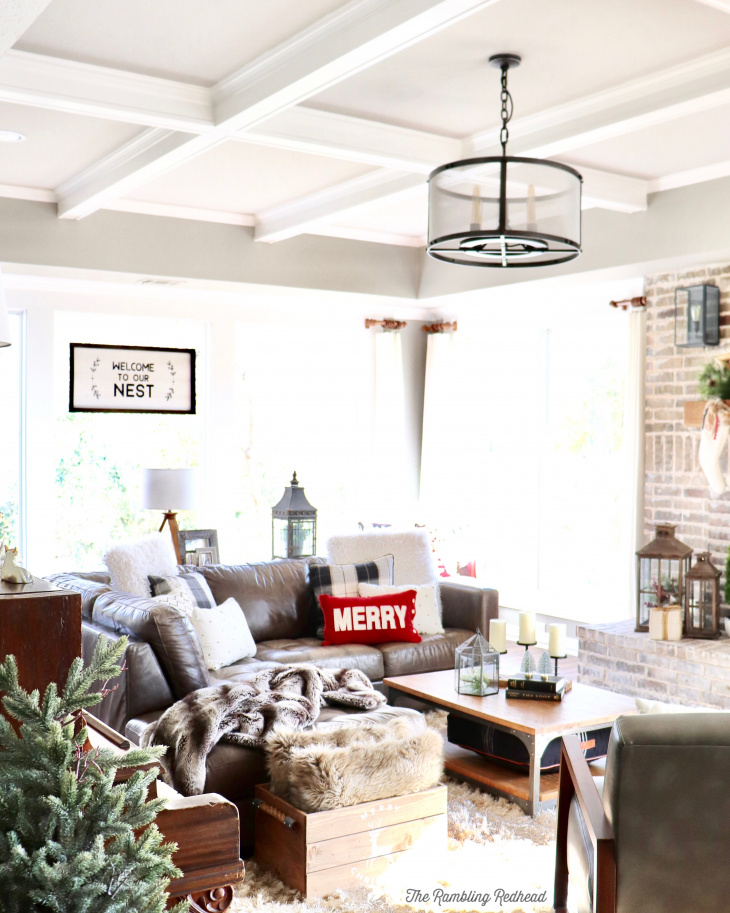 ---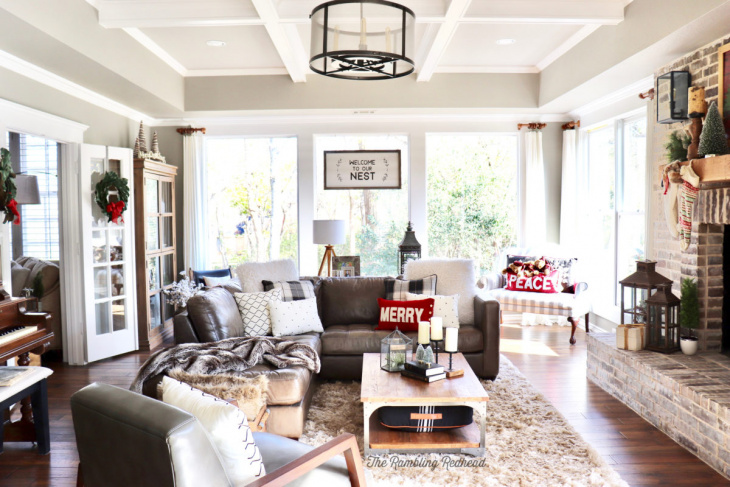 Welcome to our formal living room! Except it's not so formal. With two child beasts running around with mini stollers and shopping carts, there is just really no point to have anything formal in this house.
---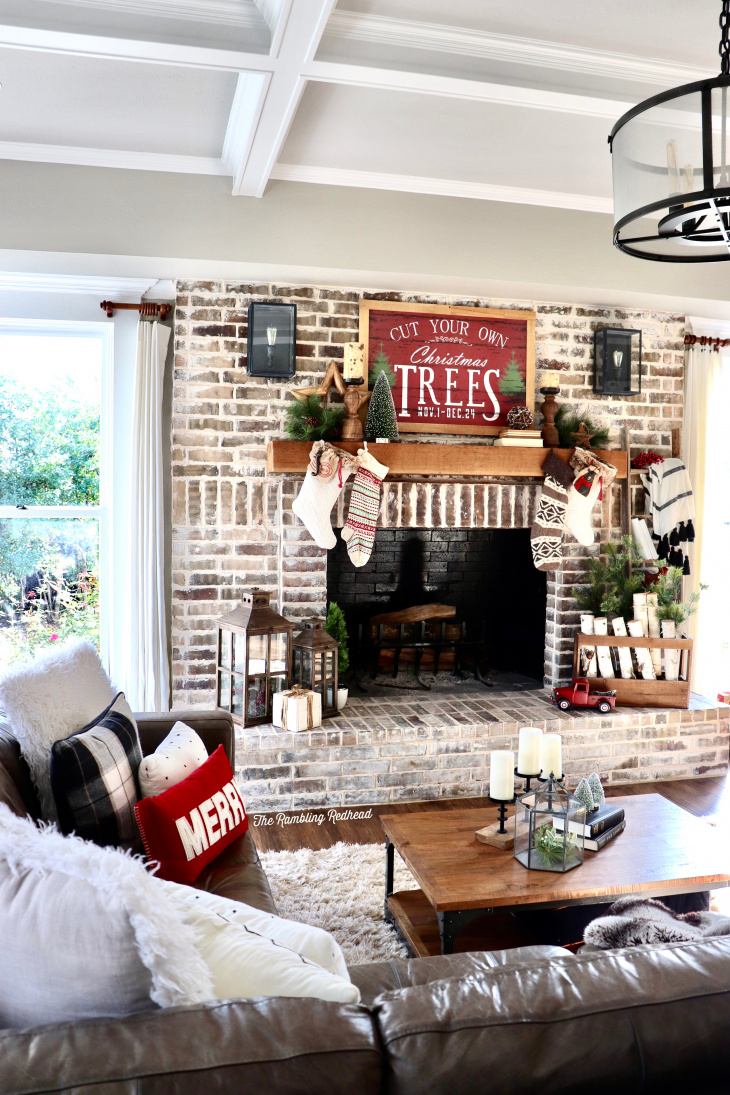 All of the fireplaces in our home got a facelift during the renovation. Click here to see what it looked like prior to the new brick we chose!
---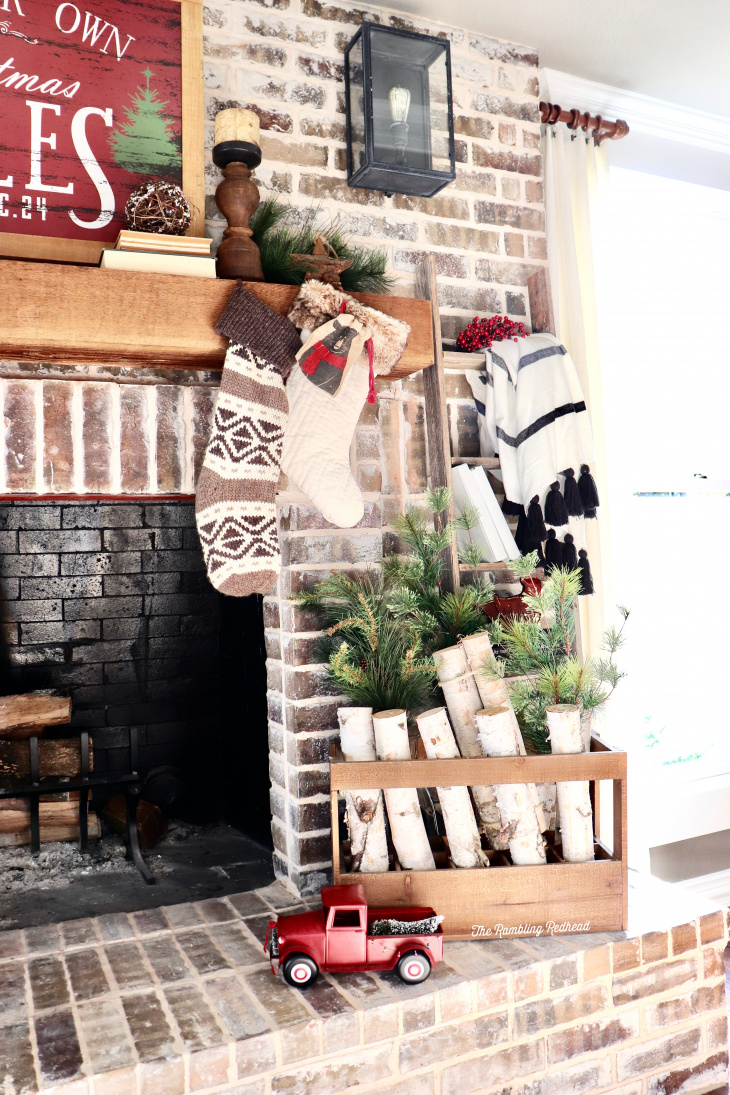 Since the fireplace is MASSIVE, it can hold a lot of decor. Sometimes I'm like, is this too much stuff…? and then I tell myself that there can NEVER be too much Christmas decor!
And then the children start fighting and my conversation with myself ends abruptly.
#momlife
---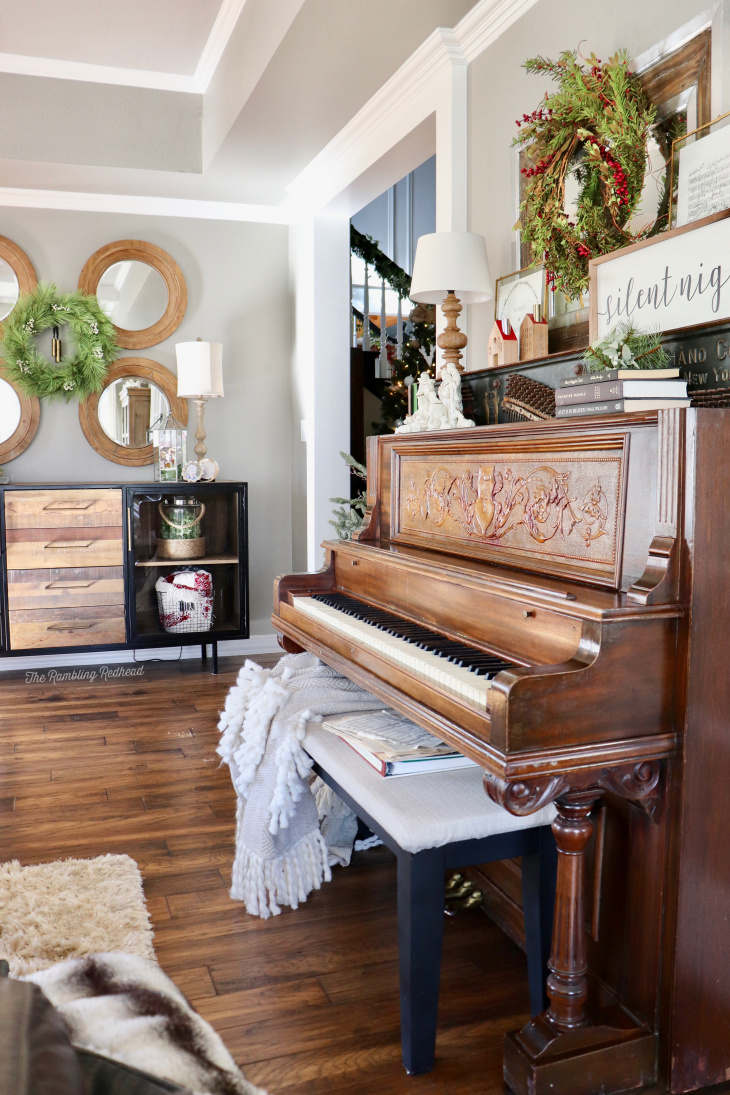 This old piano from 1907 (I think) has my heart. It's from the house I grew up in. I was lucky enough to snag this antique when my parents sold the house.
No, none of us know how to play it but the kids sure bang on it like they know what they are doing!
---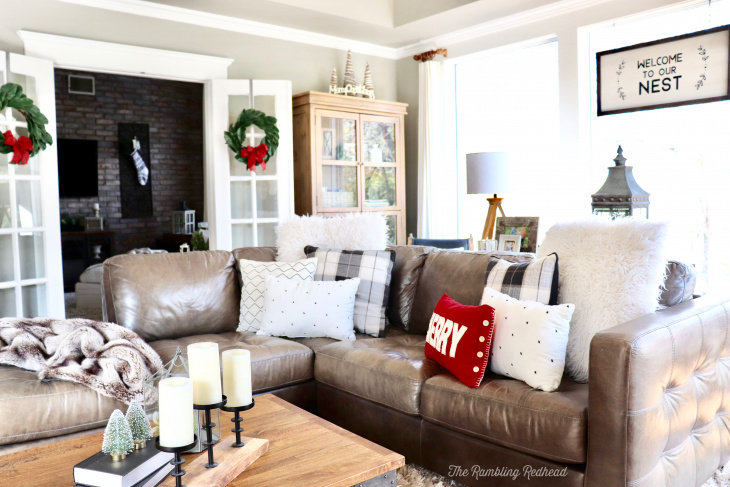 The brick room and the formal living room connect with french doors as shown here. I am slightly obsessed with french doors.
---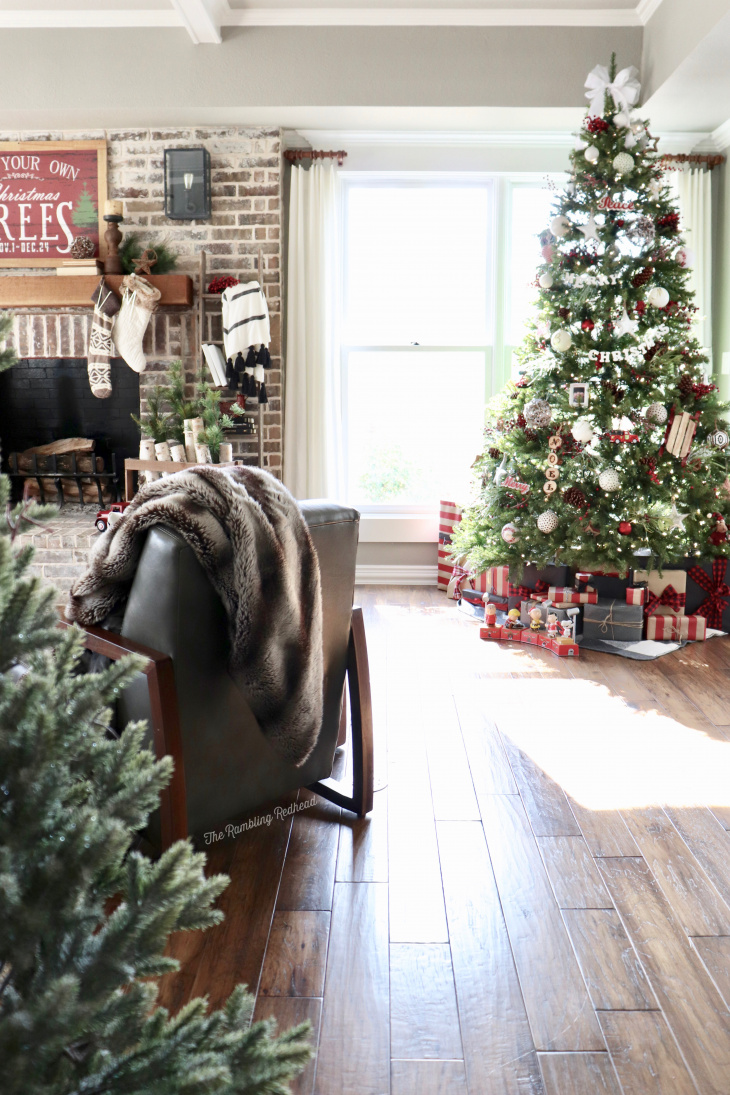 This is the first year with our big ole' 9.5 foot tree! I think it fits the space very well!
---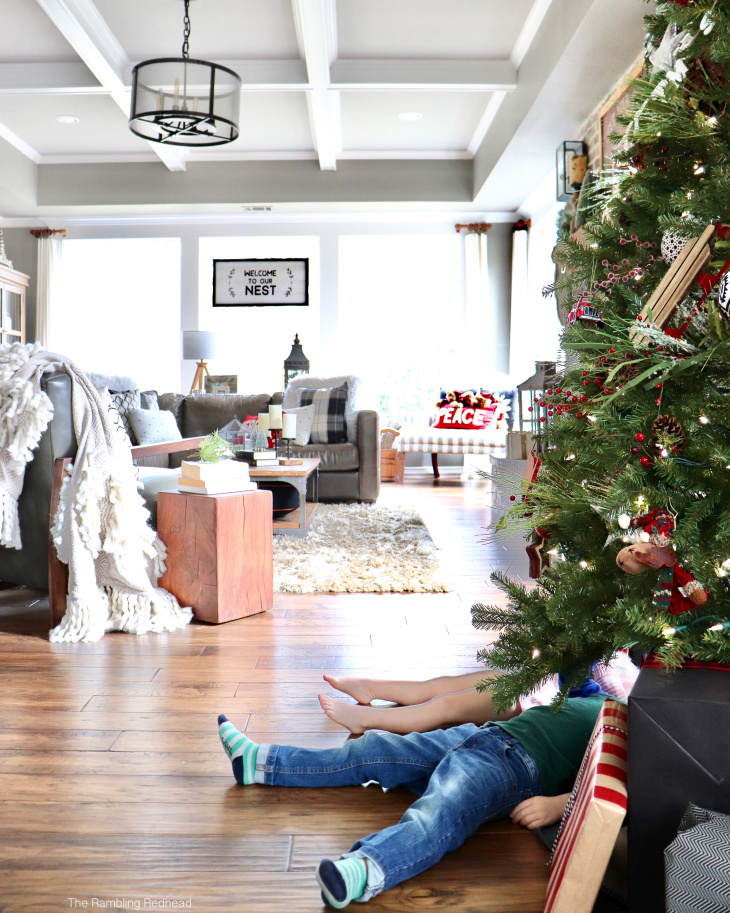 I taught the kids how I used to lay under the tree as a kid and count the twinkle lights. Now they are obsessed! I was so happy to have caught this moment!
---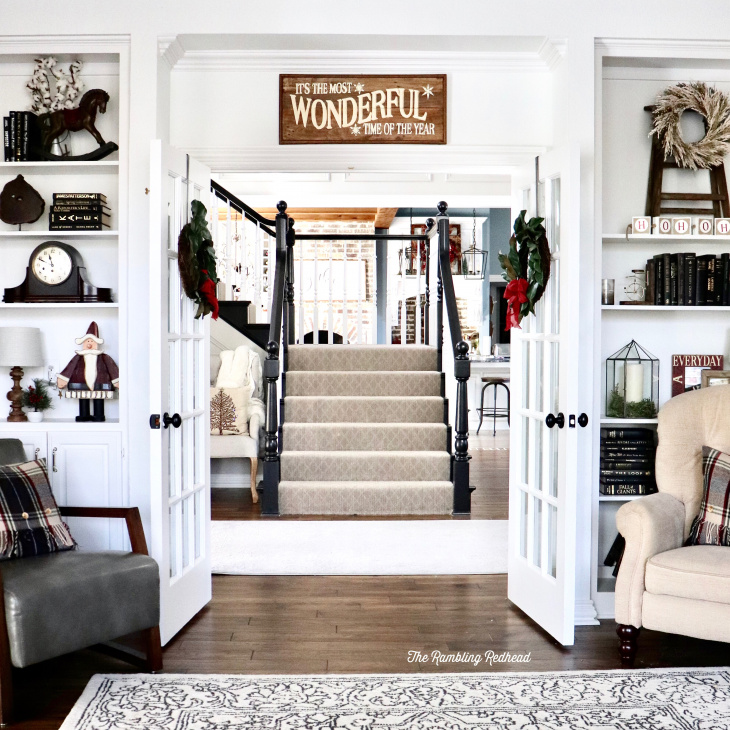 French doors and built-ins in our "brick room". This is probably my favorite view of our home… it's what I look at when I'm sitting on our couch.
---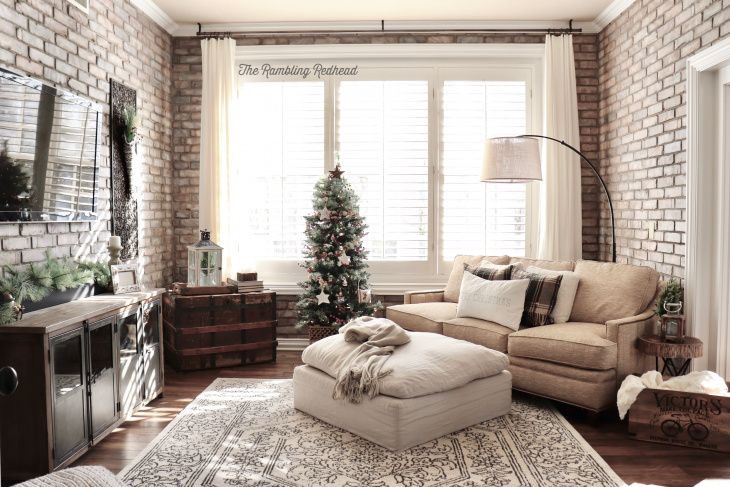 This is why we call it the Brick Room… TADA! This is real brick and my favorite room in the entire house. Hands down 🙂 It's small and cozy which is exactly why I made it our main living room. This is where we watch tv, play with toys, play Christmas music from the tv… we do all the things in this room and I love it!
Yes, that is real brick which is original to the home and to my knowledge, this was a home office when the house was built in 1987.
---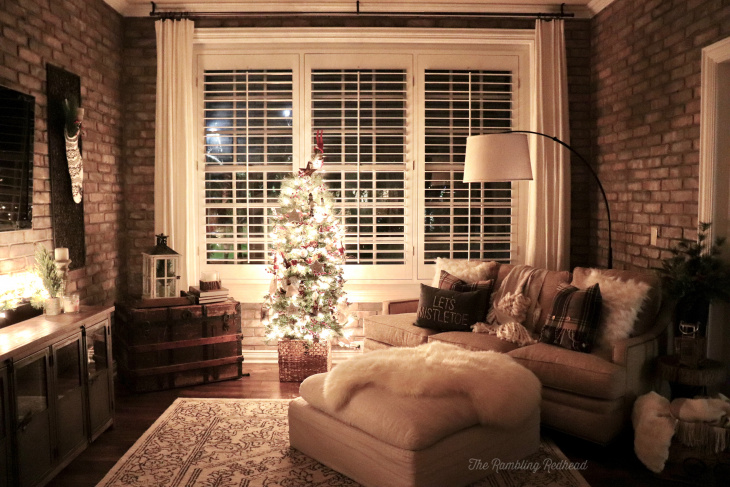 My night time happy place 🙂 This room is just way too cozy to ever be an office again!
---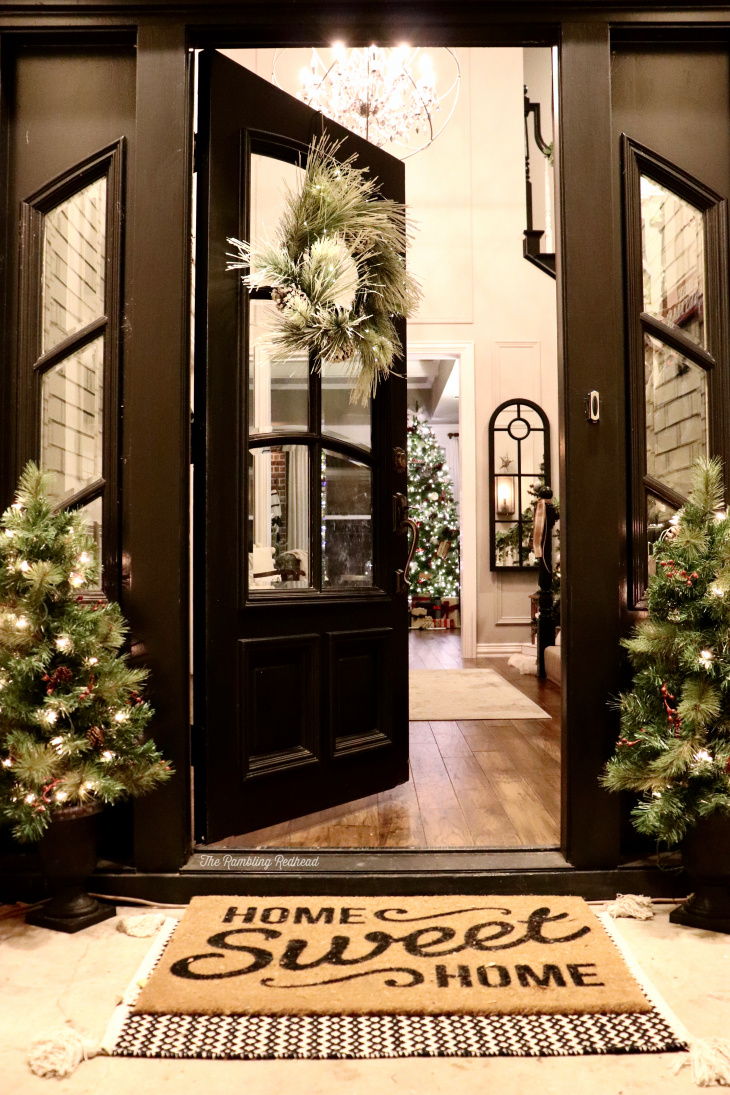 I hope you are enjoying your holidays and are making it as stress-free as possible! My family and I wish you the Merriest Christmas! Thanks for stopping by, friend!
---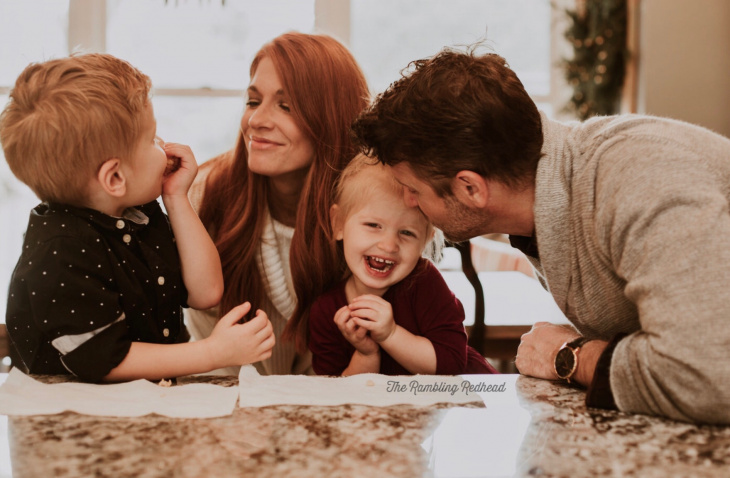 ---
If you want a peek into my Daughter's room? (which also involves shiplap), click here!
Click here to read last year's Home Tour! Complete with before and after renovation pictures 😉
Have you found me on Instagram yet?! Click here to get decorating inspiration daily 🙂
---
CLICK ON IMAGES BELOW FOR SOURCES:
[show_ltk_widget_version_two rows="3″ cols="3″ show_frame="true" user_id="259279″ padding="4″ app_id="948859994″ display_name="theramblingredhead"]
For more humorous, honest parenting and home decor posts like this, please "Like" my Life as a Rambling Redhead Facebook Page!
Or Subscribe, so you never miss a new post! Your life will be changed for the better. Follow on Instagram, Twitter, and YouTube .
---
THANKS FOR PINNING!

---
SOURCE LIST:
To find more of the smaller decor like pillows, candlesticks etc, please go to my Instagram and shop through the pictures!
Living Room:
Couch, leather chair, Cedar block side table, and Rug – IOMetro (Exclusive to Dallas)
Sign above fireplace: Kirklands
Paint Color: Sherwin Williams Dorian Gray
Trim color: Sherwin Williams Pure White
Entry:
Look-alike Orb that is much less expensive
Rug: Local Homegoods
Bench: Hobby Lobby
Paint color: Sherwin Williams Dorian Gray cut to 50% (made it lighter)
Trim color: Sherwin Williams Pure White
Kitchen:
Kitchen Table: IOMetro
Dining chairs: Local Trade Days
Open Shelving: Made them myself!
Cabinet, ceiling, and trim paint: Sherwin Williams Pure White
Wall Paint color: I hand mixed gray, white, and blue to make this color! Therefore, it has no name.