Happy Monday, y'all!
Hope your Monday vibes have been nothing but positive today! I accidentally took a three day weekend from IG last week and I didn't realize how needed it was. I've been trying to find a cabin to rent for a quick family getaway and EVERYTHING is booked out for months 😩 Apparently we all have the same brilliant idea… it's the trendiest way to vacation while social distancing 😂
One hobby I miss during this crazy time – DECORATING. I really do. I miss everything that comes with it- strolling the aisles of Home Goods just for fun, cashing in those TJMaxx reward points feelin' like a savings boss, I miss pulling 23 pillows off the shelf before finding the perfect karate-choppable pillow 😫 So, for now I'll shop for y'all online, BY COLOR! 😂🙌🏼 The home renovation business is BOOMING here in Texas and I think it's because people are actually home! They are sitting around and seeing all the imperfections that they've always wanted fixed but never had the time to do it.
Home decorating is really no different, it makes your space so much more cozy and enjoyable but without doing any kind of construction. If you have any rooms like need a quick and inexpensive face-lift, I'd say now is THE time. It's seriously the year of online sales, y'all… every dang store. SO many sales, it's honestly a little overwhelming and I'm having to refrain from sharing constantly in stories at the risk of making y'all sick of me! 😂
Here are some great finds all sorted by COLOR! I got great feedback from many of y'all about how the color-sorting helped make the shopping easier so I did it again but with home decor!
---
My Favorite Yellow Decor!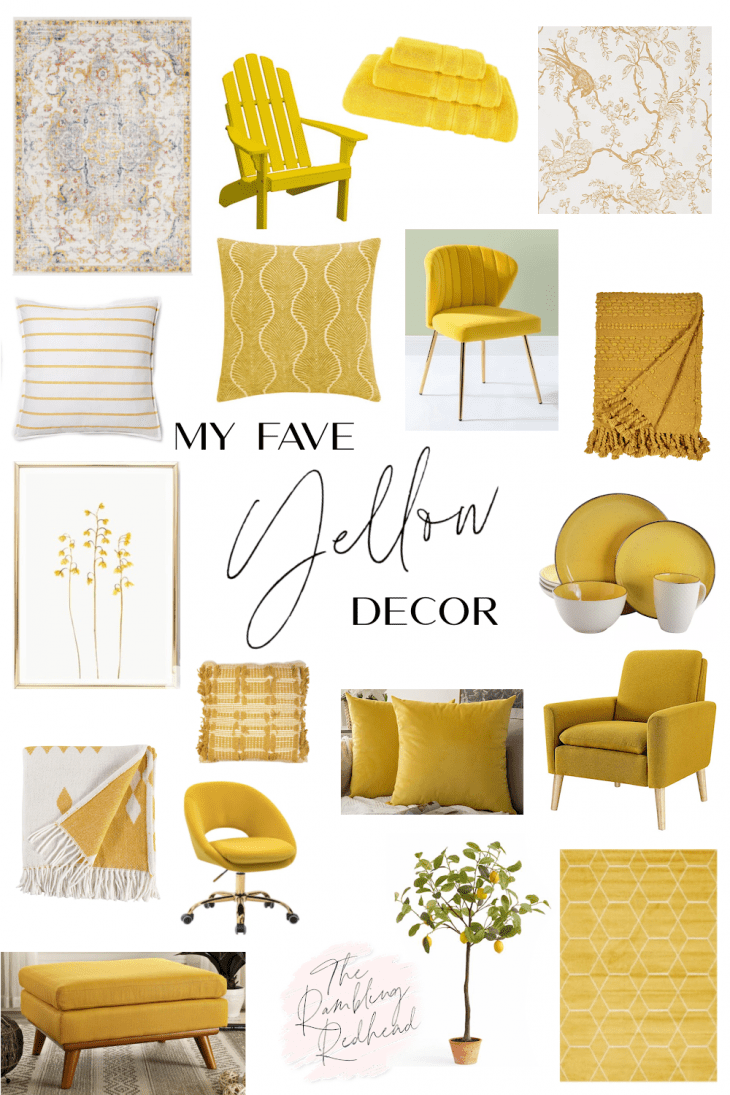 Medallion Rug | Yellow Adirondack Chair | Accent Towels | Birdsong Wallpaper | Striped Pillow | Ogee Throw Pillow | Accent Chair with Gold Legs | Throw Blanket | Yellow Pressed Flower Wall Art | Yellow and Cream Dish Set | White and Yellow Throw Blanket | Office Chair | Tassel Accent Pillow | Mustard Pillow Cases | Accent Chair | Mustard Ottoman | Lemon Tree | Trellis Rug |
---
My Favorite Pink Decor!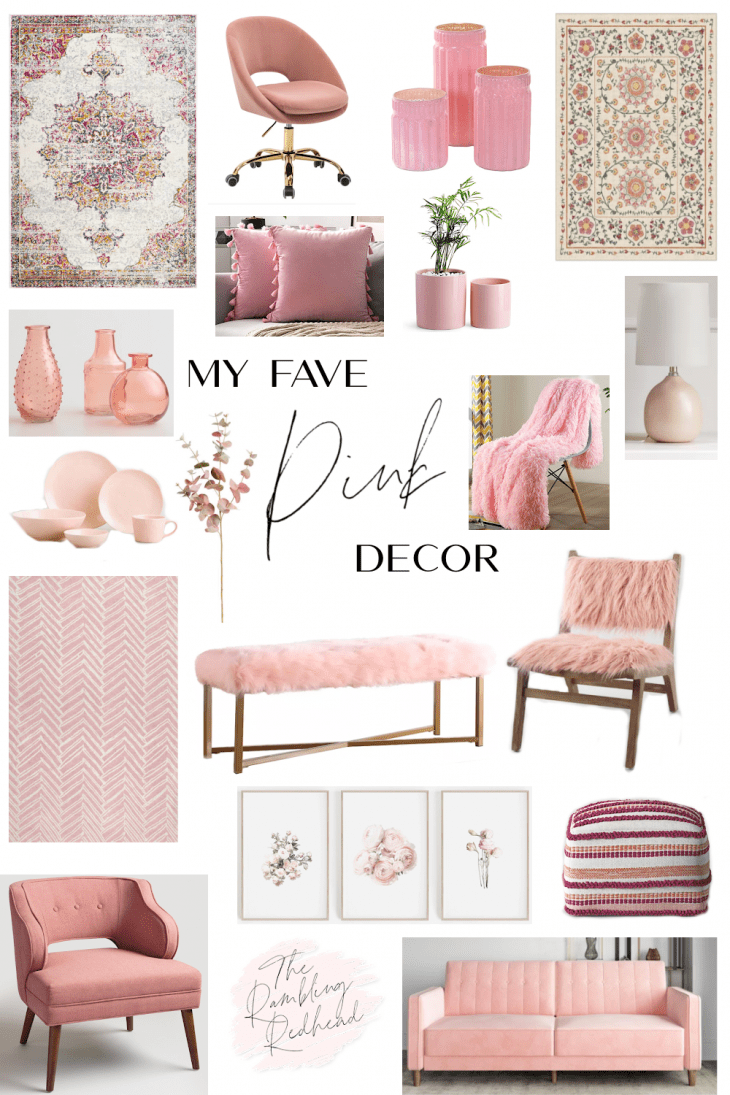 Berkley's Rug | Office Chair | Pink Mercury Glass Vases | Coral Rug | Pink Vases | Throw Pillow Cases | Pink Planters | Comfy Blanket | Small Pink Lamp | Pink Dish Set | Faux Pink Eucalyptus Stem | Chevron Rug | Faux Fur Bench | Faux Fur Chair (Same chair I had in my bathroom!) | Rose Accent Chair | Wall Art | Pouf | Tufted Couch |
---
My Favorite Blue Decor!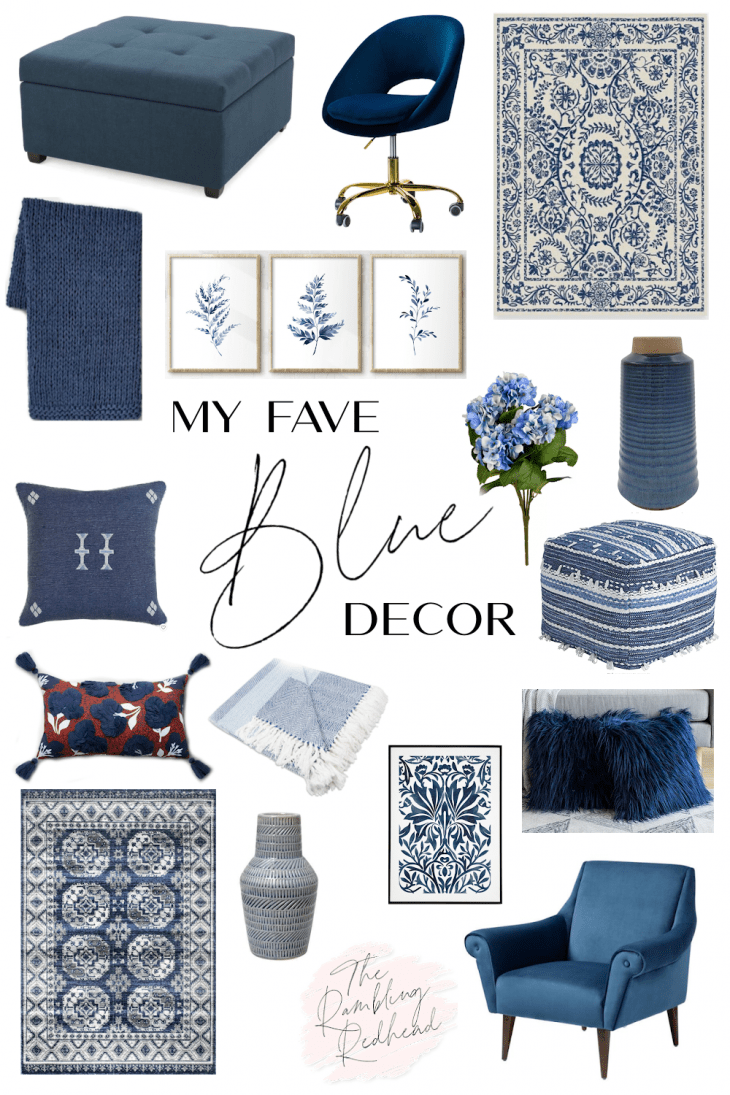 Navy Ottoman | Office Chair | Delphina Rug | Knit Throw Blanket | Blue Fern Leaf Wall Art | Throw Pillow | Hydrangea Bush | Blue Vase | Blue Pouf | Navy and Orange Pillow | Tassel Throw | Botanical Wall Art | Faux Fur Pillows | Gothic Vintage Rug | Blue Vase | Velvet Modern Chair |
---
My Favorite Orange Decor!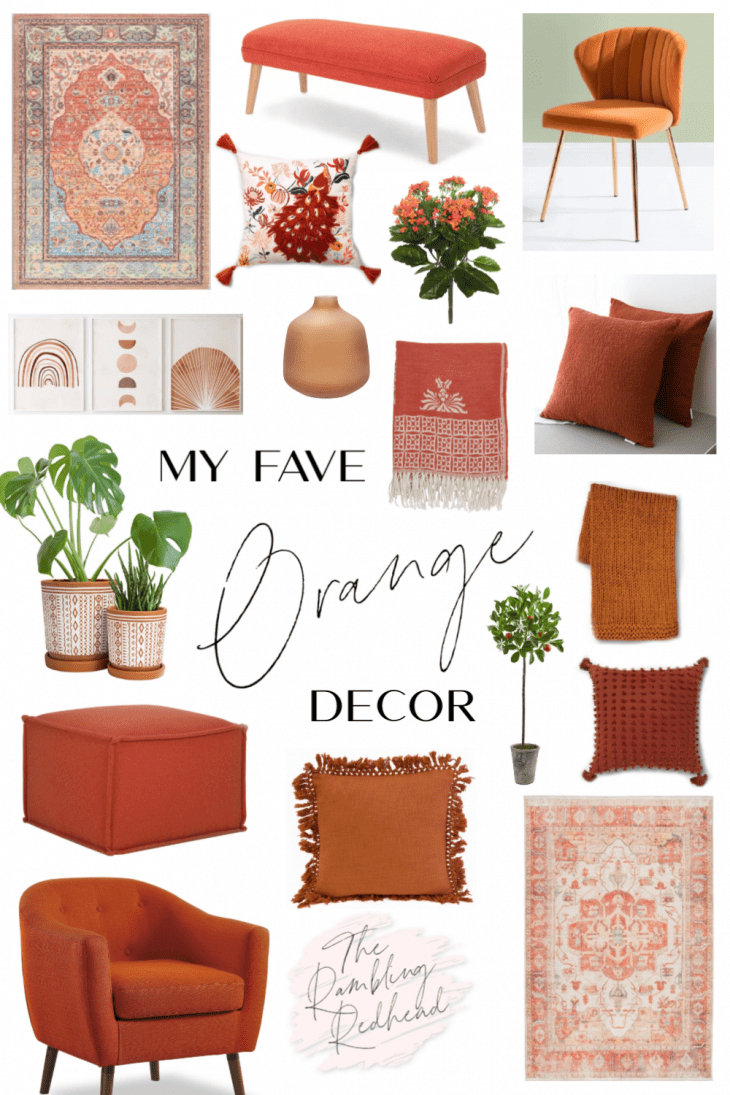 Orange Bailey Rug | Ottoman/Bench | Peacock Pillow | Kalanchoe Bush | Orange Accent Chair | Orange Wall Art | Frosted Glass Vase | Medallion Throw | Accent Pillow Covers | Terracotta Planters | Knit Throw | Orange Pouf | Tassel Pillow | Faux Orange Tree (I have this in Viv's room)| Tasseled Pillow | Tufted Accent Chair | Medallion Rug |
---
My Favorite Green Decor!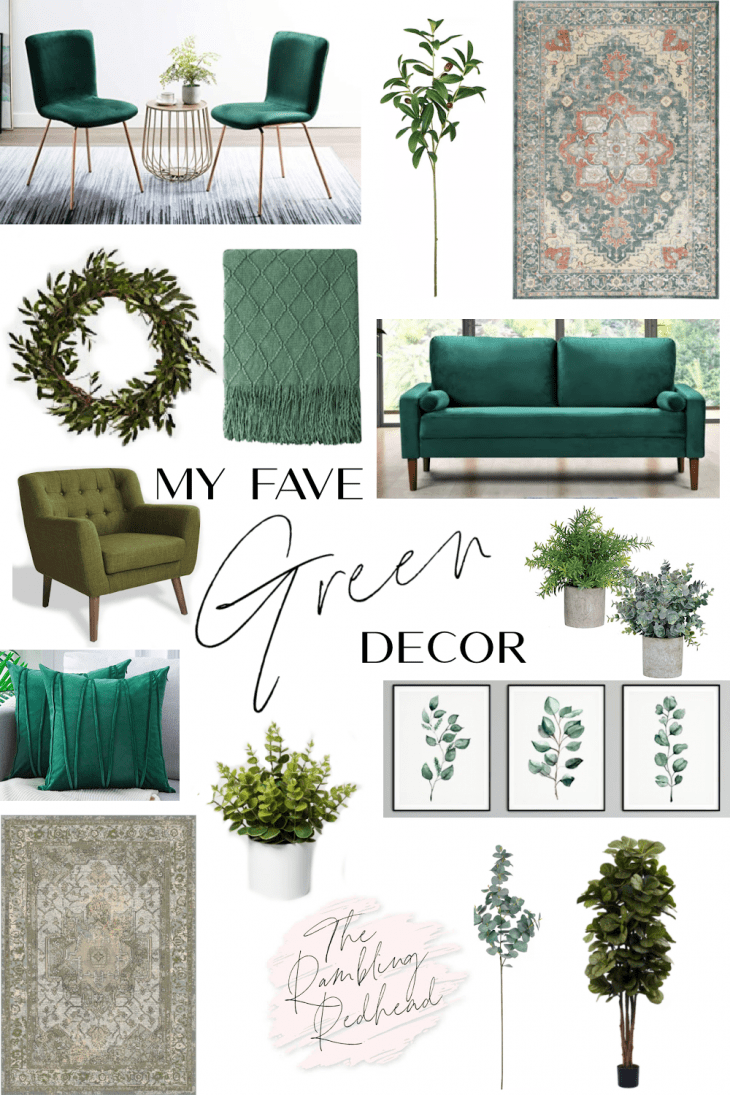 Dining Chair | Olive Leaf Stem | Green Area Rug | Olive Wreath | Green Throw | Green Couch | Tufted Accent Chair | Faux Plants | Throw Pillow Covers | Faux Eucalyptus Plant | Wall Art | Diamond Rug | Faux Eucalyptus Stem | Fiddle Fig |
---
My Favorite Neutral Decor!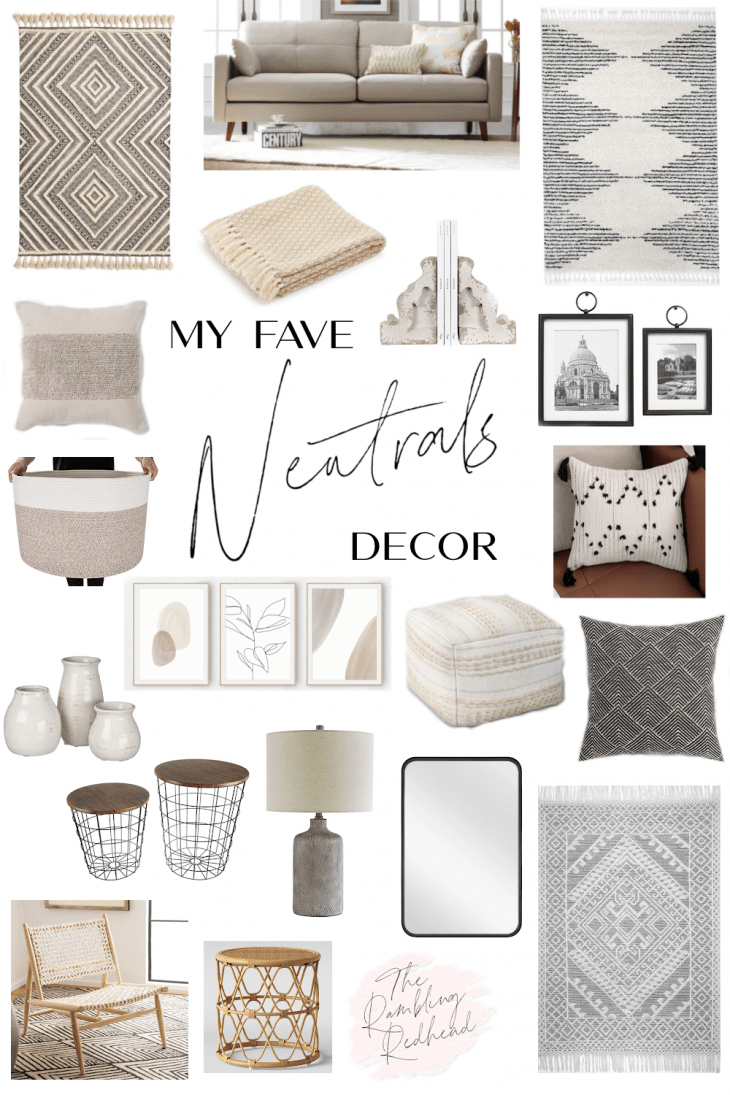 Diamond Area Rug | Tassel Throw Blanket | Tufted Couch | Corbel Bookends | Ivory and Black Area Rug | Throw Pillow | Basket | Hanging Frames | Gray and White Pillow | 3 Piece Vase Set | Wall Art | Pouf | Geometric Pillow | Basket Tables | Grey Lamp | Black Wall Mirror | Wood Accent Chair | Rattan Table | Woven Rug |
---
My Favorite Wallpapers!
Birdsong | Smokey Rose | Pick Up Sticks | Rosie Harbottle | Radiant Diamond | Pergola | Stella Star | Whimsy Fauna | Watercolor Flora | Olive Branch | Nathalie Lete |
---
Click HERE for my Amazon Fashion List
Click HERE for my Home Decor List
Click HERE for my Beauty Favorites List
Click HERE for my Cleaning Essentials List
Click HERE for my Office Supplies List
---
Have a great week, friends! Wishing all of my fellow Mamas clarity and peace when it comes to making the tough decisions regarding school this Fall. Not matter what you decide God has given you the ability to choose what is best for your family, don't forget that! Y'all have specifically been in my prayers recently… this shall pass!
God bless and thank you for being here with me in this little corner of the internet. 🙂