COLOR.
Do you prefer colorful items when furnishing your home or do you tend to gravitate to more neutral color schemes?
I love incorporating color, especially in the Fall. The rust, mustard, and deep green hues are my JAM. My eyeballs love it so much! All of the fall colors are so rich, warm and cozy and look AMAZING with all the neutrals. Fall colors are definitely the "popular kids" of the class.
I love buying home décor that isn't tied to one season, décor that can be mixed with a variety of colors as well as the neutrals you already have in your home. Hopefully these mood boards will help you visualize what your spaces could look like if you wish to sprinkle in some décor with a darker color scheme!
---
This deep rust/ terracotta color is VERY popular right now! Looks amazing with creams and browns and definitely brings an "earthy" element into a space. This color looks awesome when incorporated in Traditional, midcentury and boho decor styles!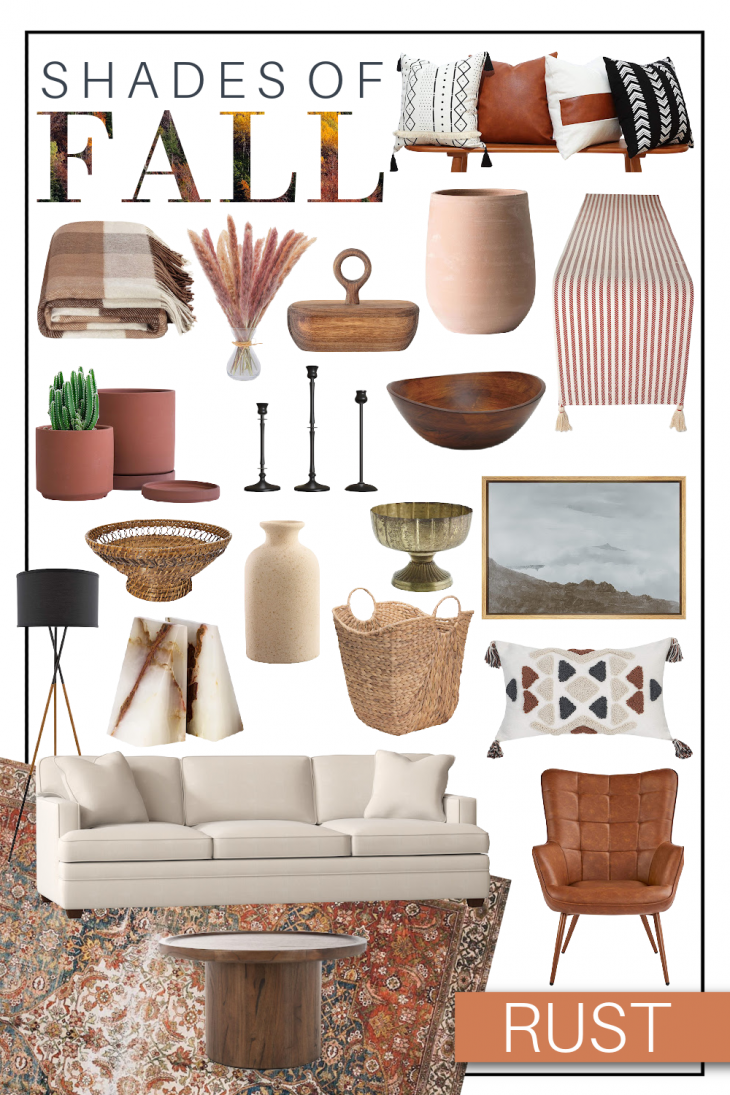 Pillow Set | Blanket | Dried Flowers in Glass Vase | Wood Pinch Pot | Cream Pot |Table Runner | Clay Pot Set | Candle Holder Set | Wooden Bowl | Woven Bowl | Cream Vase | Metal Bowl | Painting | Marble Bookends | Woven Basket | Geometric Pillow | Floor Lamp | Couch | Leather Chair | Coffee Table | Rug |
---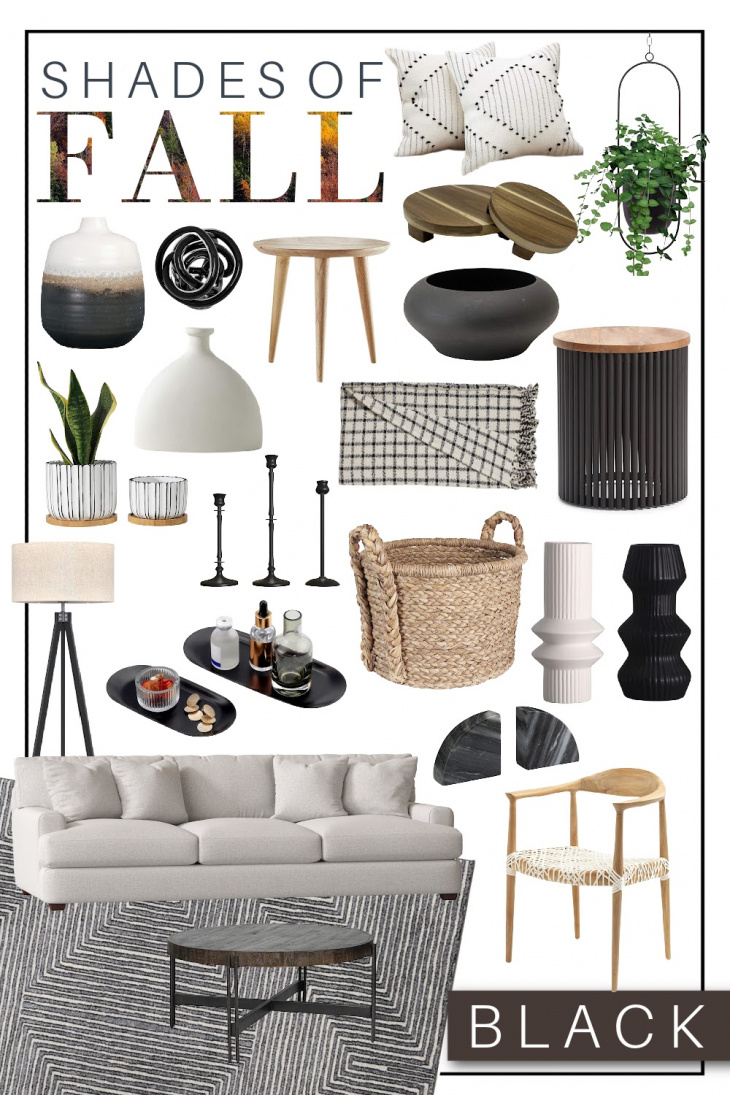 Pillow Case Set | Hanging Flower Pot | Wood Stands | B&W Vase | Glass Art Décor | Wood Table End | Wide Black Vase | White Vase | Plaid Blanket | Black Table End | B&W Pot Set | Candle Holder Set | Woven Basket | B&W Vase Pair | Tray Set | Bookends | Floor Lamp | Couch | Wood Chair | Coffee Table | Rug |
---
I LOVE olive green decor as well as olive green clothing! Pair this deep green shade with wood decor and creamy whites for a gorgeous, rich aesthetic. I love that plants bring this color into our homes naturally, making this color a staple year round. Keep this green in your decor well past spring and into fall and winter – less work for you!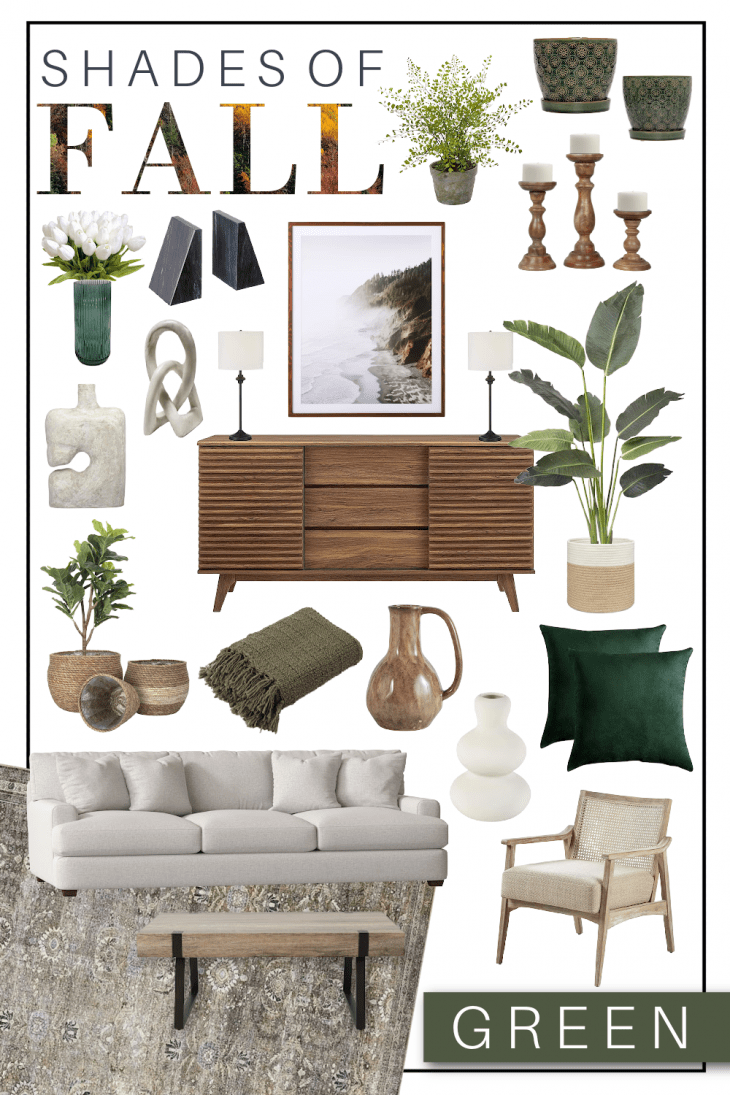 Pot Set | Faux Plant in Pot | Candle Holder Set | Green Vase | Faux Tulips | Bookends | Painting | White Abstract Vase | Abstract Art Décor | Lamp Pair | Mid-Century Stand | Faux Palm Tree | White & Cream Rope Basket | Woven Basket set | Blanket | Pitcher Vase | Pillow Set | White Vase | Couch | Chair | Coffee Table | Rug |
---
Mustard yellow is such a happy color! 🙂 I recommend this color to those of you who think the deep green and maroons aren't colorful enough. This color keeps a level of  brightness throughout the house and pairs well with both black or brown based color schemes.
Trio Art | Wide Bowl | Metal Bowl | Abstract Vase | Pillow Set | Marble Stand | Vase with Net | Faux Plant in Vase | Wall Art | TV Stand | Table End | Woven Pouf | Blanket | Bookends | Wood Vase | Floor Lamp | Wooden Trays | Couch | Chair | Coffee Table | Rug|
---
Maroon is a great color to incorporate in your Fall decor if you tend to like red hues within your Christmas decor. I feel like Maroon or Burgandy are the older, more mature sister to the color red. Swap out bright red for maroon in your Christmas color scheme and you can use this color for both fall and winter! This color pops off of white, cream, tan or black. 
Black Small Sculpture | Small Nesting Baskets | Plaid Pillows | Maroon Blanket | Wood Tray | Brass Bowl | Pink Quartz Frame | Two Tone Vase | Tan Vase | Faux Rubber Tree in Basket | Black Buffet Table | Gold Candle Sticks | Gold Mirror | Grey Bowl | Faux Maroon Flowers | Wall Rug Hanging | Floor Lamp | Storage Basket | Grey Bench | Wall Prints (digital prints you can make any size!) | Couch | Area Rug | Wood Coffee Table | Wood Side Table | Accent Chair |
---
Hopefully this was helpful if you are wanting to spruce up some of your spaces! Again, while this is post is titled Fall decor, these colors can carry you into other seasons as well. I always tell friends and clients to buy bigger priced items in neutral colors and purchase less expensive smaller accent pieces in the colors that you are liking in the current season you are in.
I hope you and your family are having a great fall season so far! I hope you are filled with joy and excitement rather than anxiety walking into the Christmas season. As always, thanks for being here, subscribing to get my emails and shopping per my recommendations. Your trust is something that will never be taken for granted! God bless! 🙂