26 MORE SLEEPS UNTIL CHRISTMAS, Y'ALL!
And I still have so many presents to buy but I refuse to start freaking out.
So, as y'all know (if you've been reading this blog the past year), I've never done a gift guide before! I tend to stay in my comfort zone that is humor or anything about being a stay at home mom, but this year is different. I have had such a hard time deciding what to get my husband and kids, so I thought maybe y'all needed some fresh ideas like I did.
I've been trolling Amazon for days because Amazon is just easy. It ships right to my door and it's done. I can buy without wearing a bra which is always a great idea and super enjoyable. Some of these items I have and love, therefore I wanted to share them with you, and some I just think are hilarious and buy-worthy.
There are gifts for all ages in this post and I have even laid them out with pictures because everyone likes pretty pictures, amiright?
---
Amazon Echo "Alexa"
Okay, guys…we have this and it is seriously amazing. My husband asks Alexa to give him weather, news, and sports updates every morning. I demand Alexa play Michael Buble Christmas music constantly, while my toddlers ask Alexa to sing them Happy Birthday at least four times a day as well as asks her to say the word "POOP" (which she refuses to repeat… don't be alarmed). She can tell you jokes all day long, tell you who won the Superbowl in 1982 (San Fransico 49ers, I just asked her), give you directions, place an Amazon order for you, as well as COUNTLESS of other things. Alexa is great and is probably getting her own Christmas stocking this year since she has become part of the family. This is my number one gift suggestion for anyone in your family this year!
---
Ninja Coffee Bar
We just recently switched to this Ninja coffee bar from the Keurig and holy cow! – It's so much better! The coffee tastes better, I feel good about not drinking coffee that has run through melted plastic (I've always been weary about this, but continued to do it because of convenience), and the entire house smells of coffee when it's brewing. AND it's cheaper! I never realized how much we were spending on those darn pods! They were basically a bill. This machine also comes with a little milk frother and I use this almost daily because it makes me feel like a legit barista… and who doesn't like froth?! Gimme all tha froth. 
Yes, we have broken up with Keurig and there is just no going back.
---
Rae Dunn Coffee Mugs
If you have any Fixer Upper fanatics, then you need to buy them some Rae Dunn. It is ALL the rage right now with women who like the farmhouse style of decorating and they are pretty hard to find! Joanna Gaines would be proud of you if you bought these mugs.
---
Watch Ya Mouth Game
If you want a hilarious game to play with your family then this is the game for you! We've actually gone live on my blog Facebook page, Life as a Rambling Redhead, while playing this game and had so many questions about it! It's addicting and will make you laugh so much that you'll have a six-pack the next morning… so it basically comes with free abs. (Watch us playing it here.)
Disclaimer- you don't even need to be drinking alcohol to think that this game is funny.
---
Glow Bowl Motion Censored Light
THIS IS FOR ALL OF THE MEN. Can we all buy these for our husbands please and make our toilets sprinkle free once and for all?! I bought this for my husband and I don't even care if he sees this. Late night pees just got even more fun because you're basically in a nightclub with this lighting.
Mike… this is for you bae. Comin' at ya like it's hot. 
---
Melissa and Doug Mickey Mouse Wooden Baking Set
If you have toddler or grandchildren then this is a must for you, trust me. I have never bought these wooden sets for my kids due to the fact that I didn't think they would play with it that long, but boy was I so painfully wrong. They just received this as a gift and we are on day three of them being completely obsessed with it. My kids usually don't play with one single toy for longer than ten minutes, so three days is HUGE. I've completed so many house chores the last few days, I'm basically in heaven.
---
Learning Resources Play Food Set
I LOVE this play food! It looks real and is great quality! Highly recommend for toddlers!
---
Shopkins ANYTHING
So apparently, these Shopkins are a real obsession among elementary school children right now. My sister in law told me that kids love these because they buy the sets and trade them with one another. Best part- they are really inexpensive! You can get sets for as low as $8 here on Amazon!
---
3D Stick On Wall Panels
I just thought these were really cool and surprisingly inexpensive for a great home project! I've never used them but I'm thinking about trying them in my kids little "Kid Cave". Easy to wipe down and looks so cool! Great non-traditional gift for the avid home decorator, like myself! (Side plug- my home decor pictures and projects can be found slung about Instagram- follow me @theramblingredhead) 
---
Slightly Inappropriate Kids Cash Register
We have this cash register. When I bought it, I had no idea that there was anything different about it. That's what I get for not reading the reviews. While this cash register may be slightly inappropriate, it's actually really great. My kids play with this a ton! It beeps, scans, comes with money and includes food!
See if you can find the button that makes this cash register so special.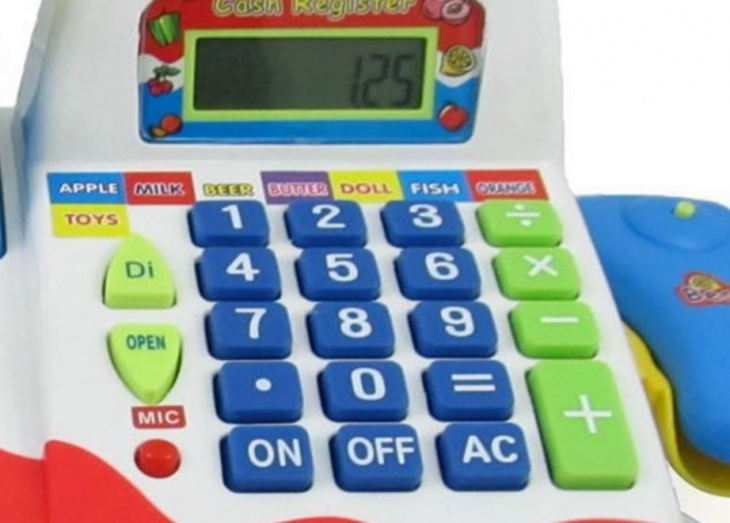 Beer, kids?
---
Amazing Wine Socks
For the Mama who loves her wine. These are great and really need no further explanation.
---
Beer Socks
And I couldn't leave the beer-loving men out! Not that they need another excuse for us to go get them a beverage….
---
Toddlers Cleaning Set
Does your toddler have an obsession with the vacuum or broom like mine does? Then he may need this. Let's put them to werrrrrk.
---
Pie Face Game
This game is all the rage right now with kids. They just love getting smacked in the face with whipped cream, I guess. I've seen videos of people playing this and it's hysterical. Would make a great addition to the Christmas list and fun to play during the holidays!
---
Hope you found something on here you liked!
Buying through the links in this post helps support this blog! I appreciate and love all of you who use them!
Merry Christmas everyone!
If you're not already following me on Facebook, then you should do so right now because you are missing out on so much parenting goodness. Like, so much goodness.
-Until the next time this Redhead rambles.