Well, it's Monday, friends. Time to start that weekday grind, either at the office or within the four walls of your home. Whatever your situation is, I think we can all agree that Mondays tend to feel the same!
SO!…
I thought I'd start your Monday on a happy, hopeful note; hopeful that you can find a toy that will keep your preschooler or elementary child busy for longer than twenty-seven seconds that doesn't involve talking problem-solving puppies, Mickey Mouse, or singing half-fish children (Bubble Guppies).
Becuase we all know that keeping our child's attention span longer than five minutes is a real and very painful battle.
If you've been reading my posts or following me on Facebook for a little while then you already know what kind of toys I am always looking for – educational! All from Amazon?… even better! You just can't beat that one to two-day shipping. I pinky promise that all of the toys on this list keep my four-year-old son's attention for longer than five, sometimes thirty minutes! (Disclaimer: every child is different, so I shouldn't be guaranteeing anything to any of you people, but you get what I'm saying here… these toys are better than Mr. Potato Head, mkay?)
So, let's dive into another installment of our current favorite toys, shall we!?
* Click on the toy names listed to browse/shop! *
---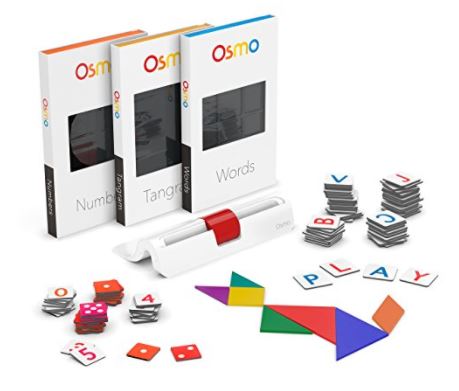 This is hands-down our favorite Ipad game. It's seriously so cool how it works and I love that it's hands-on since the child has to move the game pieces around in order to answer the questions. More than one child can play at a time and it tons of levels so it can grow with the child. Von is obsessed with this, which means that I am also obsessed with it. #winning
---
Melissa and Doug Learning Mats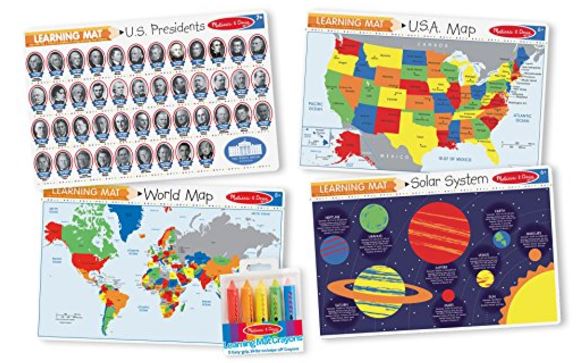 While these aren't technically placemats, I use them as such. They are larger than your typical placemat and are easily wipeable. They also come with a four-pack of wipeable crayons that can be used on the back side of the mats which are fill-in-the-blank style for the older kiddos! Maybe your child beast will start to memorize solar system facts so they can start to insult you like this, "I am SO MAD THAT I AM GOING TO FROW DIS ENTIRE CITY UP TO URANUS WHERE THERE ARE TWENTY-SEVEN MOONS!"
This is what we call a #nerdburn here in the Todryk house. My four-year-old is full of them and they never get old.
---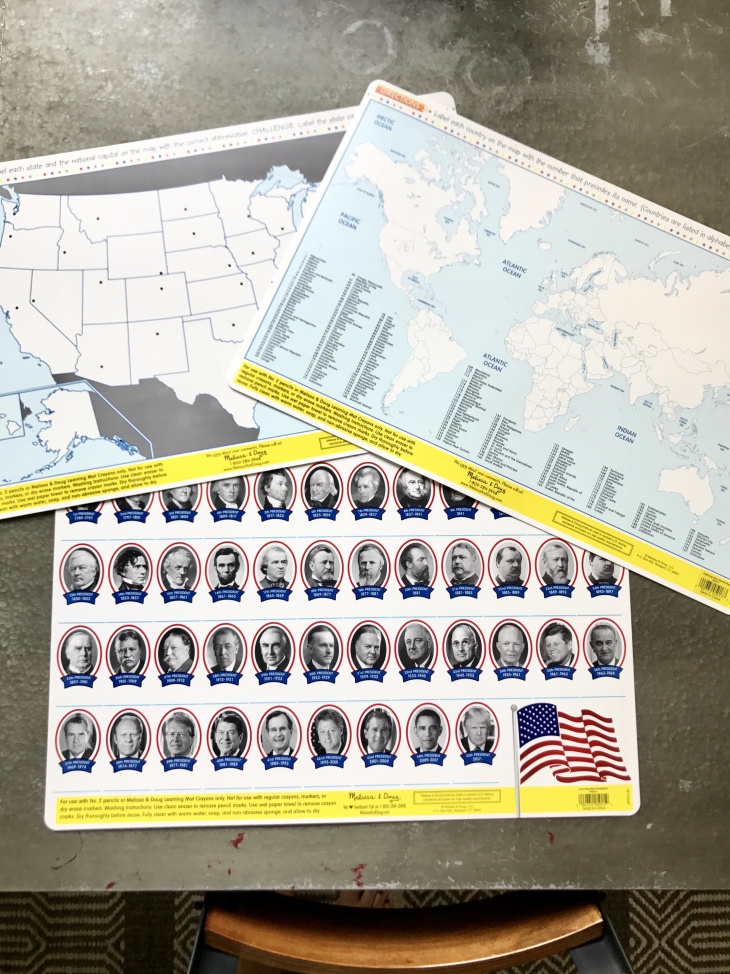 Back side of mats. *ooooo ahhhhhh.
---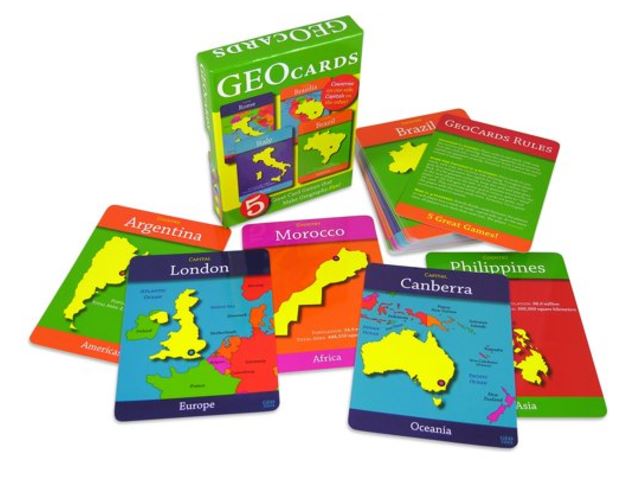 These flashcards or for the kids that are interested in all countries, capitals, and continents. They have five games that you can play with these cards that are pretty age appropriate for young elementary school kiddos. My son is the type who loves reading the population as well as memorizing where countries are on a map, so these are currently in his hands for a good part of his day. We call them his poop-cards since they are what he looks at while he dumps the bodily waste. What is the Capital of Morrocco? I don't know, but he does.
---
I LOVE these puzzles! Every piece is sturdy and cut out in the exact shape of each country. Each piece also displays the Capital. You can buy each puzzle separately but it's cheaper to buy the entire bundle if you think you may want all the sets, so that is what I have linked. The Africa puzzle is what we currently have out on in display on our work table.
---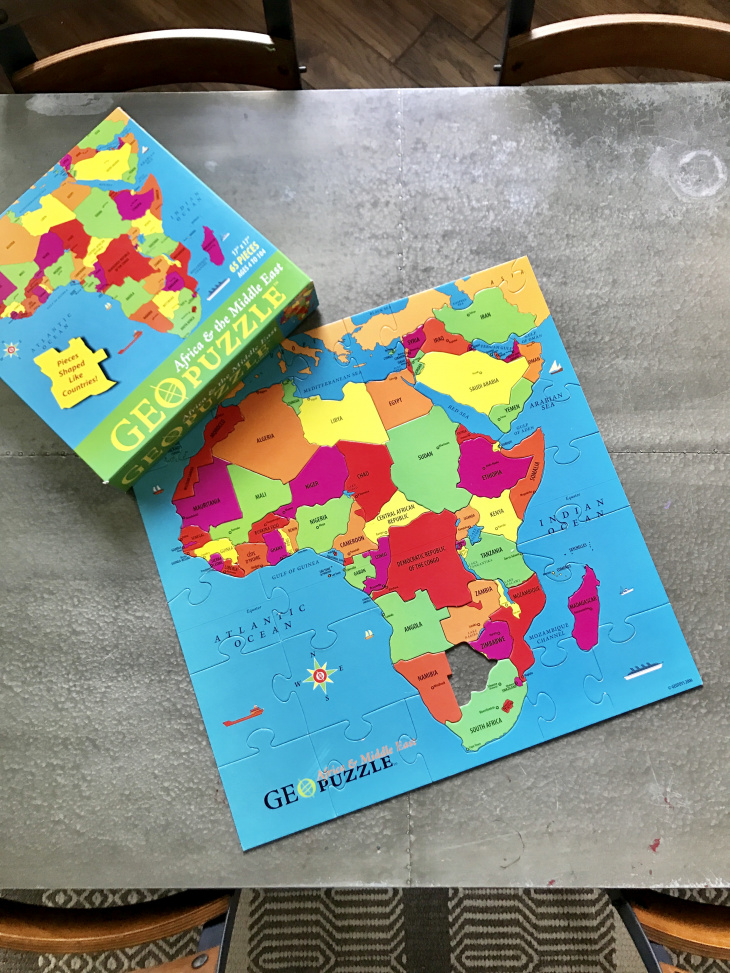 RIP Botswana. We have no clue where it is which is basically kills my OCD soul every time we play it.
---
The Complete Book of Maps and Geography Grades 3-6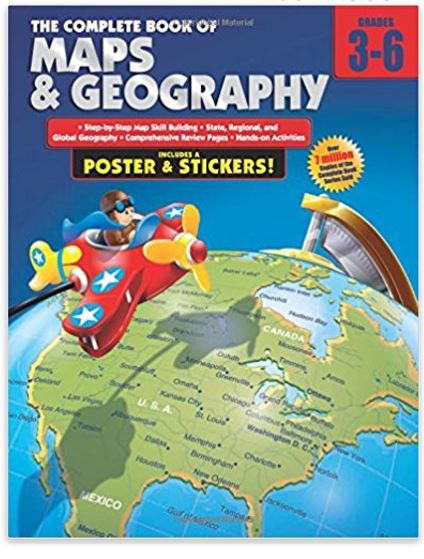 This book is awesome! It is for grades 3-6 but I work on it with my four-year-old, write in answers with him, help him find and trace rivers etc. I feel like this workbook can grow with the kids. Start easy by reading about each state and what makes it special in Section three all the way to learning how to read grid maps in Section 5.
---
This is such a cute and helpful toy. Von carried this around for two days and has almost mastered the concept just because of this toy! It also has a fully-functioning digital clock and night light at the top, so this could be a great addition to their bedroom even after they have learned the skill!
---
Melissa and Doug Grocery Store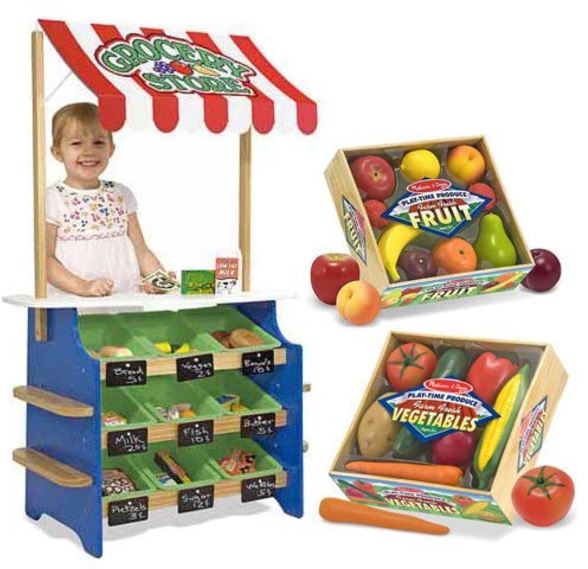 This is a fun one! From a coffee shop to a fast food restaurant, we've really used this toy for multiple purposes. I do love toys that make the kids think and pretend. Pretending is super important at this stage of childhood. I can't tell you how many times I've eaten at my two-year-old daughter's restaurant Cookie where the Chef's favorite item is the ice cream sandwich topped with a slice of cheese and an egg. So delicious. So glad it's fake.
---
Full transparency on this one… my two-year-old is currently loving this more than my preschooler. She will sit and play with these little pieces for quite a while, stacking them or attempting to play on the cards. There are so many cardboard puzzles that came in this set, I was super impressed! There are even cards with challenges, "Make this shape by only using the red and blue shapes" making it a perfect toy for kids a little older as well. 
---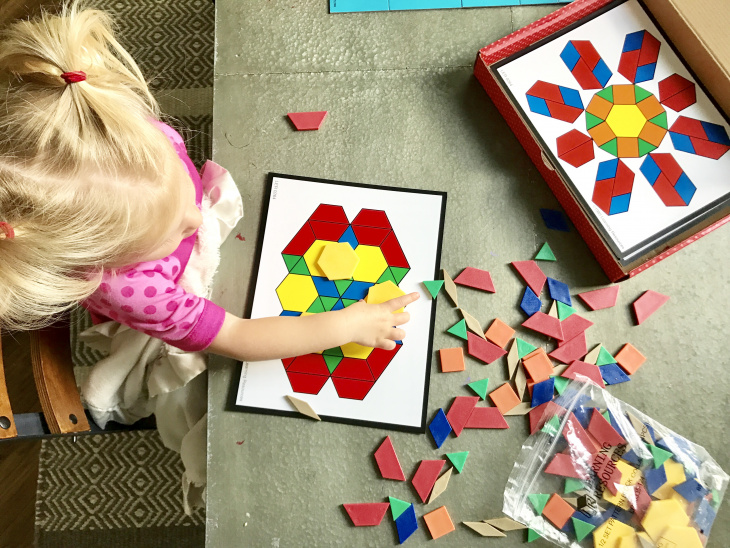 ---
I do want to add that I think that almost these toys are the most beneficial with the assistance of an adult, at least when they are first introduced. My son and I play and discuss these toys throughout the day or while I am cooking dinner. He sits at the island on a barstool, asks me questions or quizzes me on capitals and countries that I have never heard of all while I am trying to assemble a decent meal. Once your child gets the hang of how each toy is meant to be played with, they won't need as much interaction, at least that has been our experience!
Whether you are a Mom to a toddler, preschooler or elementary school child or a Grandma searching for a fun birthday gift, any of these toys would make an amazing addition to any child's playroom! We have definitely been enjoying them!
---
Have a great week, Y'all! Don't let the kiddos take ya down; 😉
-Until the next time this Redhead rambles.
… which will be LIVE on my Facebook Page tomorrow morning (Tuesday) at 10 am where we will be discussing these toys!
---
For more humorous and honest parenting posts like this, please "Like" my Life as a Rambling Redhead Facebook Page!
Subscribe by email here, so you never miss a new post! Your life will be changed for the better. Follow on Instagram, Twitter, and YouTube .
---
Need MORE educational toy ideas? Read This!
*I was not compensated in any way for this article and this post does include affiliate links which I would love for you to use since they help support this blog! Virtual hugs and love for those who shop through my links! Thanks, friends!
---
W(h)ine: 50 Perfect Wines To Pair With Your Child's Rotten Behavior now AVAILABLE ON AMAZON!
Also Available in all major retailers.
---