For my Baby Mamas!
Here are my favorite baby products I am currently using with chunky Viv ❤️? I own everything in this round up except the crib and rocker! I wanted to include these because they are a great price at Walmart right now since they are having their Breastfeeding month awareness sales! We're left with saggy boobs at the end of it but breastfeeding is totally worth it for one month of sales, RIGHT?!
*crickets* ?
---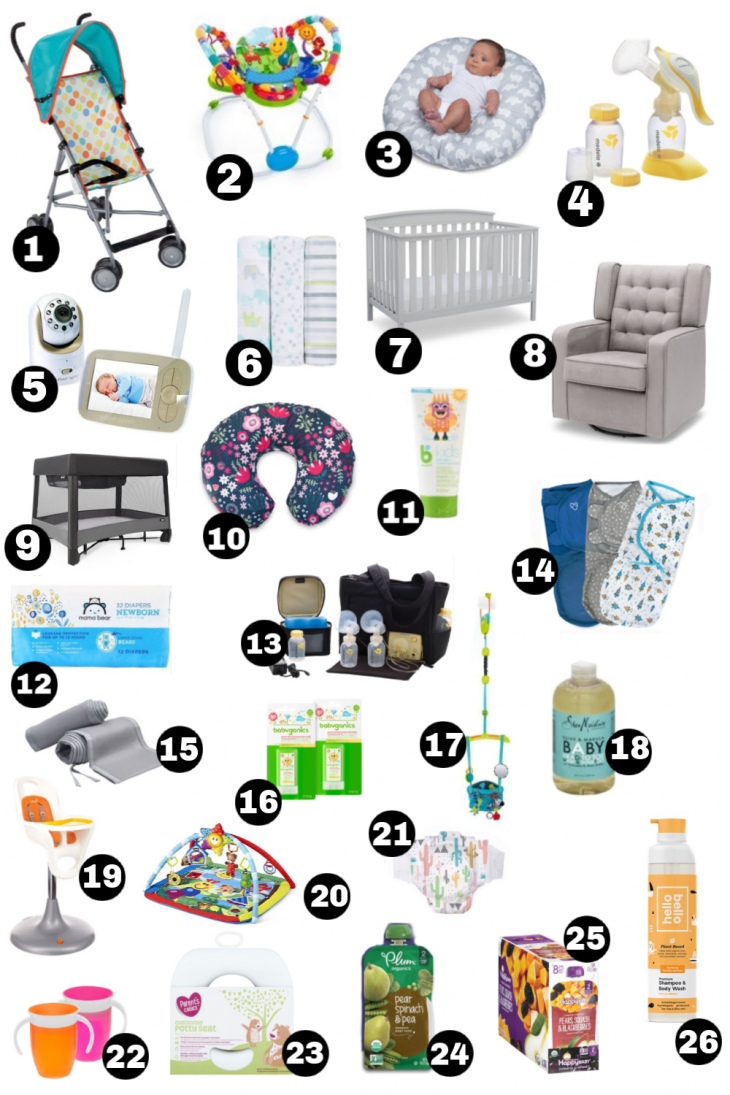 Umbrella Stroller |2. Activity Jumper |3. Baby Lounger |4. Medela Handheld Breast Pump|5. My Baby Monitor|6. Swaddles|7. White Crib |8. Glider Chair|9. Pack N Play|10. Boppy Pillow|11. Baby Liquid Sunscreen |12. Newborn Diapers |13. Medela Pump In Style Set (with free $50 Walmart Giftcard!)|14. Velcro Swaddles |15. Breathable Mesh Crib Liner|16. Baby Stick Sunscreen|17. Door Jumper|18. Baby Wash & Shampoo|19. My Highchair |20. Play Mat |21. Hello Bello Diapers|22. Munchkin Cups |23. Potty Seat with Cushion|24. Plum Organics|25. Happy Baby Organics|26. Hello Bello Shampoo/Wash
---
Things to consider passing on:
Wipe warmer. Don't do it. Once you start wiping your sweet babe's butt with a warm towelette, the cold ones don't fly. Think about it. ?
Changing table/pad. I know this sounds crazy but I just use the ground. They can't fall off of the ground and the ground is free.
A lot of friends have said that a bottle sanitizer/cleaner is a total waste. Just put the bottles in the dishwasher. Money saved.
Baby towels. Why not just use a normal human towel?
963 wash cloths. Don't need.
A lot of friends also said that the bottle warmer was a total waste.
Bath toys. Throw a plastic cup in the bath and call er' done. Your sweet babe will have a blast! Also to be considered- those plastic toys with a hole in the bottom of them grow mold inside the toys, dangerous!
---
Hope y'all found this post helpful! This post does contain affiliate links as well as all of my own honest opinions ?? As always, I appreciate all of your support! Means more to me then I can express with words in a blog post! ❤️
Have a great weekend!
---