MEN ARE SO HARD TO BUY FOR! I swear, If Mike wants something he just comes home with it. It's not like we have a deep conversation reviewing the pros and cons of new tennis shoes or trying out a new brand of Beef Jerky 😂 it just shows up one day! I find shopping for the kids to be super simple and enjoyable, but Mike… STRESS. I feel like I'm always under pressure to be creative yet practical when it comes to his gifts.
So, in attempt to help you not get stuck when shopping for the men in your life, I've curated a Men's Master Christmas list! Twenty five Gifts that Mike already owns, uses, and loves as well as FIFTY other gift ideas that were suggested in my Instagram stories by YOU! Eight gag gifts because Mike always gets a few of those each year and ten ideas that are deemed "unlinkable" but creative!
That's NINETY THREE gift ideas total.
Because 100 gift ideas would have just been ridiculous.
---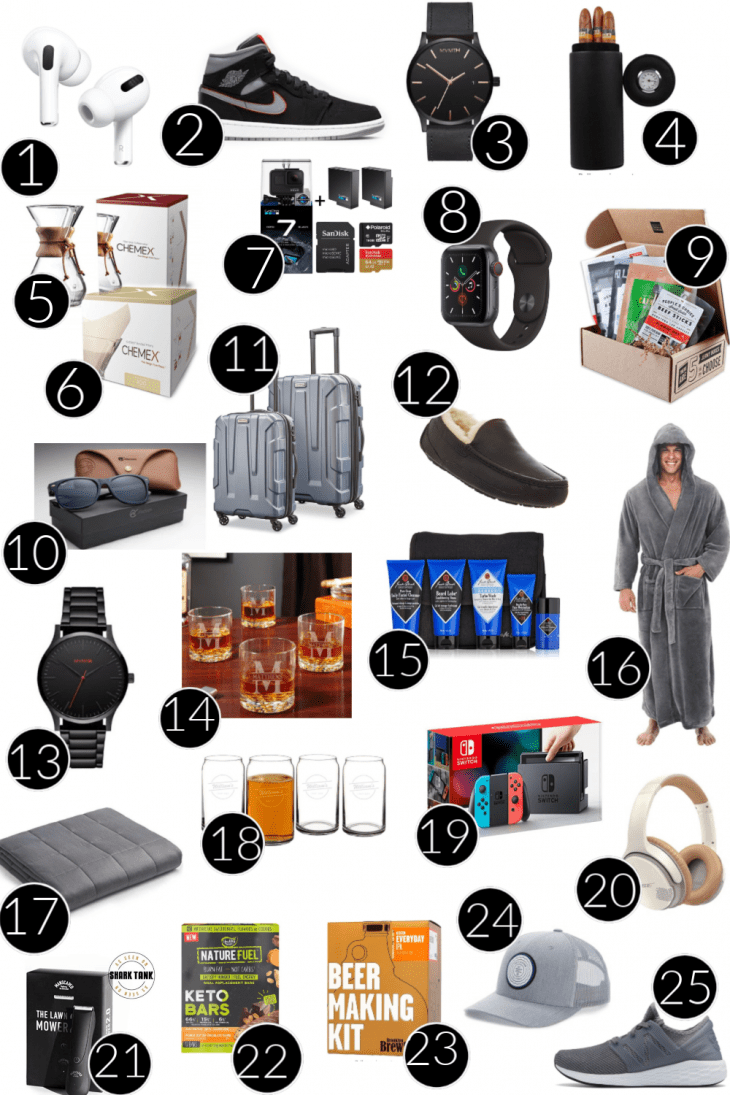 Airpod Pro Newest wireless headphones| 2. Nike Jordans These are Mike's new favorite shoes! He has a couple on his wish list | 3. MVMT Watch Mike got this watch last year and it looks so slick!| 4. Cigar Case We are getting this for Mike's Dad! | 5. Chemex Mike uses his Chemex every morning! | 6. Chemex Filters You need these if you buy the Chemex | 7. GoPro Hero7 Black This is the Go-Pro we have and it's SO FUN to have on vacations!| 8. Apple Watch Series 5 Mike wants this watch this year 😉| 9. Jerky Sampler Always a great add-on gift!| 10. Ray-bans Mike has these and loves the way they look!| 11. Luggage This is the set that we have- they glide and swivel like a DREAM! | 12. Men's Slipper This is Mike's staple house shoe that he requests every year (can also be worn outside)| 13. MVMT Watch Another inexpensive watch option!| 14. Engraved Whiskey Glasses A great personalized gift option | 15. Jack Black Gift Set Mike's Favorite face care line, it is considered a "luxury brand" and smells amazing!| 16. Men's Robe This is the same robe that I have but in man-form, so dang soft| 17. Weighted Blanket We recently bought this and surprisingly love it! We use the King size 20-pounder! I also bought five pound blankets for the kids | 18. Engraved Pint Glasses Mike loves personalized beer/whiskey paraphernalia| 19. Nintendo Switch Mike also loves video games. Von asked for this for Christmas and Mike wants him to get it (…for selfish reasons 🙄😂)| 20. Bose White Headset | 21. Manscaper I got this for Mike |22. Keto Bars This is Mike's favorite brand of Keto bars that he snacks on regularly|23. Beer Making Kit It's basically a crafting box for grown men, this is on Mike's list- just something fun to try!| 24. Hat Mike loves this hat brand and has many styles|25. New Balance Shoes because y'all know the love runs deep for New Balance in this house (Mike started it).
---
50 MORE GIFT IDEAS FOR THE MEN IN YOUR LIFE! I asked what y'all were getting the men on your list for Christmas and y'all CAME THROUGH. So many ideas! I picked the top 50 most unique! Some are larger items while some would make great stocking stuffer ideas. 🤗
Silicone Wedding Bands for Men
---
8 GAG GIFTS: I always get Mike one to two gifts that are more for a laugh than anything else! Just thought I'd throw a few out there in case you need a gag gift for a holiday party!
---
10 UNLINKABLE GIFT IDEAS! Because not everything has a link!
Personalized Groove Book: Have a book made with all pictures of him with the kids or of you and him – Use Code: TODRYK86 for a free Groove book! (not affiliated, once you join you'll get a code to share as well…. I'm not special 😂)
Concert Tickets
Sporting Game Tickets
Coupon Book you could make for literally anything!
Magazine Subscription
Beer of The Month Subscription
Football Sunday pass with the boys!
Surprise "Boys Trip"- free of all nags or guilt.
Surprise Movie Date: Theater tickets to a manly movie where you can order dinner and booze.
Personal trainer sessions: For the man who has mentioned wanting to lose a few or bulk up!
---
Mike's American Eagle Favorites!
Marvel Shirt | Grey Sweater | Dark Blue Button Up | Plaid Shirt | Grey Jeans | White Hoodie | Collar Cardigan | Jeans | Cognac Shirt | Jean Shirt | Black Shirt Jacket | Denali Shirt | Plaid Button Up |Polka Dot Button Up | Grey Pocket Tee | NASA Hoodie |
---
Mike's Denim Sherpa Jacket is 25% off with my Code: REDHEAD25
---
I hope this list helps! I brought Mike in on this to help me get a man's perspective and I think he did pretty good! Thank you for all of your suggestions as well, y'all are a creative group of Mamas!
… is it too early to say Merry Christmas?
Too soon?…. 😬🤷🏼‍♀️❤️