TWO WEEKS LEFT! And about 3 days left to place orders for Christmas gifts! December is FLYING by! 😭
A ton of y'all asked for a gift guide for only women so I rounded up some of my favorite products I own, items from my own wishlist, as well as items that y'all said you were asking for this year! We basically made this gift guide together 😂
Makeup, clothes, electronics, shoes… all the things for any woman are here!
---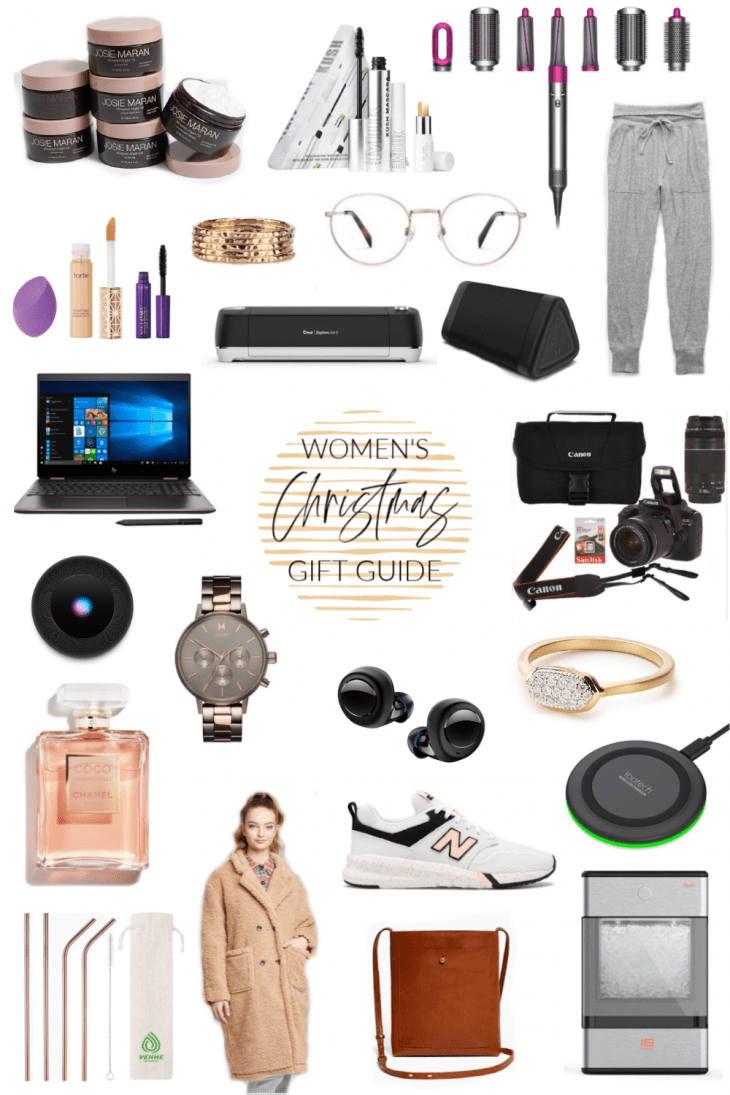 | Body Butter | Kush Mascara! | Dyson Hair Wrap | PJ Bottoms | Shape Tape with Sponge and Travel Mascara | Stacked Rings | Simon Glasses | Cricut Machine | Bluetooth Speaker | Laptop | DSLR Camera with Lens, Bag, and SD Card! | Home Pod | Orion Watch from MVMT | Alexa Earbuds | Kendra Scott Ring | My perfume that I have been using for FOREVER! | New Balance Shoes | Wireless Charger | Metal Straws | Teddy Coat! | Madewell Leather Bag | Nugget Ice Machine |
---
120 LINKS to other random gift suggestions down below 🥳
GIMMIE Beauty: I have an exclusive 65% discount link off of all hair ties! The thick bands are my absolute fav since they don't leave awful creases in my hair and shrink back to size when washed 🙌🏼 (I've never washed them because I'm just trying to get the underwear done over here but it's good to know 😂)
HomeChef Meals! Use Code: REDHEAD80 to get $20 off your first four meals!
Things I have and Absolutely LOVE:
My perfume that I have been using for FOREVER!
My Warby Parker Glasses – Frames Percey and Simon
Pots & Pans 38% off my pans right now!
---
All of the AWESOME things y'all suggested! (some of these things are linked under the graphic as well!)
Women's Cashmere Wool Blend Coat
Its a 10 Miracle Leave-in Product
DSLR Camera with Lens, Bag, and SD Card!
Madewell Leather Bag – Use Code: GOODCHEER for 25% off!
Soundproof Bluetooth Headphones
Jewlery with Kids Birthstones!
---
Unlinkable Ideas
Coupon for House Cleaning
Audible Subscription
Monthly flowers subscription
A Pedicure
Massage Package
Getting Car Detailed
Babysitting coupon
Date Night Jars
Sports Game
She Shed
Eyelash Extensions
Botox
Books!
Plants
Airline Tickets
Lush Bath Products
Gym Membership
---
Responses that made me laugh 😂
Booze
A hot uninterrupted shower
A Nap
WINEEEEEE
A Silent Night
Sanity!
A Husband
A husband that helps
A new neighborhood
Tequila
Diamonds and Cheese
Two Poops in Peace
Anything in Size "babysitter from 1 to 6 pm"
World Peace
A professional massage (not one that leads to more babies!)
Boobs
Y'ALL CRACK ME UP 😂
Hope your shopping is going well! We are procrastinating over here but finalizing gifts this week (hopefully)!
Tis the season to be last minute shopping. 😂❤️