C O L O R !
I've talked about a lot of things here over the past few years that I love and use and thought it would be fun to break down the best of the best by COLOR! I used to hate the color pink and I must say that I had the most pink items… shocking, really.
Hope y'all are having a great week so far! I had this week off from filming my show for HGTV and it was more needed than I thought. So far it's been great to be at home with the kiddos and super productive! I would be lying if I said that all this Covid stuff isn't stealing just a little of my joy these days. I am taking it seriously, and while none of my family members have directly been affected (thank goodness) I feel the weight of it as I leave the house to work every day. I pray hard for the families this has impacted and I'm so ready to feel total peace, as I'm sure we all are! I encourage those of you who are struggling with anxiety to let some of that worry go, this is completely out of our hands so let's not give this virus any more of our mental energy… us Moms don't have enough of that as it is. I challenge you to stay upbeat and train your brain to think positively! When I want to be annoyed or stressed I always tell myself that I've got three tiny humans that are watching me and feeding off what I am putting into the world. It helps me kick my brain into a more positive gear quickly!
This season will pass.
Onto more fun and COLORFUL things I am LOVING!
---
My Favorite Pink Things!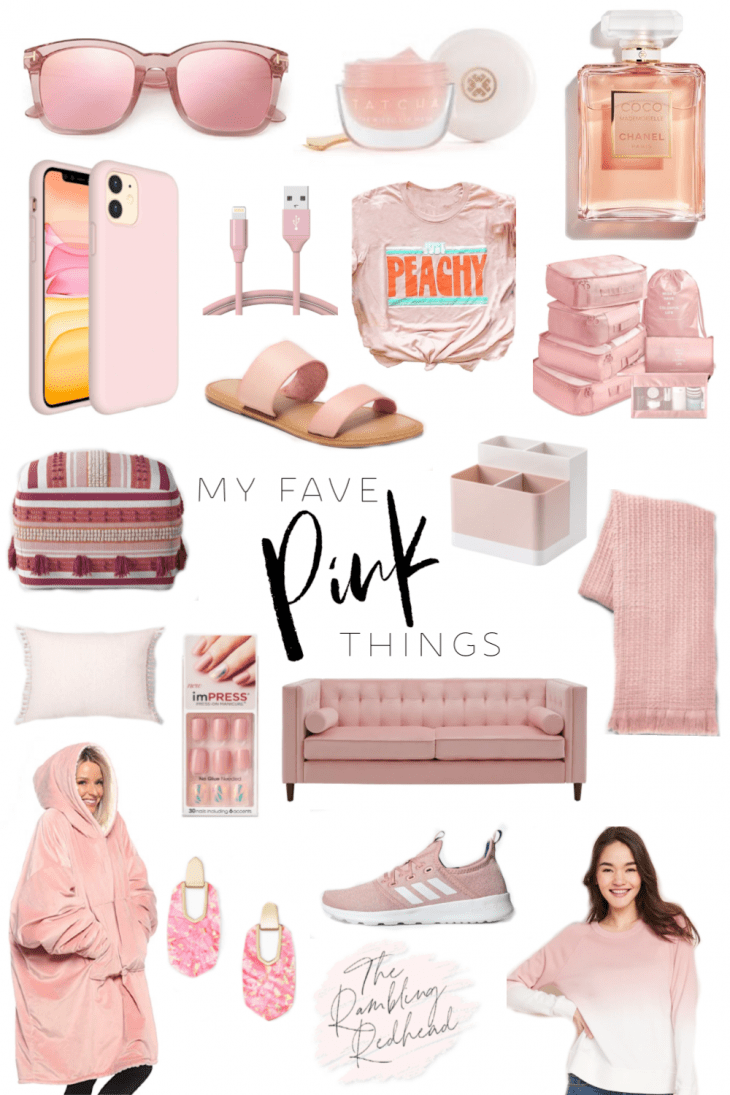 Pink Sunglasses | Tatcha Kissu Lip Mask | My Perfume! | Phone case | Phone charger | Just Peachy Tee | Packing Cubes | Pouf | Pink Sandals | Desk Organizer | Tassel Blanket | Tassel Accent Pillow | Press on Nails | Velvet Couch | Oversized Hoodie | Kendra Scott Earrings | Adidas Tennis Shoes | Ombre Sweatshirt |
---
My Favorite Green Things!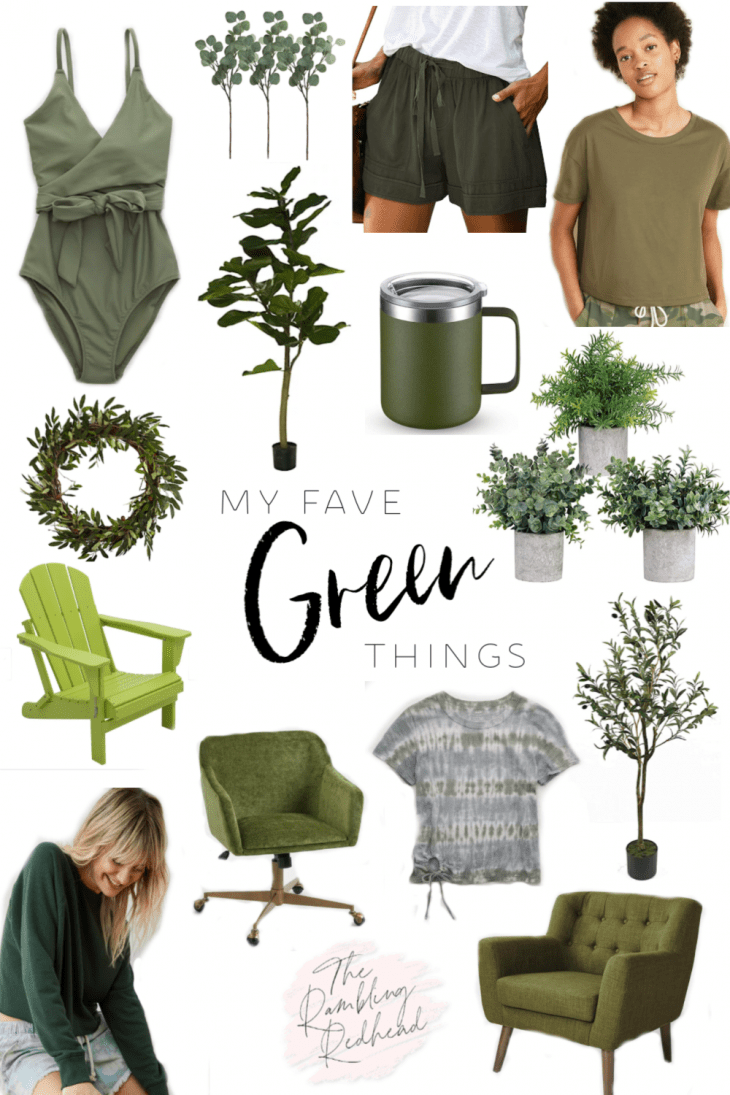 Green One Piece Swimsuit | Eucalyptus Stems | Green Shorts | Comfy Tee | Olive Wreath | Fiddle Fig Tree | Metal To Go Mug | Faux Plant Set | Green Adirondack Chair | Cropped Sweatshirt | Green Office Chair with Arms | Tie Dye Tee | Olive Tree | Accent Chair |
---
My Favorite Neutral Things!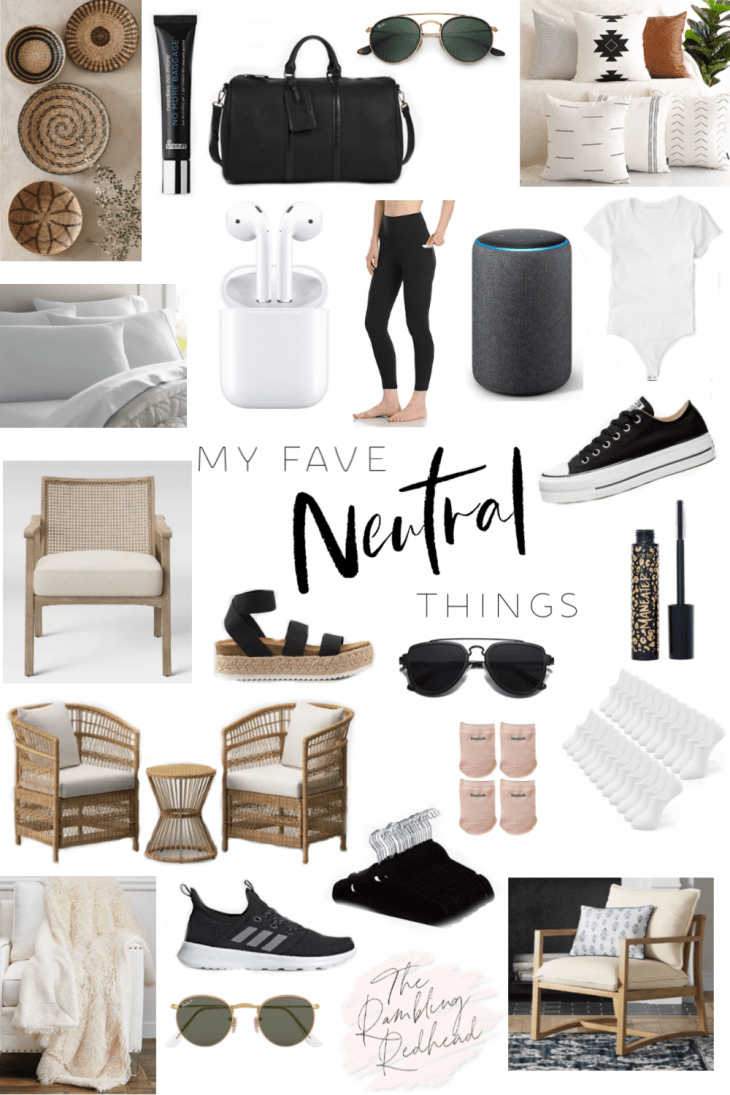 Wall Baskets | No More Baggage Depuffing Cream | Black Leather Weekender | Ray-Bans | Pillow Covers | Best Sheets | Airpods | Leggings with Pocket | Echo Plus | Abercrombie Bodysuit | Cane Chair | Platform Converse | Espadrille Sandals | Black Sunnies | Maneater Mascara | Outdoor Patio Set | Velvet Hangers | Half Socks | No Show Low Socks | Fave Blanket | Adidas Tennis Shoes | Ray-Bans | Accent Chair |
---
My Favorite Gray Things!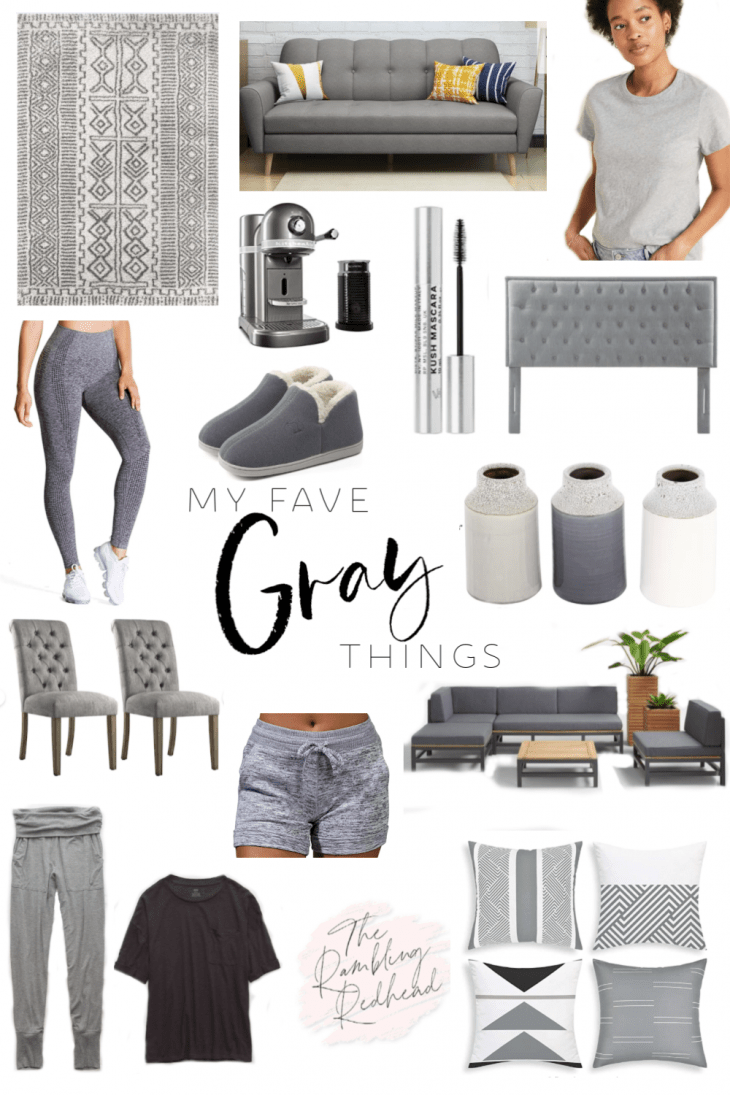 Gray Rug | Nespresso Machine | Gray Couch | Gray Tee | Amazon Leggings | My fave house shoes | Milk Mascara | Tufted Headboard | Vase Set | Tufted Dining Chairs | Comfy Shorts | Build Your Own Patio Set | Joggers | Oversized Tee | Pillow Covers |
---
My Favorite Gold Things!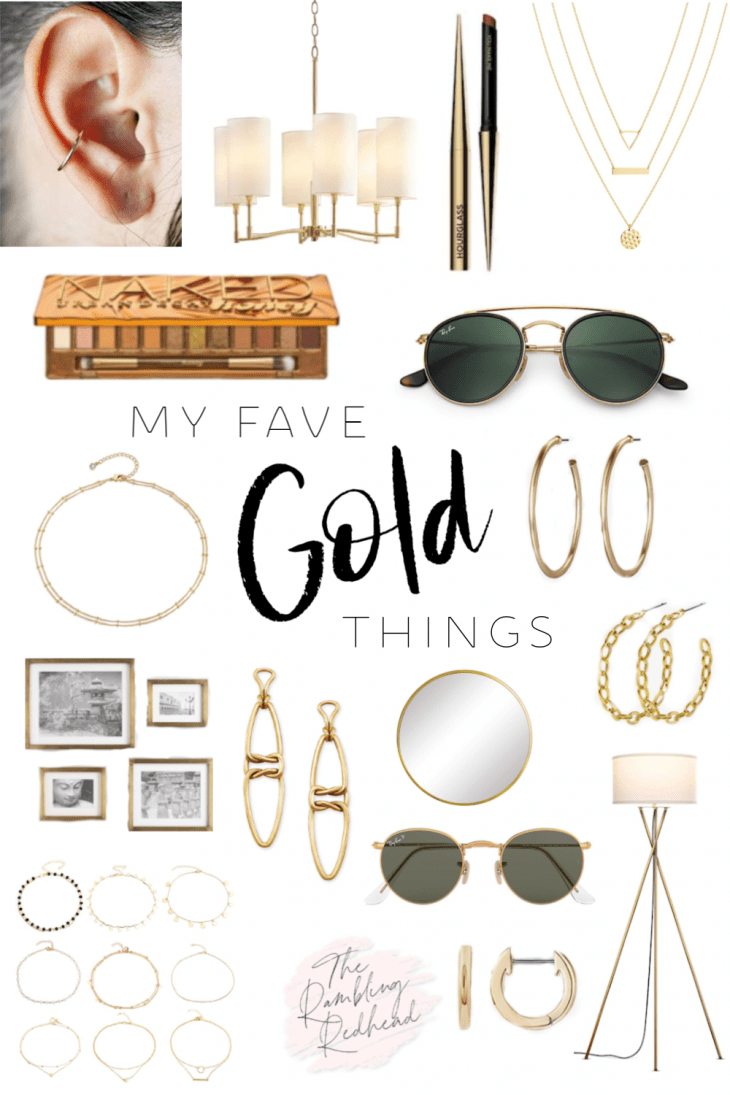 Gold Ear Cuff | Chandelier | Hourglass Lipstick | Necklace Set | Naked Honey Palette | Ray-Bans | Gold Choker | Gold Simple Hoops | Gold Picture Frames | Kendra Scott Earrings | Gold Mirror | Ray-Bans | Chain Hoops | 9 Pack Necklaces | Little Hoops | Floor Lamp |
---
My Favorite Yellow Things!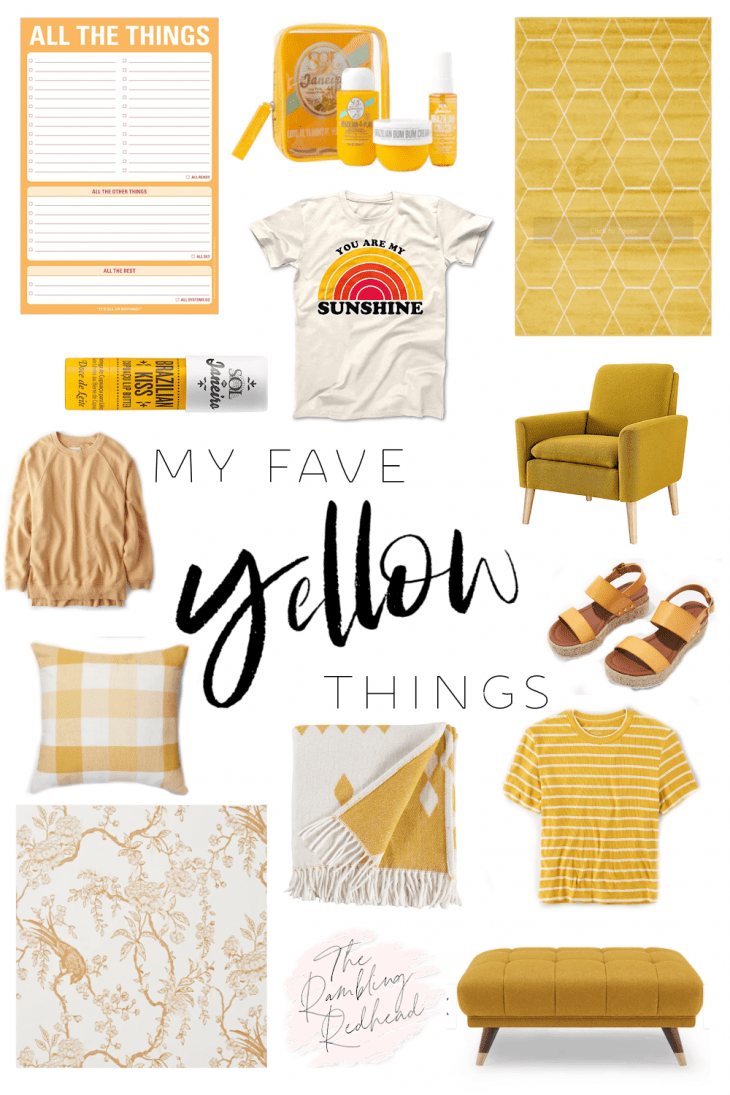 Note Pad | Bum Bum Jet Set | Yellow Rug | My favorite lip balm | Graphic Tee | Golden Sweatshirt | Yellow Accent Chair | Striped Pillow | White and Yellow Throw | Yellow Striped Shirt | Yellow Wedges | Birdsong Wallpaper | Yellow Ottoman|
---
My Favorite Cognac Things!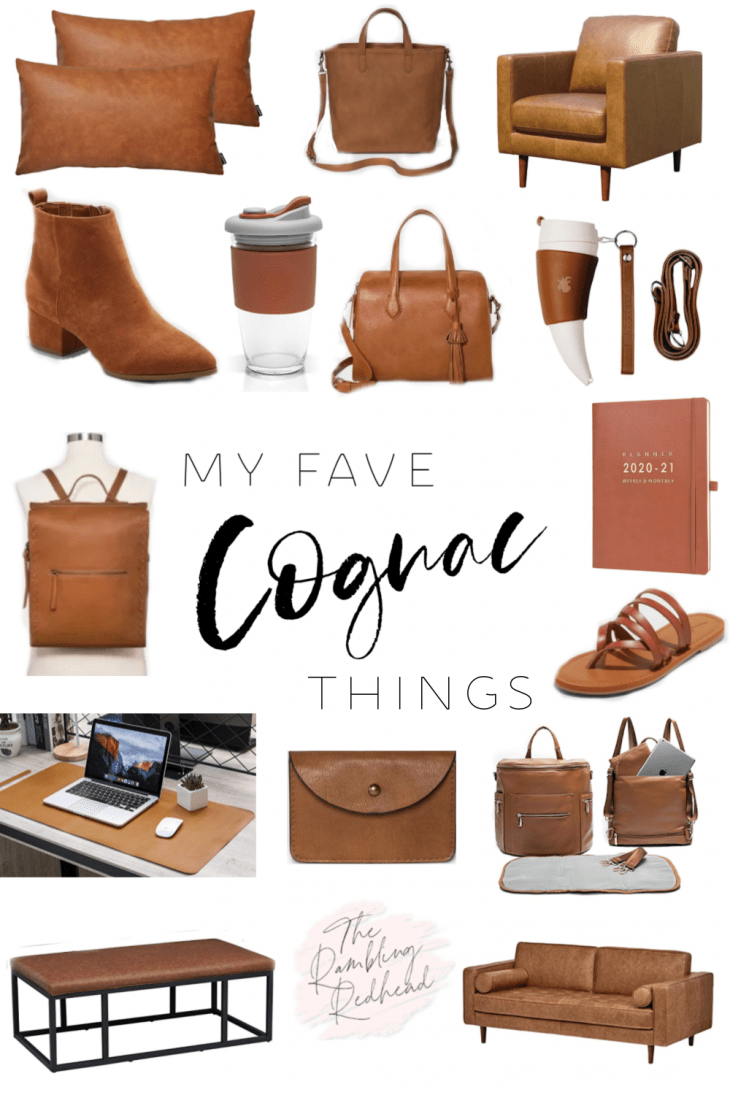 Accent Pillows | Crossbody Purse | Accent Chair | Microsuede Booties | Glass To Go Cup | Tassel Purse | Horn Cup with Strap | Cognac Backpack | 2020 Planner | Leather Sandals | Desk Mat | Small Wallet | Diaper Bag | Ottoman | Leather Couch|
---
My Favorite Purple Things!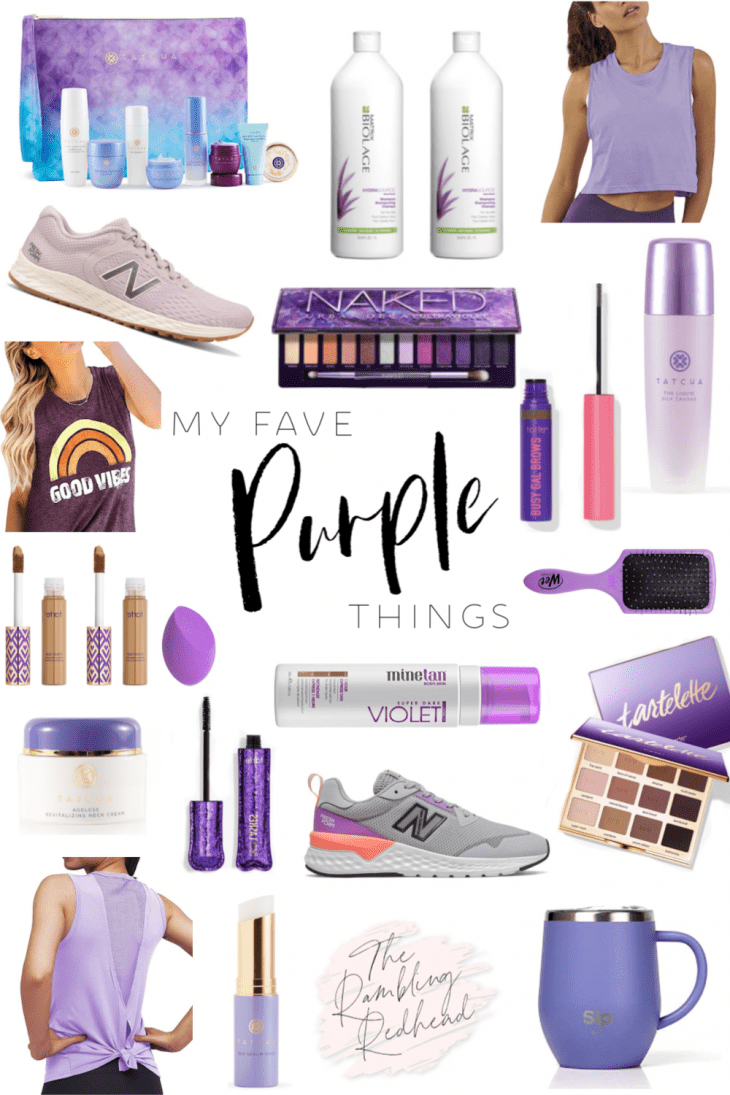 Tatcha 8 Piece Trial Set | My Shampoo | My Conditioner | Workout Crop | Light Purple New Balance | Naked Ultraviolet Palette | Tarte Busy Gal Brows (what I use!) | Tatcha Liquid Silk Primer | Shape Tape Duo | Wet Brush | Tatcha Neck Cream | Tarte Mascara | Minetan Violet Self Tanner | New Balance Tennis Shoes | Tartelette Palette | Purple Workout Tank | Tatcha Serum Stick | To Go Mug |
---
My Favorite Blue Things!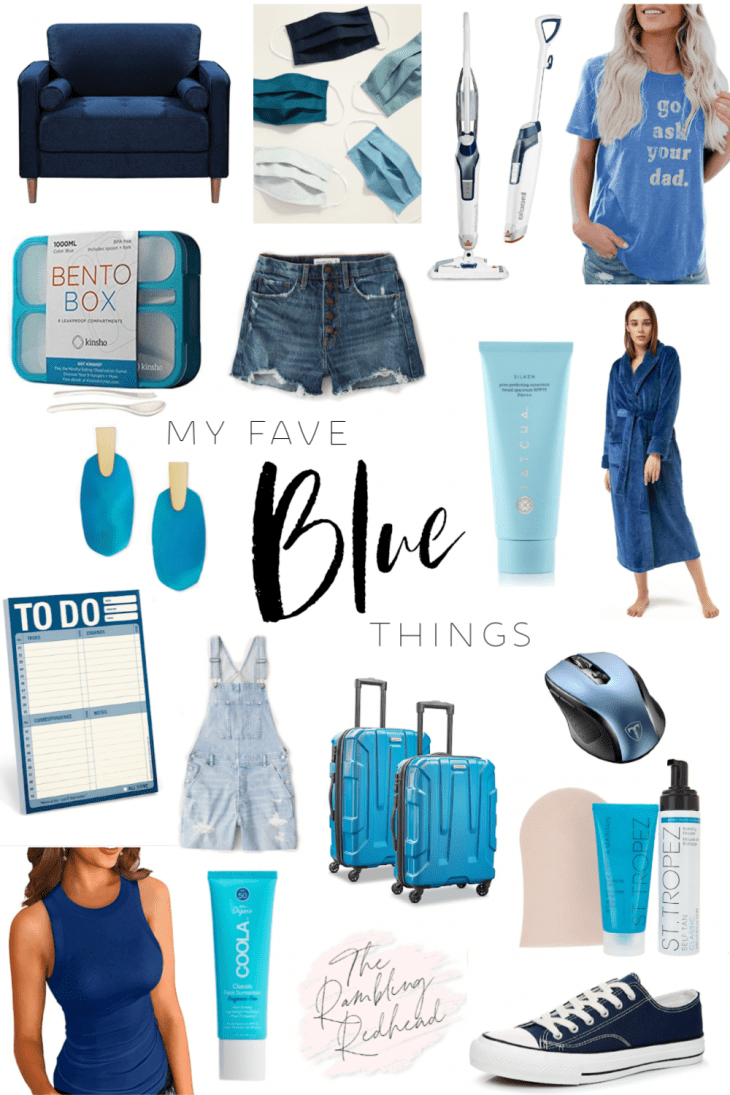 Blue Accent Chair | Blue Pack of Face Masks | Steam Mop | Graphic T-shirt | Bento Box | Mom Shorts | Blue Earrings | Tatcha Face Sunscreen | Blue Robe | To Do Notepad | Shortalls | 2 Piece Luggage | Wireless Mouse | St. Tropez Tan Set | Blue Tank | Coola Sunscreen | Navy Sneakers |
---
What color did I leave out that you'd like to include in the next one? I don't own orange things, I realized this as I made this post. I do have a single orange pen that came in a set, that's it!
I'm planning on doing a color series specific to home decor items, does this sound like some thing you'd be interested in?
Have a blessed week, friends! Praying for this community daily and I am so grateful you're here!