First up – DECORATE. 
 I LOVE decorating. To me, it's honestly magic…you can completely transform a space with paint (I consider paint decorating) and new decor alone. It's cheaper than a renovation and something you can have fun updating throughout the years as trends come and go. Decorating can be quick, cost effective, and can bring value to your home all while not making any changes to your home's actual floorplan.
YOU can decorate! Even if you find yourself struggling or completely overwhelmed on where to start – I promise that you have what it takes to decorate!
You just have to figure out your home decor style.
If you aren't quite sure what your home decorating style is, my blog post 7 Living Rooms Styled 7 Different Ways! Home Decorating Tutorials For All Styles  would be a great place to start. Check out that blog post first so you can see which style you gravitate to. Once you nail down what your style is, it is much easier to shop around for home décor! I've included below two very popular styles right now: Scandinavian and Organic Modern. These are both super versatile and transferable to other styles! If you like some of the décor items from these, know that they will most likely be easy to mix into other styles as well. For example, we could take a wooden bowl or a glass vase and throw them just about anywhere. There is no rulebook in decorating, so please take what I've found and make it your own!
---
Style Organic Modern
I've talked about Organic modern before as this is probably my favorite style as far as "current trends" go. I also love industrial and traditional and incorporate all three into my home decor. Organic modern is a lot of natural textures, woods, rattan, stones and marbles blended with more simplistic furniture that could be either mid-century inspired or more traditional. There typically isn't a ton of color mixed into this aesthetic but you easily could since all of the earthy elements tend to provide a very neutral color scheme. And plants! Don't forget the plants. You can't have too many plants with this decor style since it basically provides the color element. If you love to bring the outdoors in, Organic modern would be a good choice for you!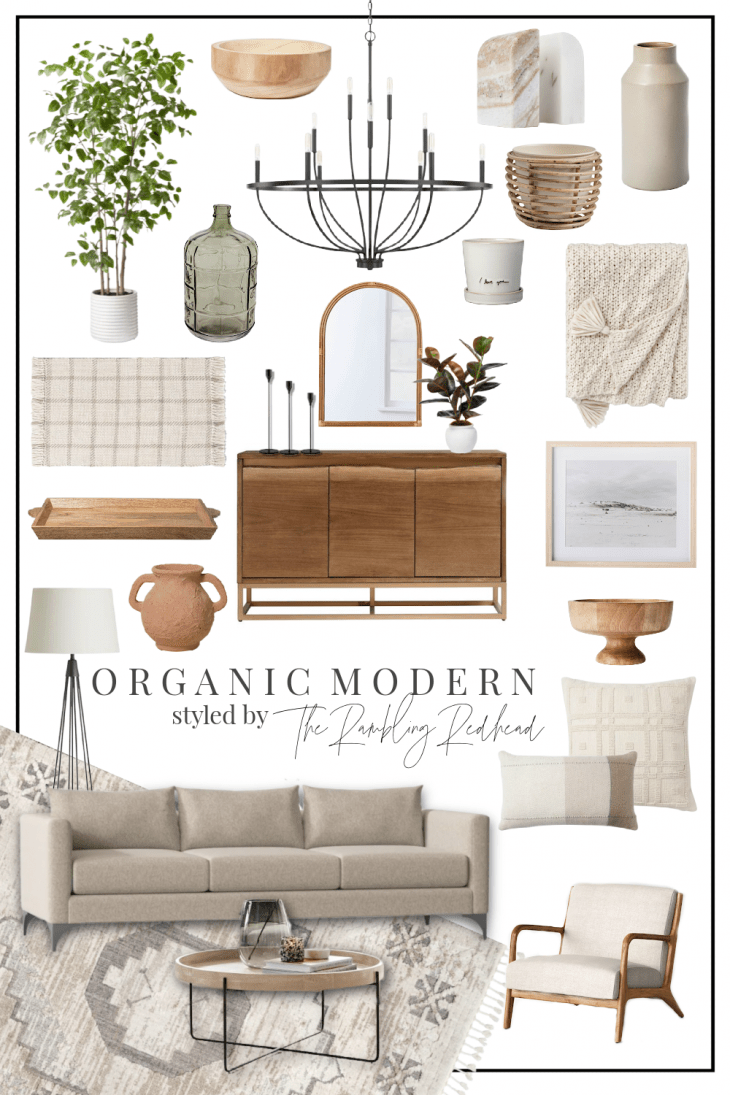 Faux Tree | Wood Bowl | Green Glass Jug | Black Chandelier | Marble Bookends | Tall Vase | Rattan Planter | "I Love You" Planter | Throw Blanket | Cream Scatter Rug | Wood Tray | Terracotta Vase | Black Candle Sticks  | Rattan Mirror | Faux Plant in Vase | Sideboard | Wall Art | Wood Pedestal Bowl | Cream Accent Pillow | Three Tone Lumbar Pillow | Metal Floor Lamp | Square Arm Sofa | Neutral Rug | Accent Chair | Wood Coffee Table |
---
Style Scandinavian
Scandinavian style decor has seemed to taken off recently!  It's a very simplistic style, minimal detail on the furniture as well the number of products used for decorating in general. People who like the Scandanavian style are very intentional with what they use to decorate. They want just the right amount of furniture and things, everything has a purpose, no clutter. It is definitely a more simple look but still achieves a cozy, warm aesthetic.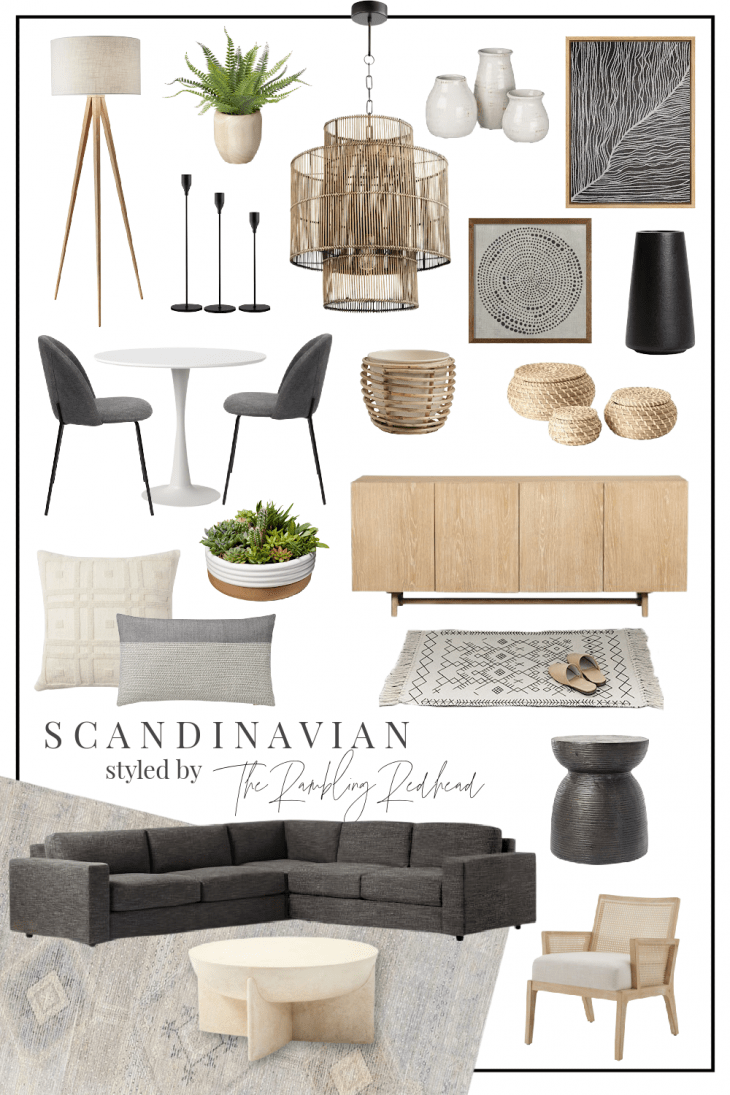 Floor Lamp | Faux Plant | Chandelier | Cream Vases | Black and White Wall Art | Black Candle Sticks | Circle Wall Art | Black Vase | Grey Dining Chairs | White Table | Rattan Planter | Nesting Baskets | Tan Pillow | Grey Pillow | Wide Low Planter | Wood Sideboard | Floor Mat | Drum Side Table | Grey Sectional | Scandinavian Rug | Lava Stone Coffee Table | Wood Cane Chair |
---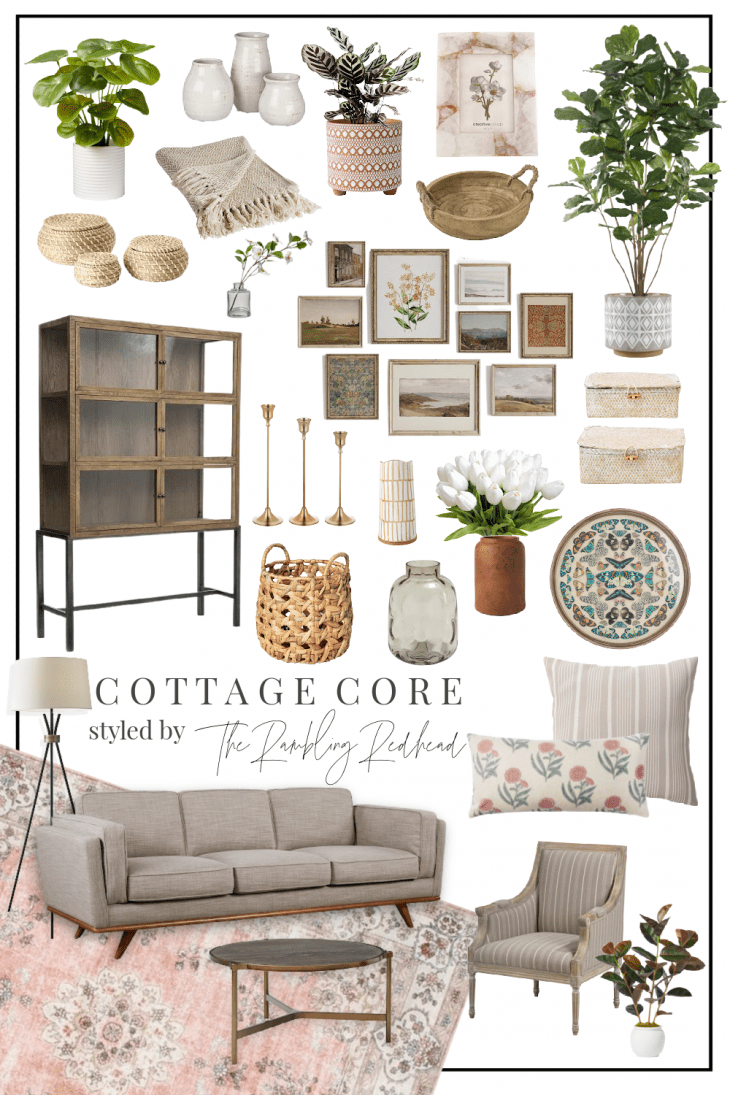 Faux Plant | Nesting Shelf Baskets | White Vases | Throw Blanket | Small Bud Vase with Stem | Terracotta Planter | Pink Stone Frame | Wood Bowl Tray | Digital Art Prints (you can print in any size)  | Faux Tree | Large Planter | Tall Curio Display Case | Gold Candle Sticks | Patterned Vase | Faux Tulips | Rust Vase | Woven Boxes | Floor Basket | Glass Vase | Butterfly Wall Art | Tan Pillow | Floral Pillow Cover | Floor Lamp | Couch | Area Rug | Coffee Table | Accent Chair | Faux Rubber Tree |
---
Paint
When it comes to changing a space without doing a ton of work, paint is THE WAY TO GO! It can make the biggest difference in a space, especially a dark room without a lot of natural light. Below are just a few of the paint colors I've used in my own home as well as some of the client homes on my show, No Demo Reno!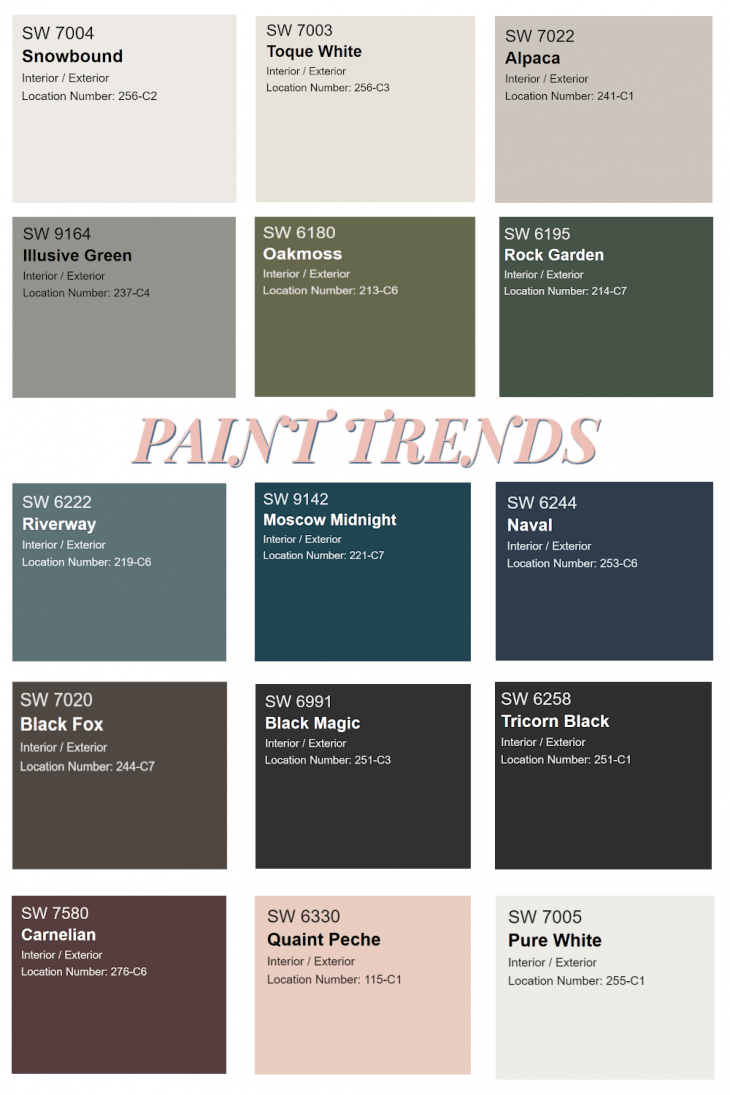 ---
Wallpaper
Wallpaper is making a comeback! Some hate it, while others, like me, love it. Wallpaper is so fun but can be a risky choice so make sure you do what I didn't do, which is order samples beforehand. This will make the process take a little longer but could save you a ton of money so you don't end up choosing a wallpaper that looks totally different in person than it did on your screen when you ordered. Whether you wallpaper an entire room or keep it more simple with an accent wall, wallpaper will no doubt elevate your space and grab anyone's attention who walks in the door!
Botanical Sanctuary Wallpaper | House of Hackney Wallpaper | Pick Up Sticks Wallpaper | Ticking Stripe Wallpaper | Nathalie Lete Les Fleurs Wallpaper | Kindling Wallpaper |
---
Plants
Incorporating plants in home decorating is HUGE right now! I feel like everyone, even people like me who can't keep any plant alive, are trying to have some kind of plant success. Both faux and live plants can add so much warmth and vitality to a space. These are the plants I currently have out on my plantio and I am SO HAPPY to report that they are all still alive after a month of being in my care. Crazy, I know.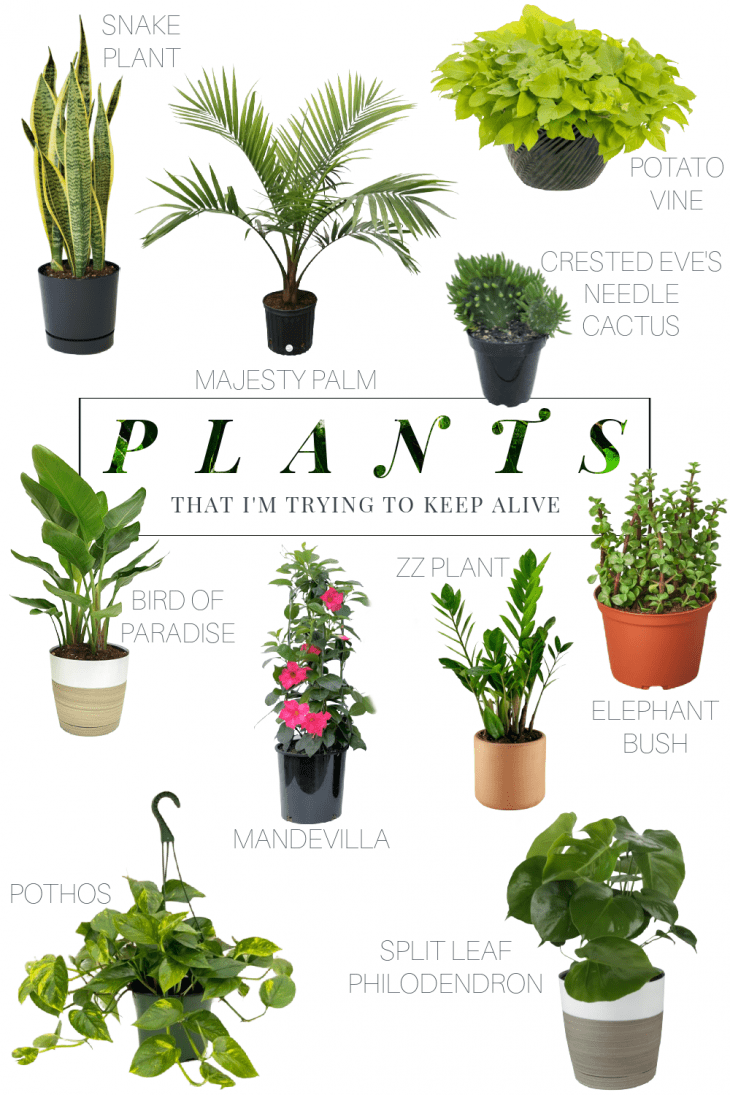 ---
Design.
Design trends are always changing! Design encompasses so many different elements and aspects of the home and just like home decor, design also has its always evolving trends.
Arch Doorways
Arches were not so popular a few years back, everyone seemed to only want straight lines, clean hallways, and the standard rectangle doors, otherwise the home felt outdated. Arches have made a HUGE comeback! While this design trend is not necessarily an inexpensive option it definitely adds character and visual interest to any room. It's a great way to separate two spaces, making it easy to define each room's purpose while maintaining a more open floor plan feel. Arches make me happy!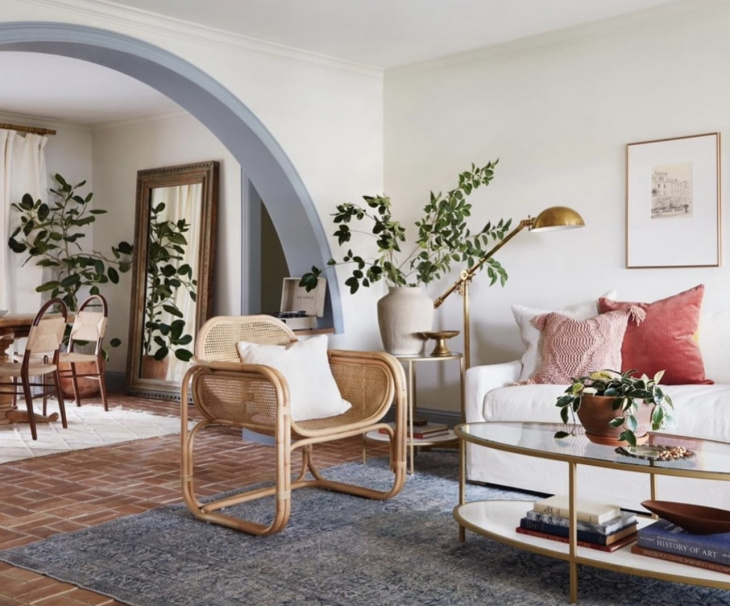 Photo & Design by Joanna Gaines – @joannagaines
---
Built-Ins
There is a reason that some form of built-in cabinetry has been in home design for every decade. While built-ins seemed to have taken off in the 1980's, I think of my Grandparent's 1960's home in Ohio and it has an entire wall of build-ins in the den. It's no secret that no matter the decade people love having storage space! These mega-shelve walls are not only practical for growing families who need to stow away toys, they are also beautiful when decorated appropriately. If you have a lot of belongings and need the shelves to do more than just "look pretty", cute baskets are a great way to decorate while keeping all the things hidden. Give old books that were once in boxes or closets new life as they can be great decor that you already had on hand. If the names of the books or spines are distracting, turn the books around… there are NO RULES! *some people get REALLY mad about the books turned around, which I find funny and very interesting*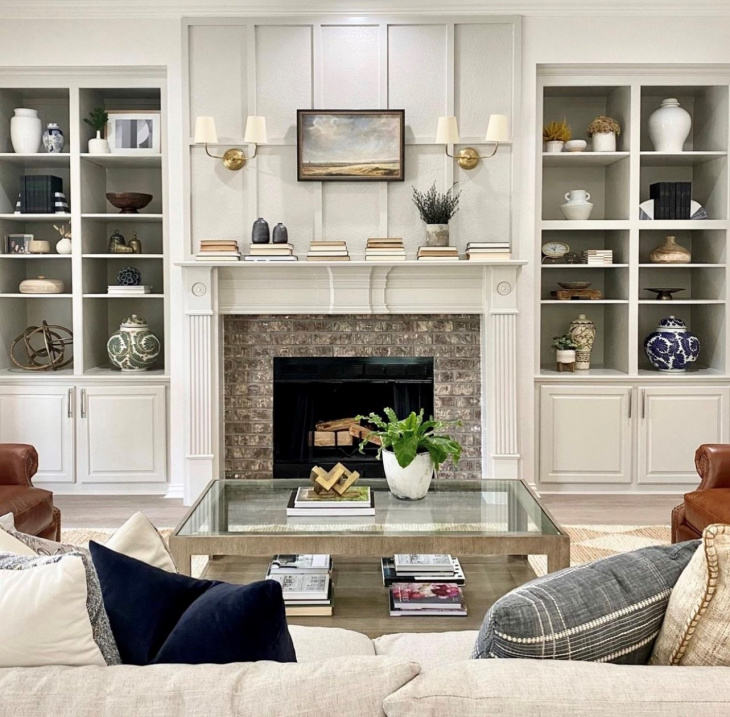 Photo and Design by me @theramblingredhead No Demo Reno season 1
---
Molding
Molding can make a huge difference in a room! The first photo below is a modernized example of picture frame molding or wainscoting. It transforms that huge plain white wall into a massive focal point. The second photo is an example of stacked molding, where you take two to three different types of molding and stack it on top if the other creating a unique border around the ceiling. It gives that subtle pop of character that really makes the room unique without being too bold!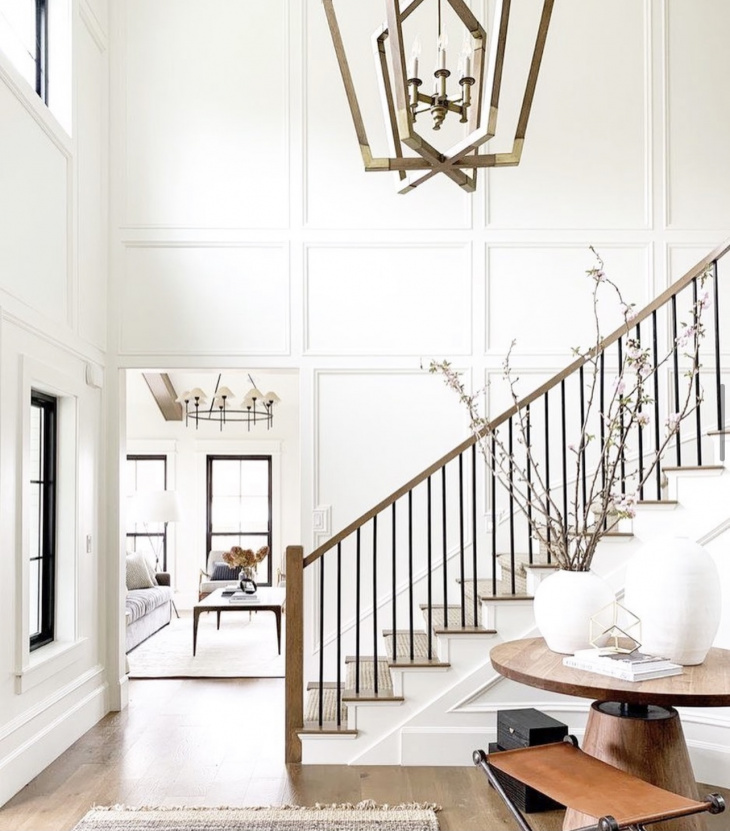 Photo above by The Coastal Oak – @thecoastaloak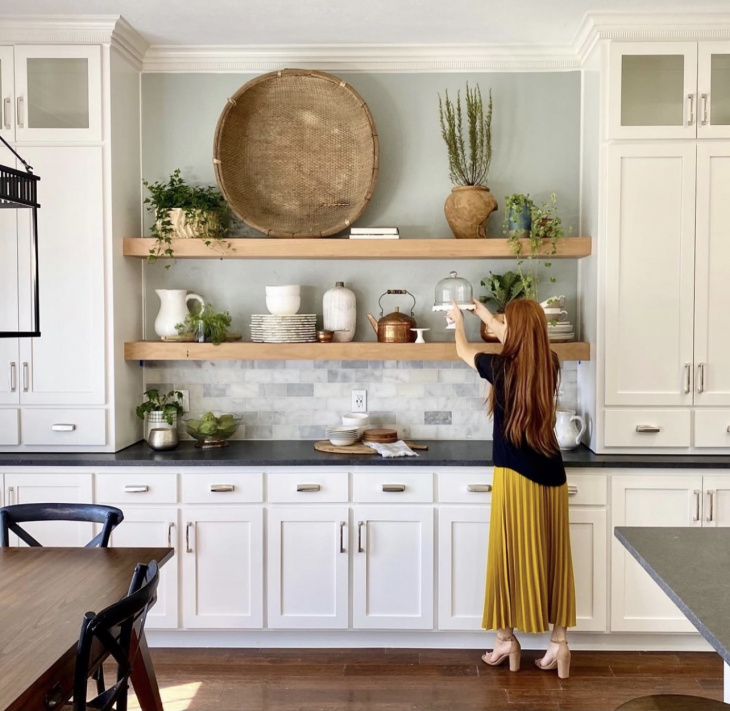 Photo and Design by me @theramblingredhead No Demo Reno season 1
---
Board & Batten
There are endless designs when it comes to board & batten walls. You can make any design you want with these kinds of feature walls! Perfect for a stunning focal point behind the bed, an adorable addition to a nursery, or even a statement wall in your main lining room space. This design element works well for any space of your home and can be as fancy or as casual as you need it to be!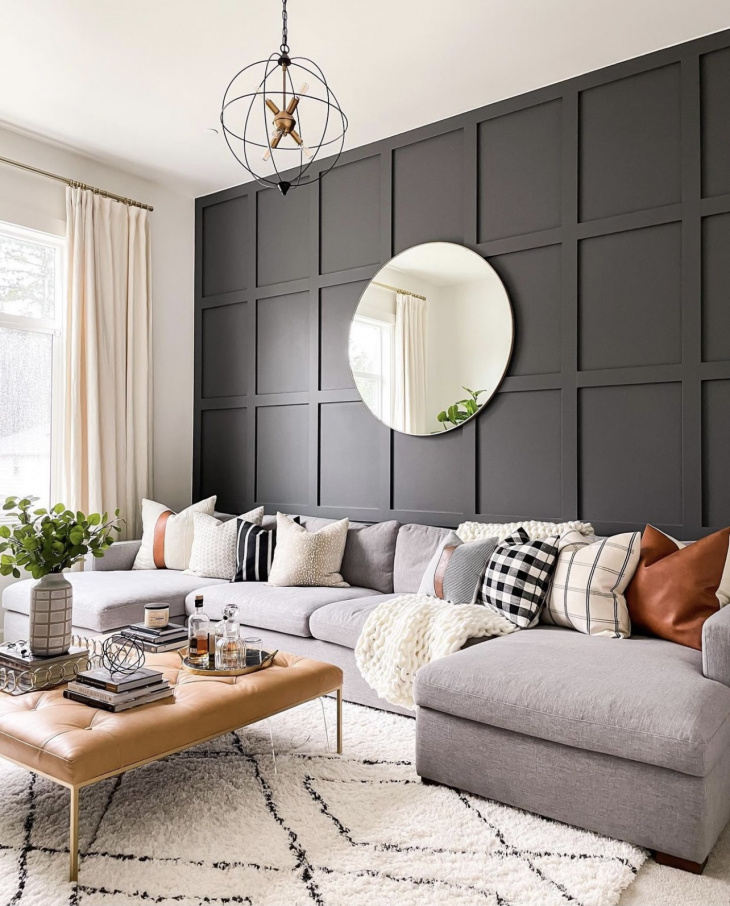 Photo and Design by Tina – @justatinabit
---
Light Wood Floors
This a picture of my own kitchen but truth be told, I wanted floors even lighter. However, I am pretty pleased with how they turned out based on the fact that I got this color from the existing red oak hardwoods. If you're unfamiliar with red oak wood and how PINK it is in its natural state, it's PINK. We sanded the floors three times to get the original ebony stain off, experimented with mixing three different colors of stain to get what you see here. The pink is pretty much gone and that's really all a girl can ask for. Light hard woods are definitely on trend right now and I don't see them being "untrendy" any time soon. I personally love the lightness of them and how natural light seems to just bounce right off of them!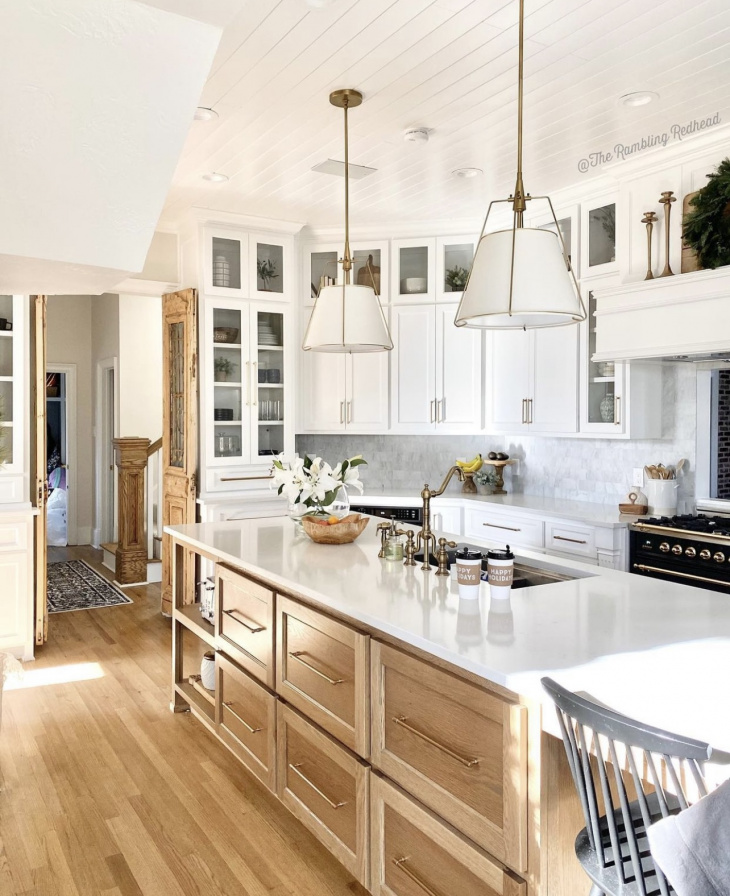 Photo and Design by me @theramblingredhead
---
Two Tone Cabinets
Two tone cabinets are the perfect solution for people who don't want to choose just one cabinet color! It's fun and creates a ton of visual interest in a kitchen, while also bringing a more modern element to the room.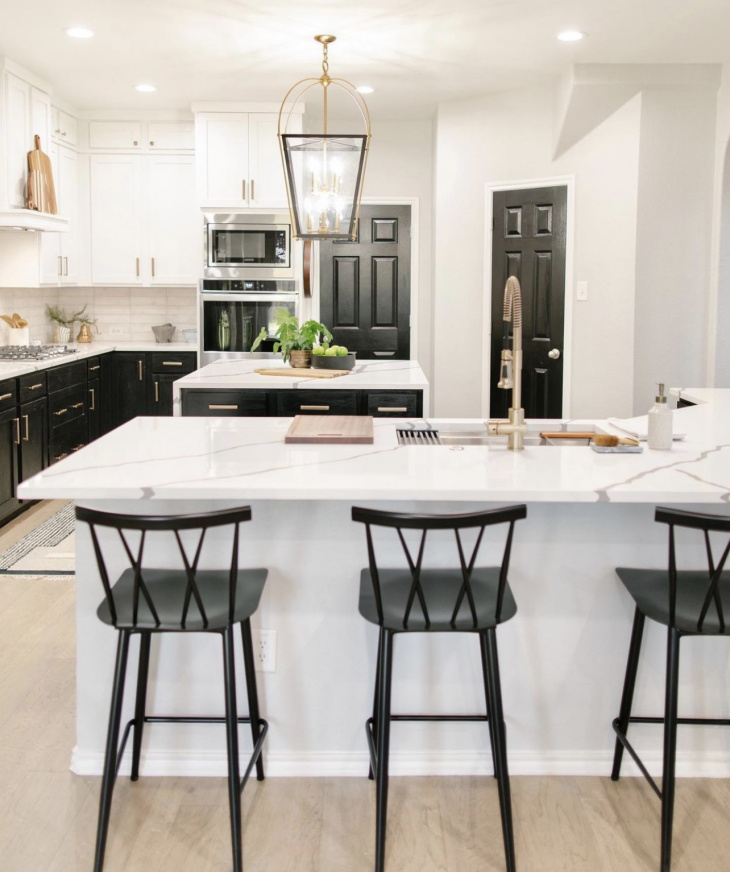 Photo and Design by me @theramblingredhead
---
Marble Backsplash Walls with heavy veining
This trend is taking off! While it is definitely one of the most expensive current trends (depending on what you're using for your countertop and backsplash) it is certainly stunning in the right design! What appears to be seamless transition from countertop to backsplash reminds me of wallpaper as it naturally becomes the room's focal point. I believe that this trend could be incorporated into any design or decor style but is most likely found in organic modern, midcentury, or modern farmhouse aesthetics.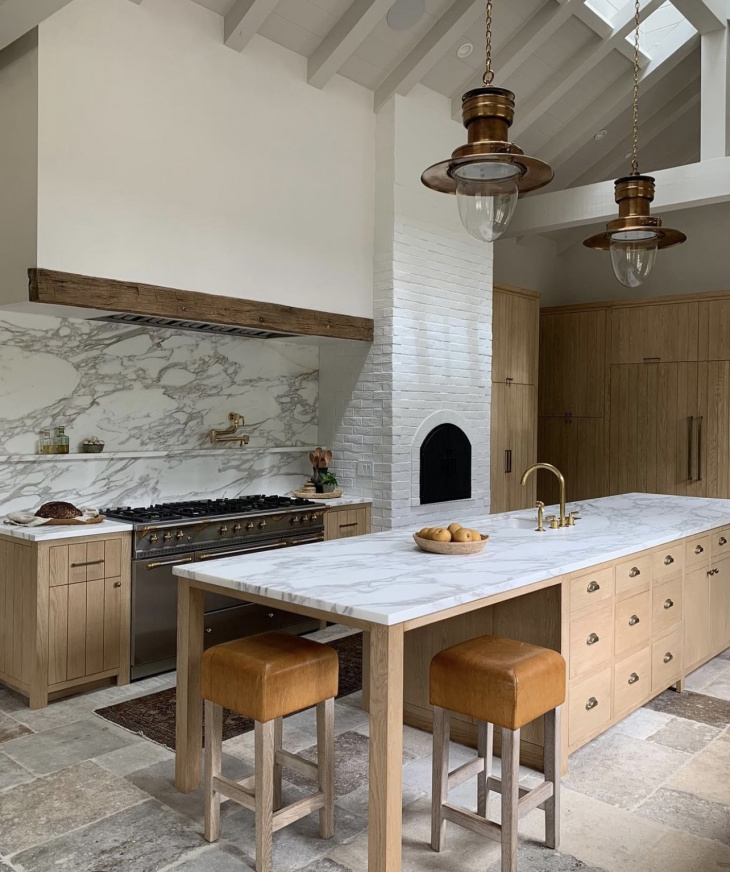 Photo and Design by Amber Lewis Interiors – @amberinteriors
---
Bold Tile
Forget white subway tile, unless you love it ;), bold tile is having its time in the spotlight! Choosing a busier tile in a space that needs a little bit a spice flung into it is a very cost effective way to totally transform a space. This built in wall below on had two changes, one being paint and the other being a gorgeous lazer cut marble tile, and the outcome was dramatic! The right tile can definitely elevate your space, allowing you to implement minimal changes to the rest of the room.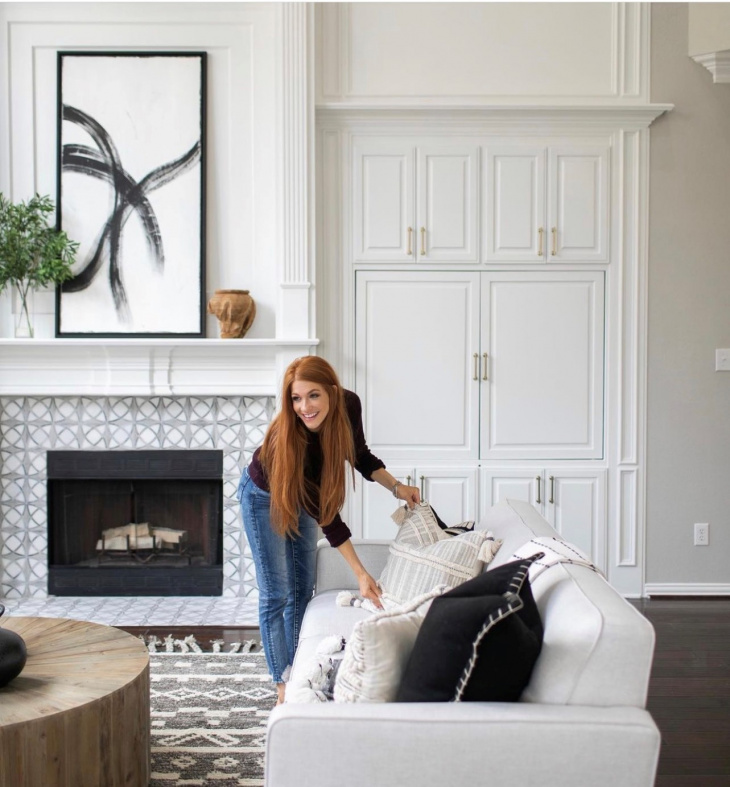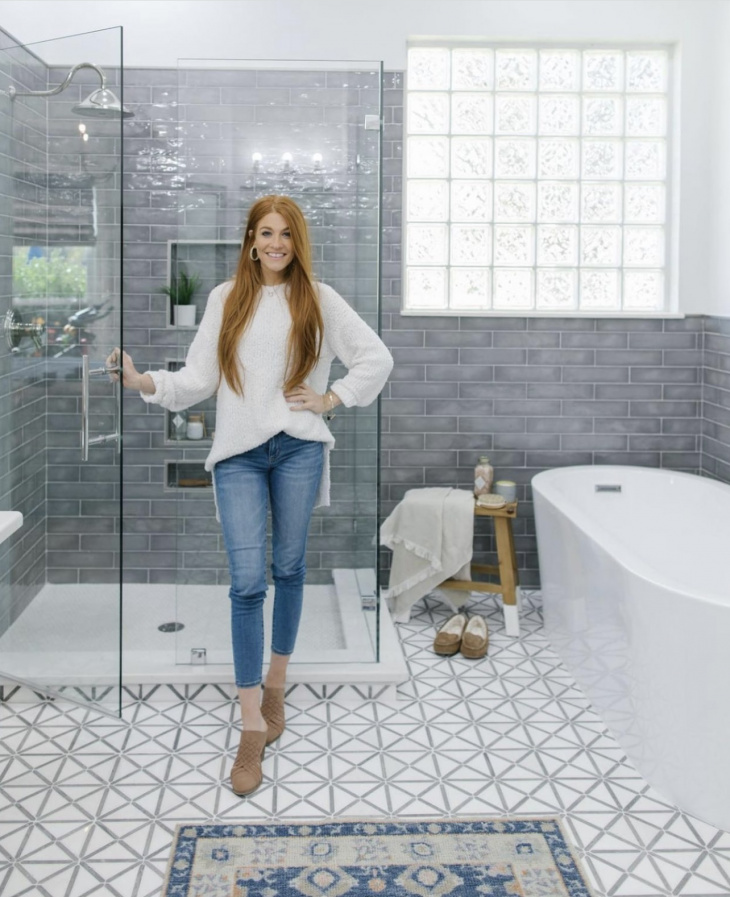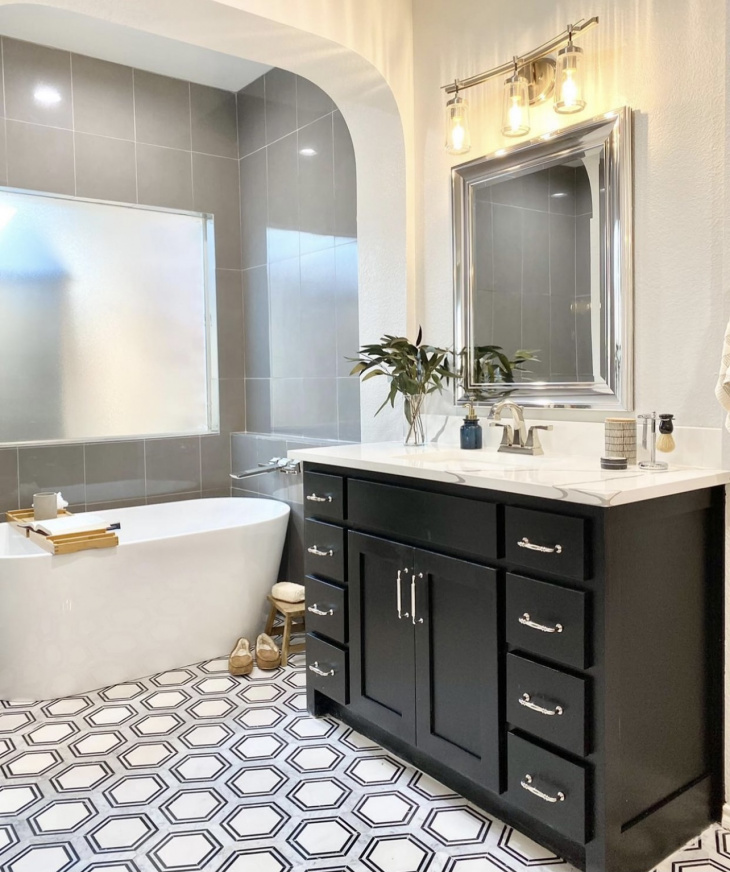 Bold Tile Photos and Designs by me @theramblingredhead No Demo Reno season 1
---
This is just the tip of the iceberg BUT it's a good start when it comes to current trends.
If no one has told you before, there really are no rules when it comes to design… there really isn't! Things will always be changing, usually just as you get on board with whatever trend is now going out and that's okay! Your house is for YOU. Do what makes you happy in it. I am a true to my core homebody. I love my house, I loved the house before this house, and I loved the house we had before that house… see what's happening there? 🙂
I love to love where I live. That is why I am always making minor (or major if we're renovating) changes within my home decor as the seasons change. I'm BIG on loving where you do life and you can make so many improvements on your house on a budget. Start with decor! Find a style that makes you feel good or that looks pretty to your brain and start copying inspirational pictures from the internet.
You got this!