---
Click here to see my 2017 Holiday Home Tour!
New here? Subscribe to my blog HERE  so you get all of my new post directly sent to your inbox! It's life changing and free!
Follow on Instagram for daily home décor pictures and inspiration!
---
Y'all.
My house looks like Christmas drank a little too much eggnog, stumbled into my newly renovated home, and then lost its cookies all over the place.
I repeat: Christmas threw up everywhere in here.
And I LOVE IT! I love it so much! Christmas decor just makes me happy and tingly and I feel like Olaf in Frozen where I just want to give everyone warm hugs! (One day my jokes won't be a Disney reference, I promise.)
Know what doesn't make me happy? Wrapping the same gift four times. That's right, same gift, wrapped four times. My children have unwrapped the same boring, basic rectangular box FOUR times and it's not even for them. I had just sent a text to one of my girlfriends about how in awe I was at the fact that my kids haven't messed with tree one time and then they instantly start attacking this poor gift.
Besides that small incident, nothing can kill my Christmas spirit and I hope to always display that throughout my home during the holidays!
---
If you missed my first home renovation post, then I highly recommend reading it so you're up to speed: Kitchen Renovation That Almost Killed Us. Go read it. We'll wait here.
---
Today we will be starting this home tour in the entry, because that's generally how guests would walk into a home, and you my friends, are all my guests. *wink face.
Below is the original entry. And no, we didn't get to keep the piano. We did ask if they would sell it to us….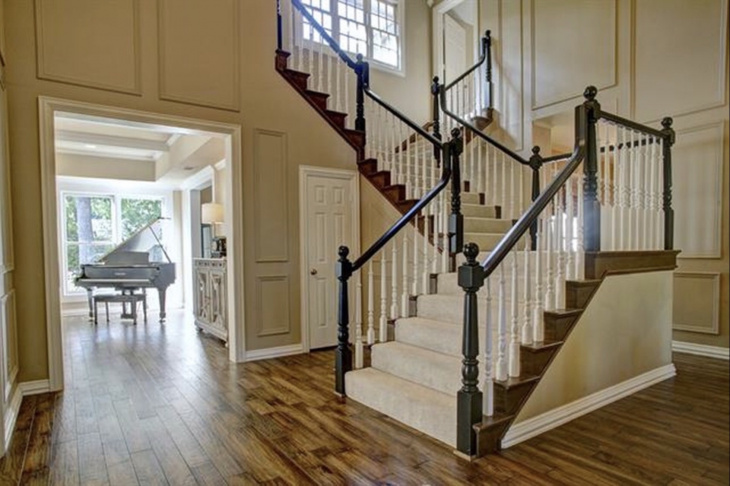 ---
We ended up knocking down that wall to the right which now opens up to the kitchen. Best decision ever and all credit goes to Mike for that idea! We didn't make any other massive changes to this space, we just changed out the light fixture, put gray paint on the walls, we painted the stair trim black to match the already black top part of the railing, and laid new carpet.
Then it became this…
---
---
Side note: Gretchen Rossi, one of the ladies from Real Housewives of Orange County, shared this picture on her Instagram page last night. So now we will probably end up vacationing together… because that's what happens when someone shares a photo of your foyer. Thanks, Gretch!
---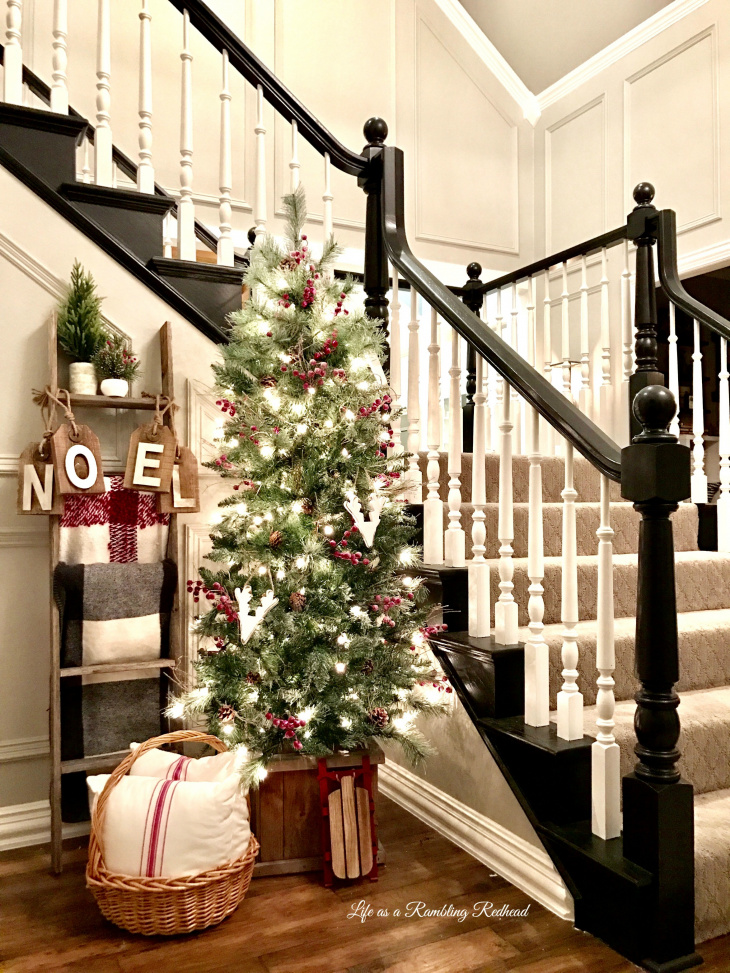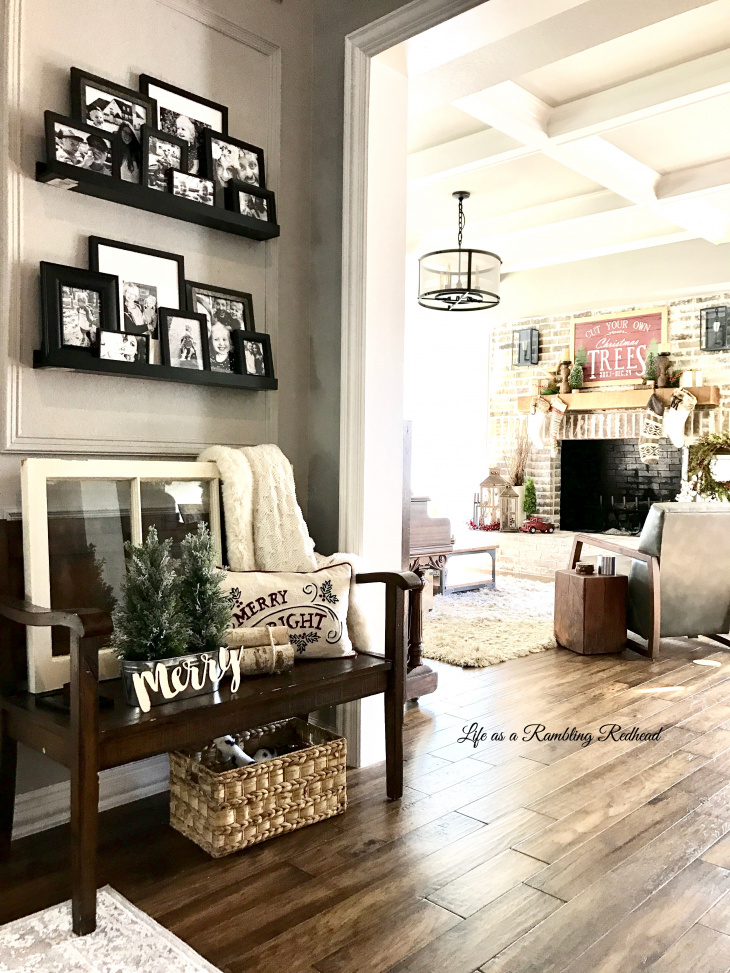 ---
The foyer dumps you straight into the formal living room. We call it "formal" because it doesn't have a tv in the room (*gasp). It was a gorgeous space but since all of our furniture and decorations are more rustic/industrial, we wanted to bring that same vibe to the details of the house. Here she is in her original glory…
---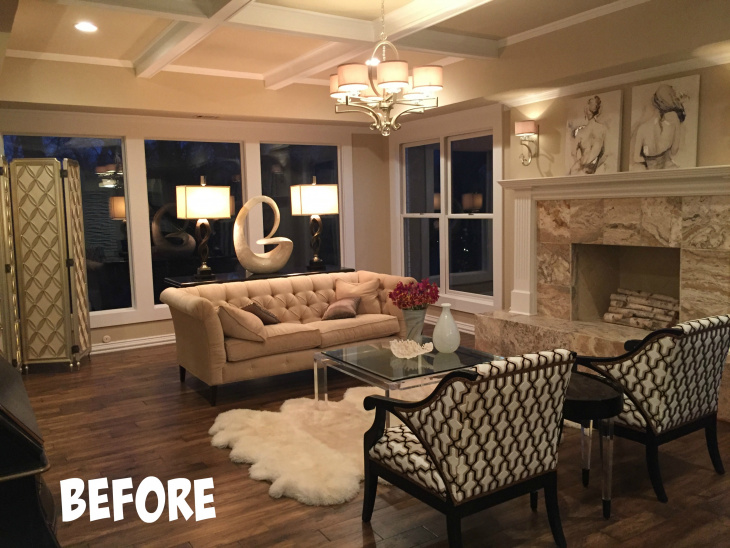 ---
So, to start we took off the fireplace mantle and marble which revealed an amazing brick fireplace that was original to the house and had been recently renovated (we actually felt bad after we were told that information…) we painted the walls a delicious gray, and we changed out the chandelier and fireplace sconces.
After five painful months (that is the length of time it took to renovate the entire house, not just this room) it now looks like this…
---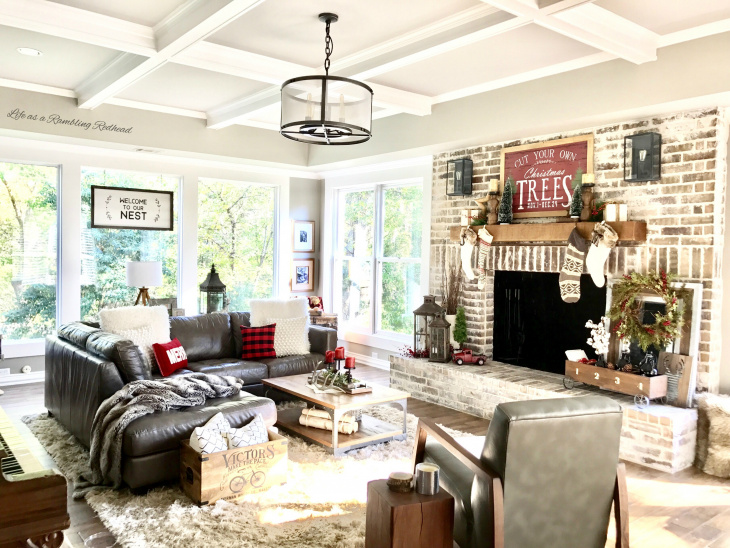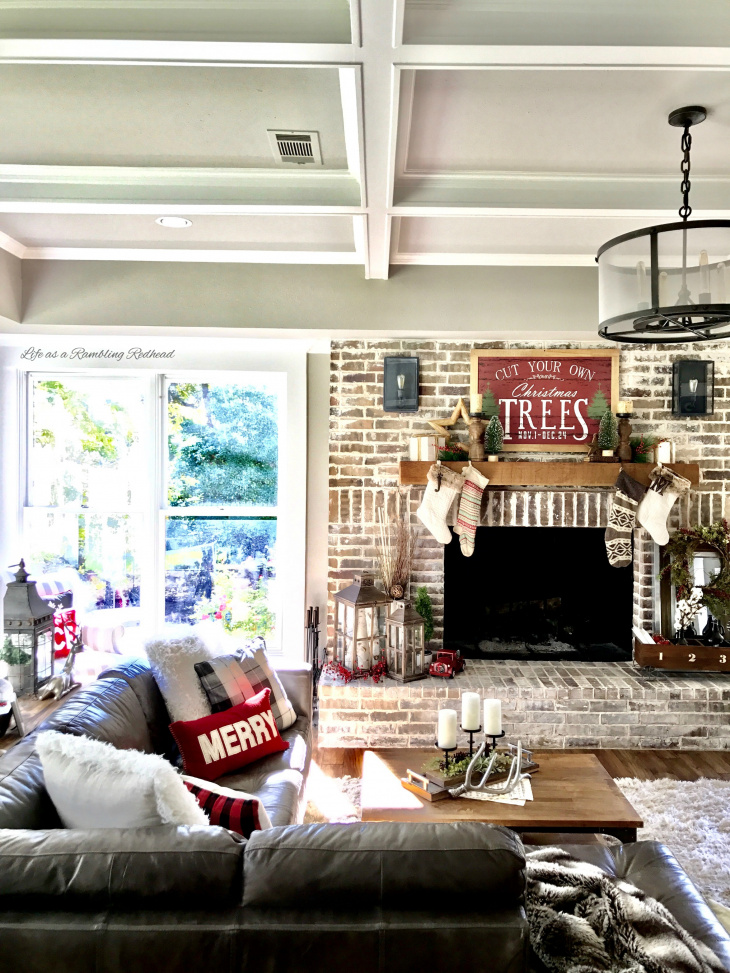 ---
The brick isn't the original brick. The original brick was cherry red and I wanted no part of that, so we just covered it with a new color of brick which I think turned out amazing if I do say so myself! I'm digging the dark gray bricks!
---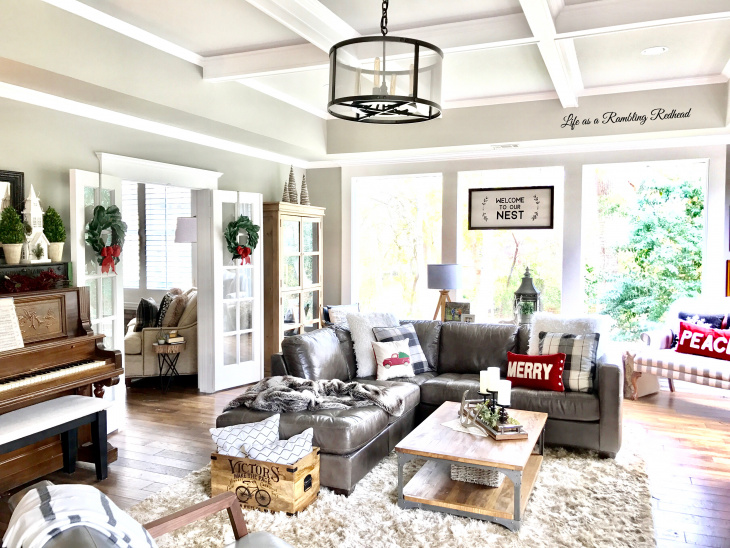 ---
The french doors are my favorite.
They are the toddler beasts' favorite as well so the glass is constantly smeared with spit and boogers. So great.
---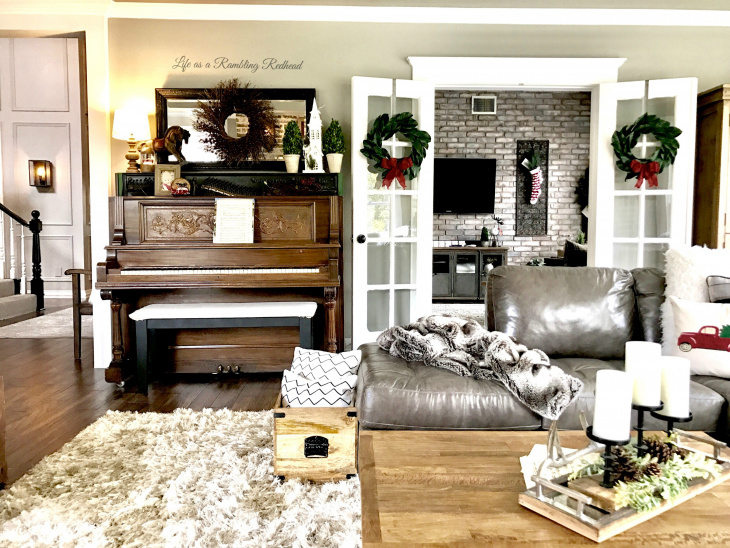 ---
I inherited this antique piano when my parents moved. No one can play it, but we can stare at it and bang on the keys whenever we want to.
---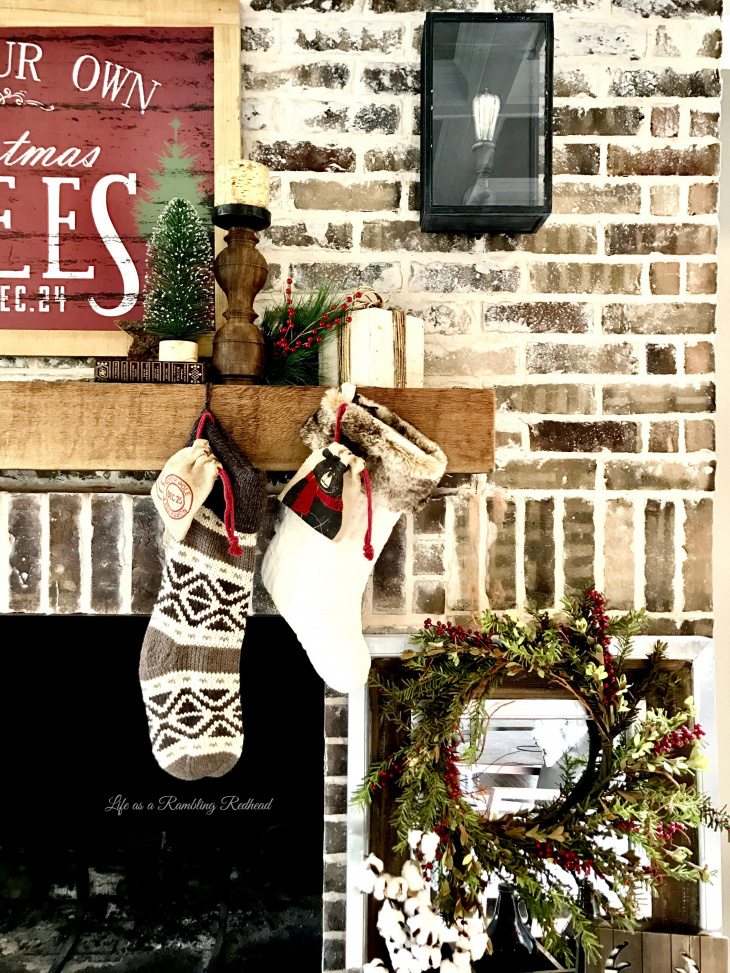 ---
And because the first fire had to be documented…
---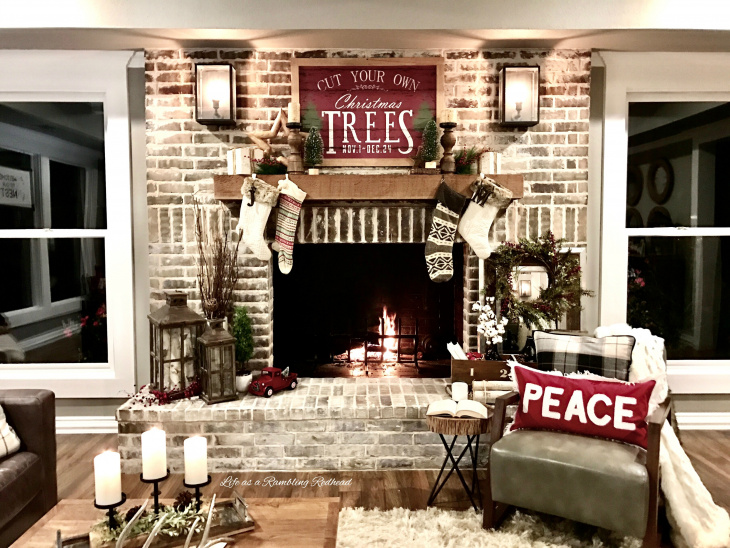 ---
To me, the first fire is what makes Christmas official! So cozy! So fun!
A few minutes after this photo was taken our house was completely filled with smoke. We had to open all of the doors and lock ourselves in a room so we wouldn't pass out. That's the stuff you need a blog for, so you can let people in on what really goes on behind the pretty photo.
---
The living room then leads you into what we call the "brick room" which we named for obvious reasons. All of its walls are real brick! This is the room that has the double french doors that are pictured in the entry photo. So the room has a total of four french doors all which are always covered in toddler face-germ.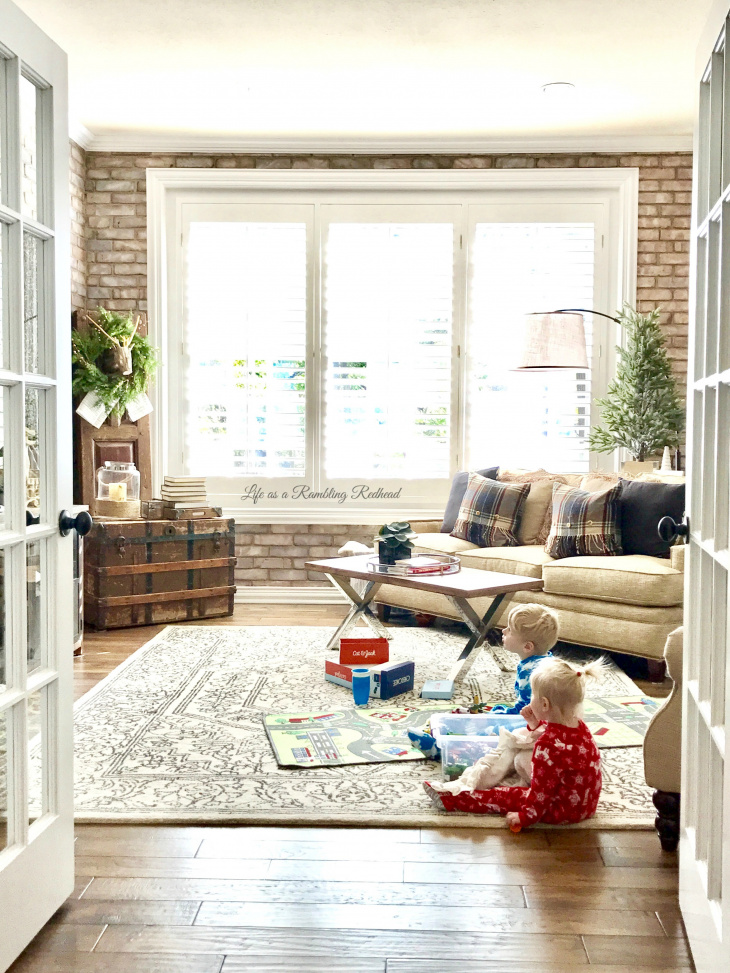 ---
It was a Christmas jammie kind of morning.
---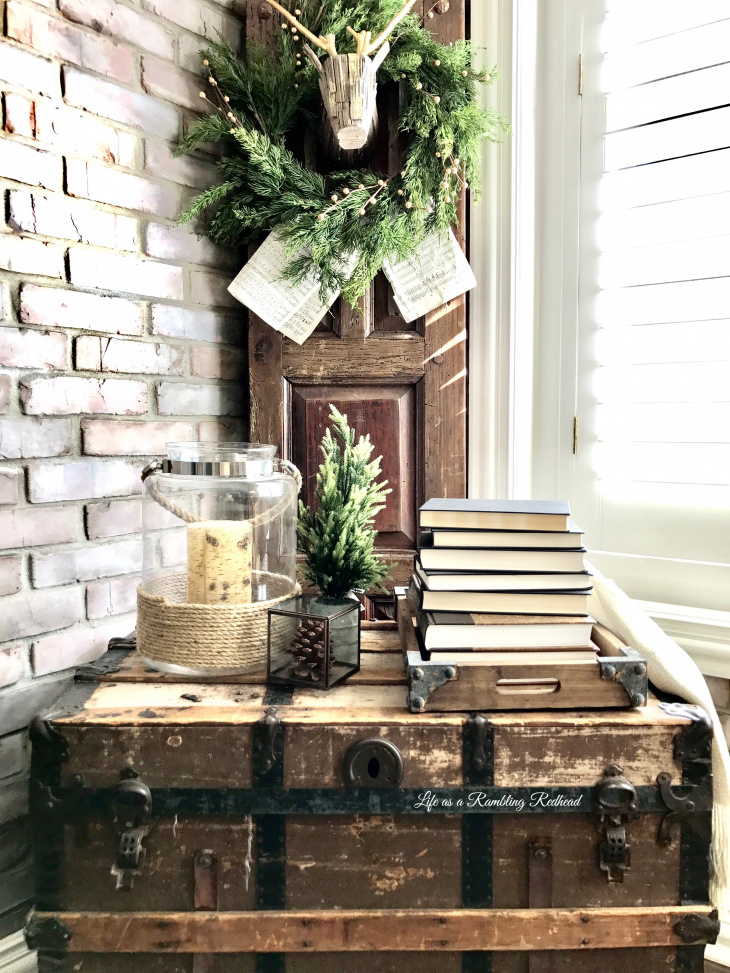 ---
Close up of this super old trunk that my mom gave me when they sold their house last month. It's from the 1800's and still has two original Railway freight passenger stickers on the sides! I'm obsessed with old finds!
---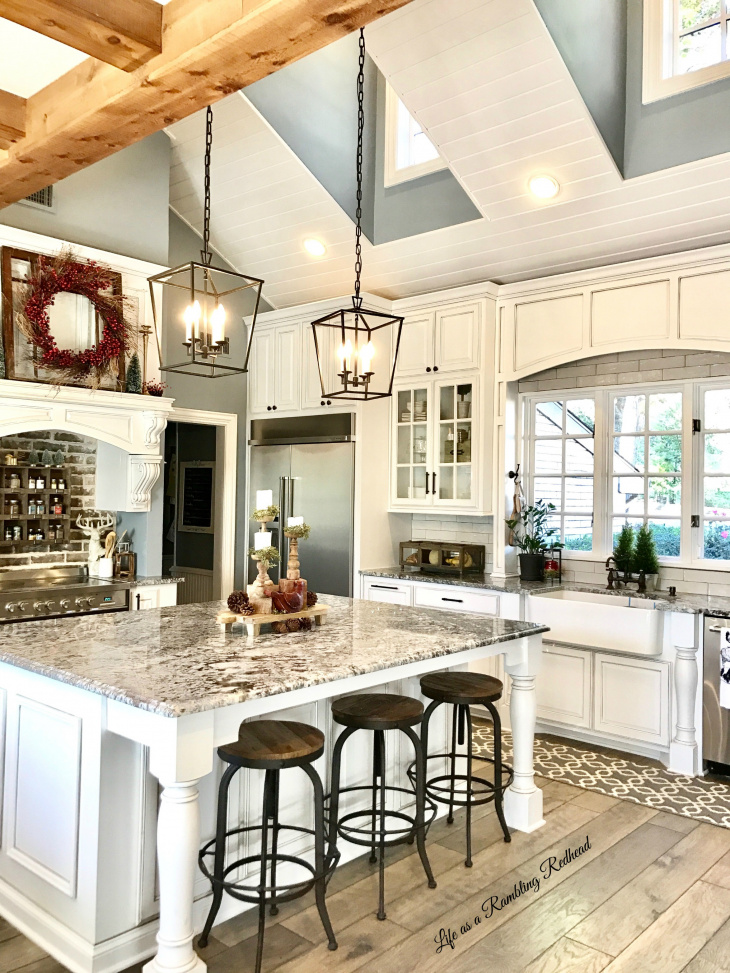 ---
I kept the Christmas decor to a minimum in the kitchen. I felt like less was more in this space. Every time I added more in I thought I was cluttering the space up!
---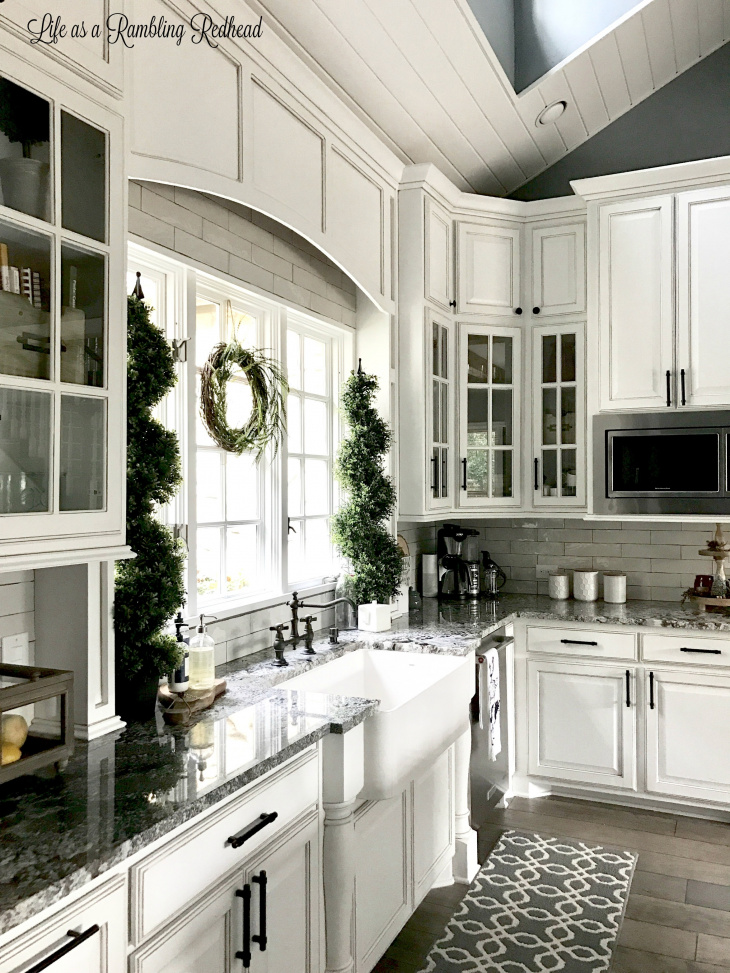 ---
I brought those topiaries shown above in from the front porch (because my mini Christmas trees are out there now) and I always wonder what kind of bugs I trojan-horsed into my house with these plants. *shudder
---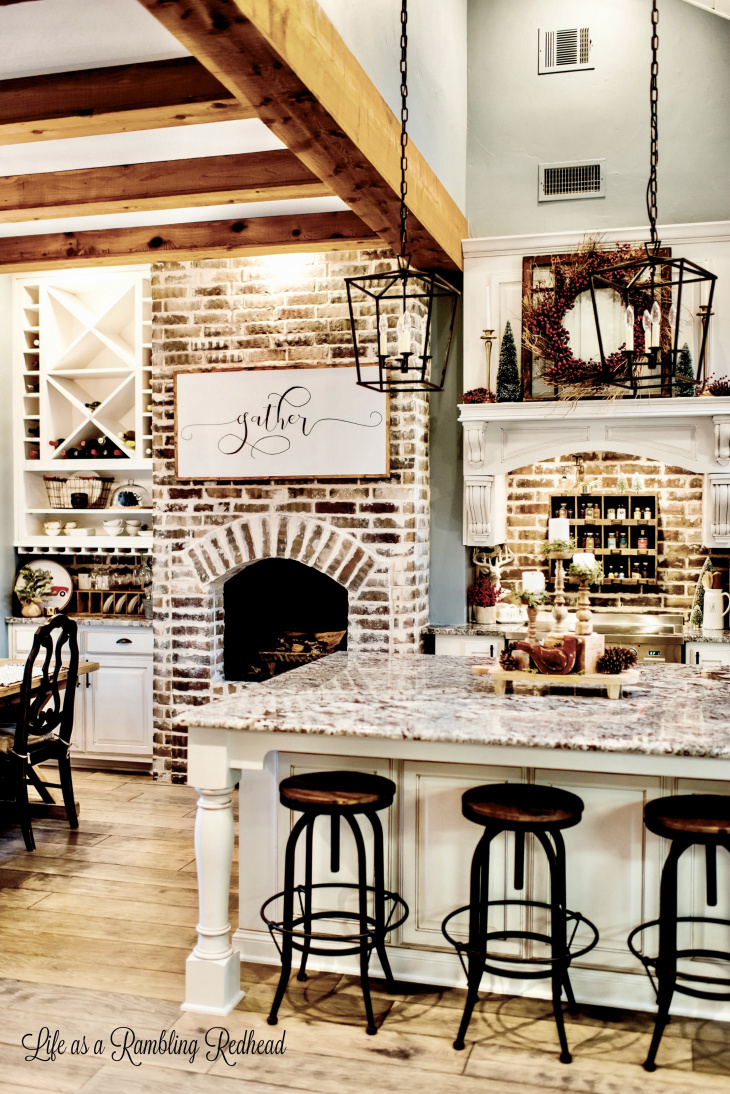 ---
I think these barstools just steal the show and they are a Homegoods find! I found all three on the same day! All of my TJMaxx starts were perfectly aligned that day.
---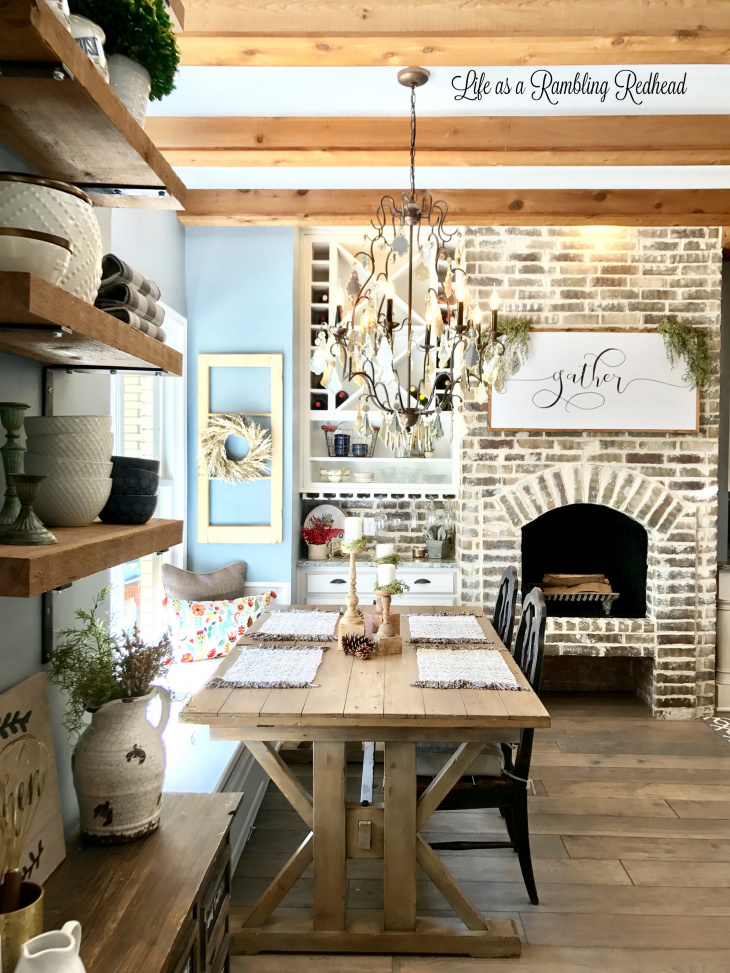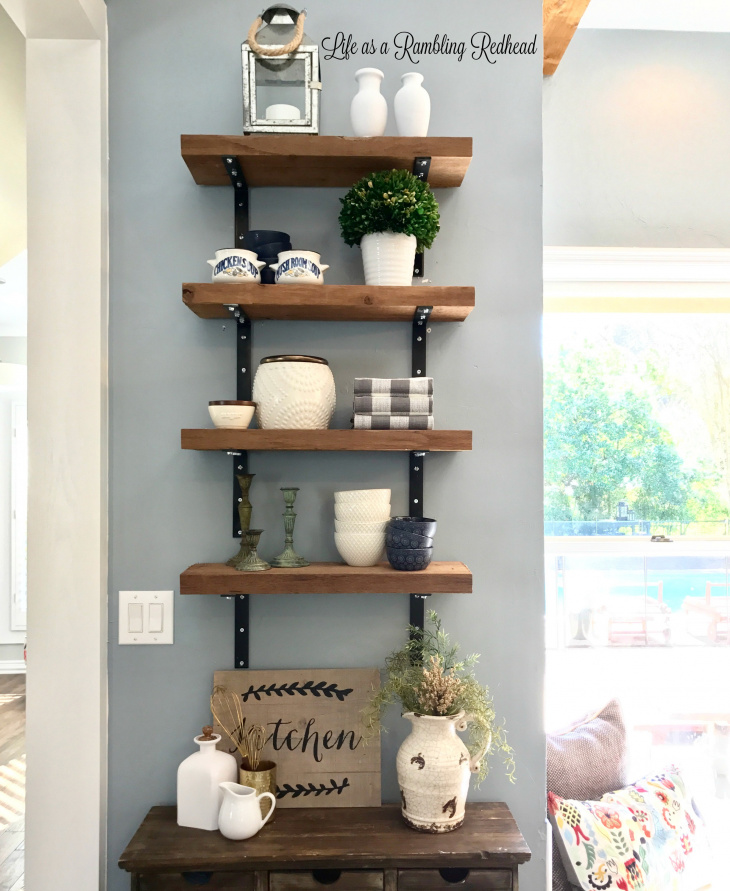 ---
I'm very proud of this open shelving that I made by myself! (Well, a guy at Lowes cut the shelves for me and Mike hung them… so yeah, all by myself.)
---
Have you seen our most recent home tour? Click here!
---
Here are a few of our family pictures taken by the amazing Stephanie Rose Photography!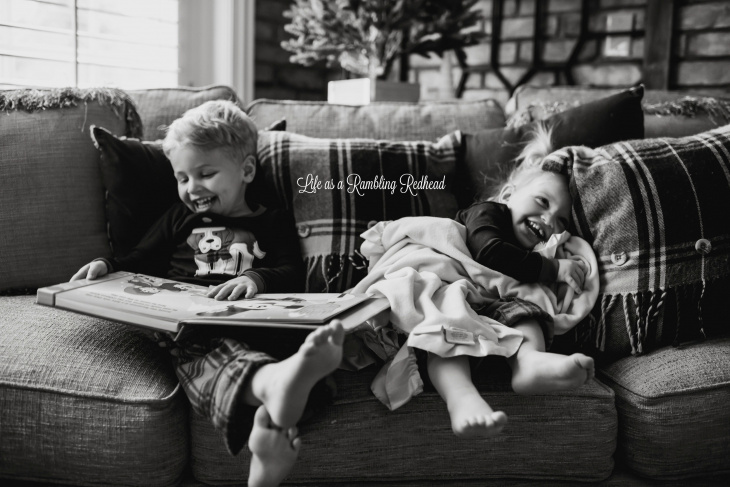 ---
I mean, come on. I'm super biased, but those mini maniacs melt my heart, my face, they melt all of me.
---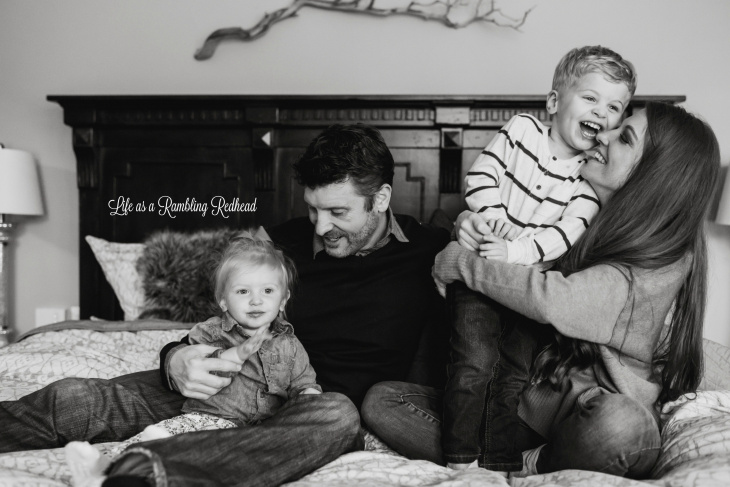 ---
Oh, just us on a bed.
---
On to our CHRISTMAS CARD REVEAL!
Thanks to all who voted on my Life as a Rambling Redhead Facebook Page!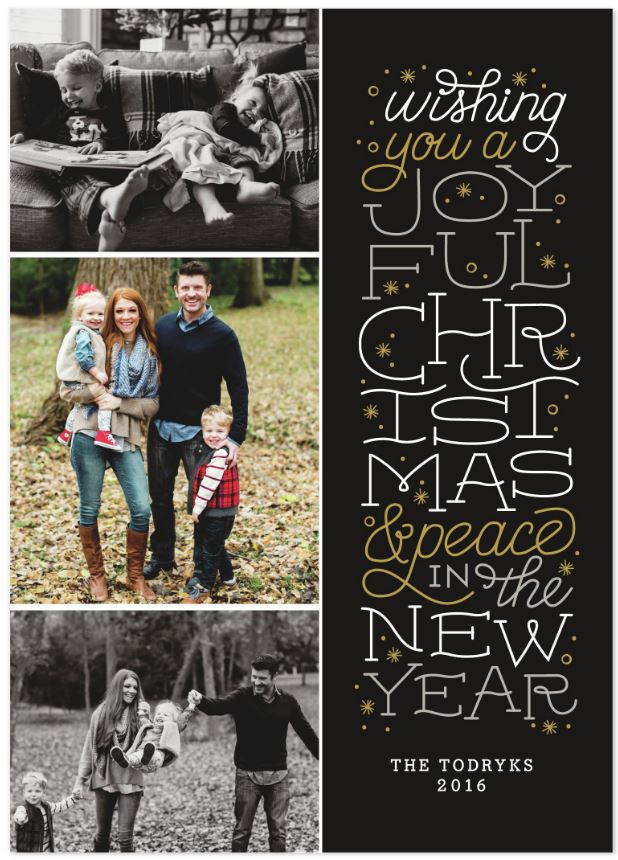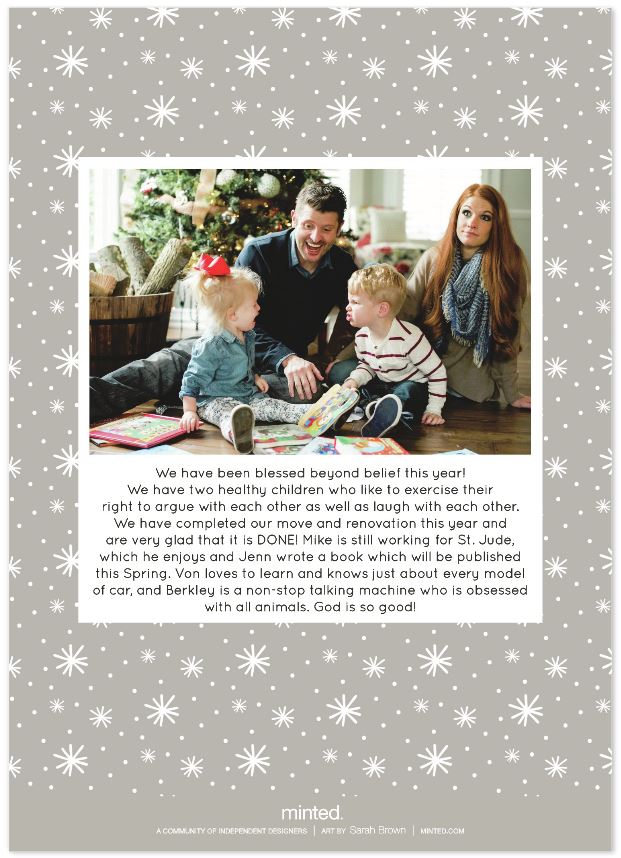 ---
We HAD to put the dysfunctional picture somewhere and I loved the suggestion from a few of you to put it on the back! Brilliant!!
Thanks, Minted for making these cards so memorable! They also have a good selection of New Years cards if you're like me and just can't seem to get those Christmas cards out early (or on time). They have quite a few and will definitely be ready in time to ring in the new year!
Browse here: Minted Holiday Cards
---
 Thank you all for following me on this blogging journey! My family and I wish you a Merry Christmas and the happiest New Year!
God bless you and your little child-beasts.
HE is the reason for the season, friends.
-Until the next time this Redhead rambles decorates.
---
How my house looks currently…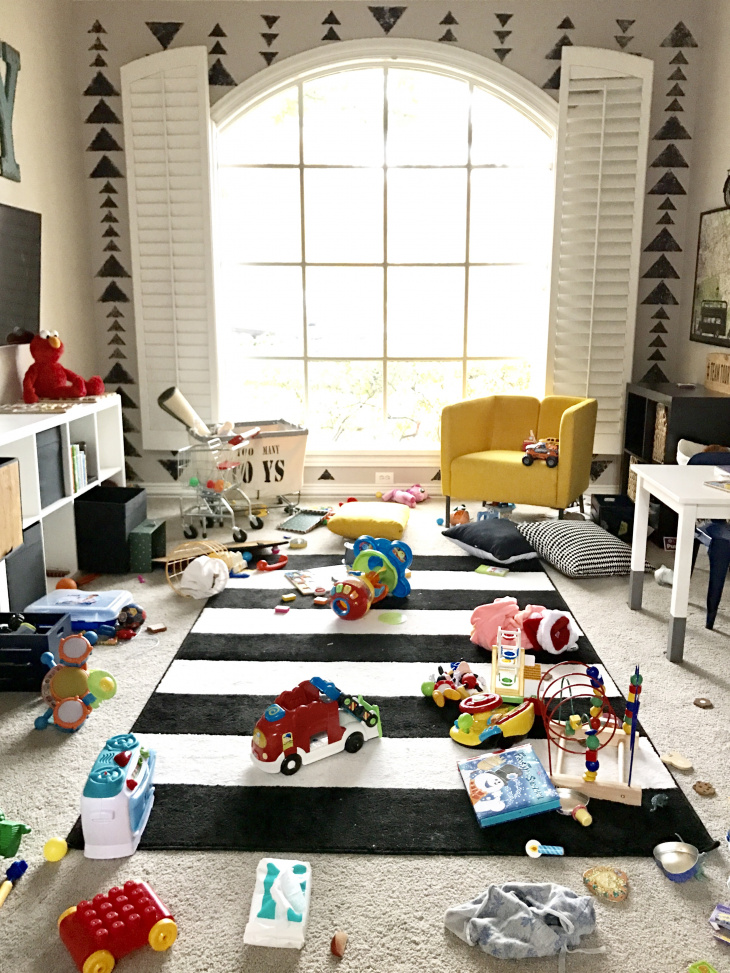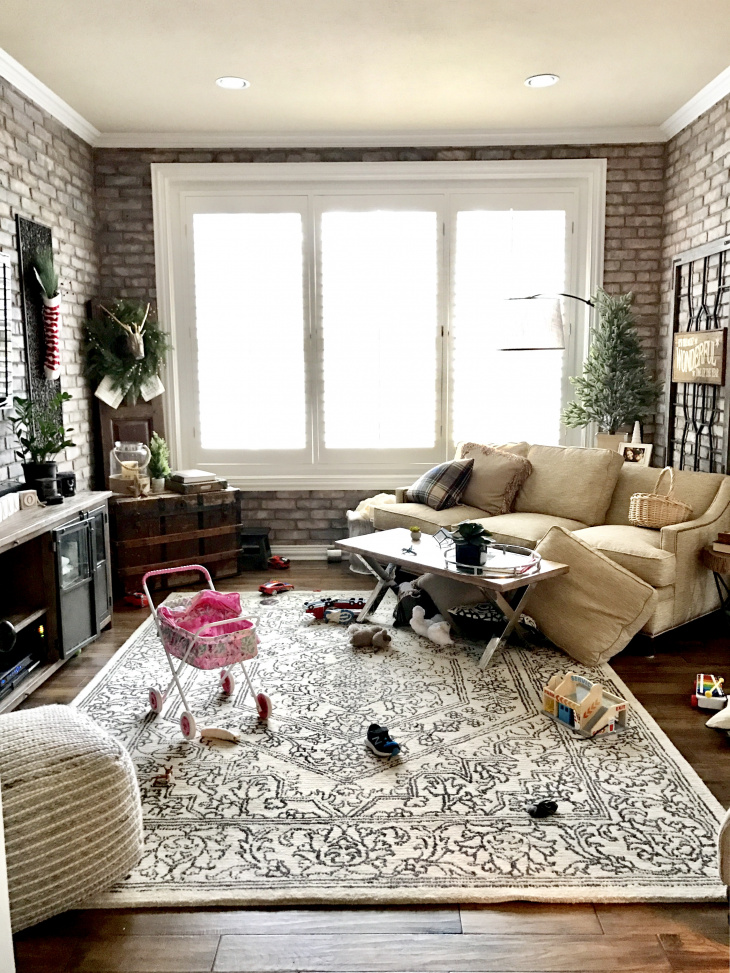 You didn't really think I was going to let you leave here without a good dose of reality, did you?
---
*If you also share my love for pretty home things then you should follow me on Instagram! Follow along as I post pictures of my house, home decor, family, and my DIY projects! @theramblingredhead
---
For more humorous, honest parenting and home decor posts like this, please "Like" my Life as a Rambling Redhead Facebook Page!
Or subscribe, so you never miss a new post! Your life will be changed for the better. Follow on Instagram, Twitter, and YouTube .
---
Source List:
Living Room:
Couch, leather chair, Cedar block side table, and Rug – IOMetro (Exclusive to Dallas)
Coffee Table: World Market
Fireplace Scones- Restoration Hardware
Chandelier: Restoration Hardware
Sign above fireplace: Kirklands
Paint Color: Sherwin Williams Dorian Gray
Trim color: Sherwin Williams Pure White
Entry:
Chandelier: Restoration Hardware
Rug: Local Homegoods
Bench: Hobby Lobby
Picture Ledges: Target
Paint color: Sherwin Williams Dorian Gray cut to 50% (made it lighter)
Trim color: Sherwin Williams Pure White
Kitchen:
Island pendants: Restoration Hardware
Dining table chandelier: Restoration Hardware
Island stools: Local Homegoods
Entry Chandelier: Restoration Hardware
Kitchen Table: IOMetro
Dining chairs: Local Trade Days
Open Shelving: Made them myself!
Cabinet and ceiling paint: Sherwin Williams Pure White
Wall Paint color: I hand mixed gray, white, and blue to make this color! Therefore, it has no name.
---
Thanks For Pinning!

---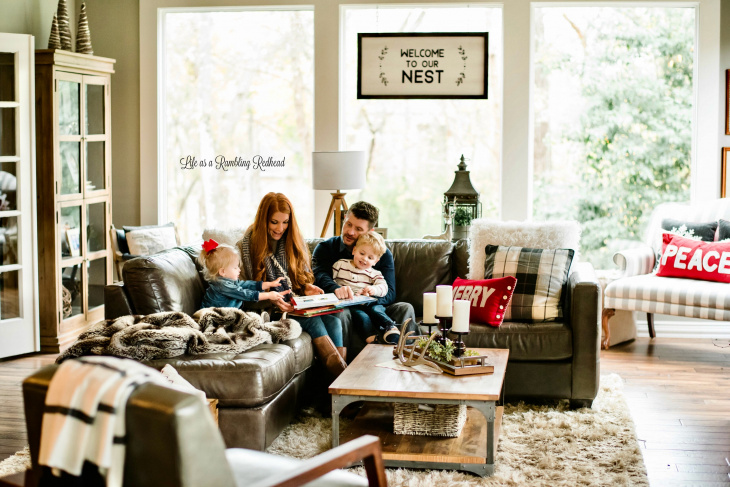 *In partnership with Minted but all opinions are my very own!