---
New here? Subscribe to my blog HERE so you get all of my new post directly sent to your inbox! It's life changing and free!
Follow on Instagram for daily home décor pictures and inspiration!
---
I'm alive! I'm alive!
Stressed and exhausted but still breathing, to say the least, unless my husband or son has farted then I stop breathing for as long as physically possible. Until I almost faint, if that's what it takes in order to not smell their butt-air. Von is three now and his cute baby tooties have become atrocious human gas bombs. It's sick.
Anywayssss…..
Why have I been gone so long?
We MOVED! But not far, still just as close to my beloved Home Goods store. That store is basically family now since I am there so often, so we must never move too far. I wouldn't know how to live.
We RENOVATED! Renovated as in gutted rooms, couldn't walk without shoes on at all times, and didn't have a kitchen for almost three months. We did this all while living in it, which might have been the worst decision of our lives. I would pay lots of money to go back and move into an apartment during the renovation. I would have shed far less tears and drank a lot less wine.
I've been writing my BOOK! I was approached by an editor up in New York who had been following my blog and was offered a book deal! So while renovating I've been trying to bust out great material while listening to jackhammers, nail guns, and extremely loud Spanish ballads. So, so relaxing… so, while I haven't been writing much on my site, just know that I have actually been writing. And it's good. I think you'll love it.
No… I know you'll love it. Not to be too dramatic, but it's so good you just may want to frame every page and hang them in your home upon completion of reading this book. Oh, yeah.
If you have been following my blog for a while now then you know that home decorating makes me insanely happy. While I mainly write about random parenting humor I also share pictures of my home and decorating projects on occasion. I like to keep you guys on your toes at all times.
Because of my four month hiatus from the blog, I figured a little "welcome home" post was in order. I want to show you guys what my husband and I have been slaving over for the last six months. We had essentially no help. No interior decorator, no designer, and many late nights with pencil and paper in hand as well as a bottle of wine that we had opened up with a screwdriver (our corkscrew was lost in the pit of packed boxes). Just so you know- wine tastes just as good out of a happy birthday paper cup as it does in a wine glass.
So, without further ado, get your thumbs (or for you old school computer-reading folks, your pointer fingers) out and ready to scroll through these pictures of my 1987 newly renovated kitchen!
---
The kitchen was our biggest project as far as cost and labor. We called her our biggest "problem child". While the previous style was not bad before, it just didn't match a single thing we had in our home so we decided to give it a facelift.
And a nose job.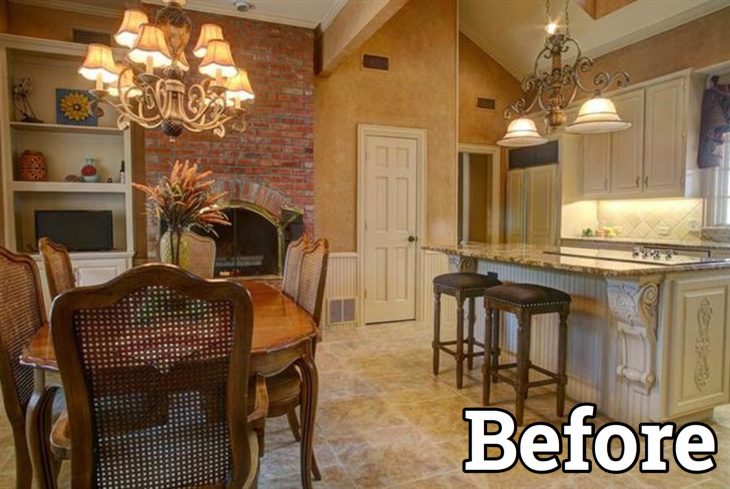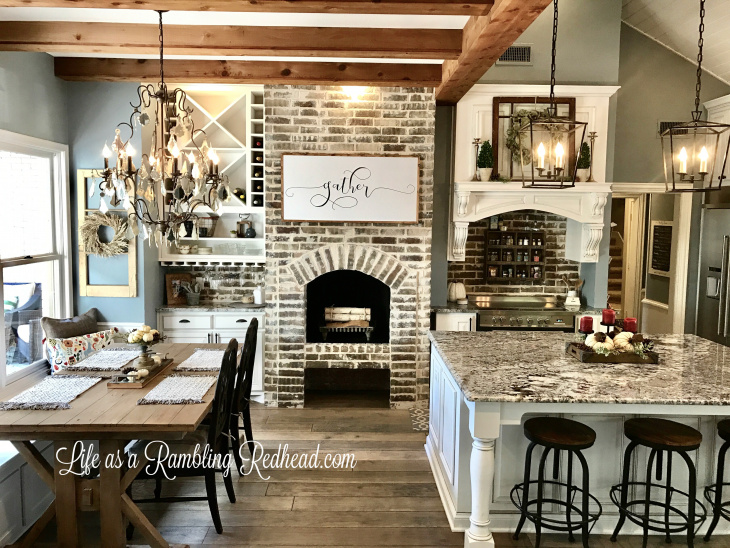 Kitchen wall color is nameless. I hand-mixed this paint color in a paper bowl!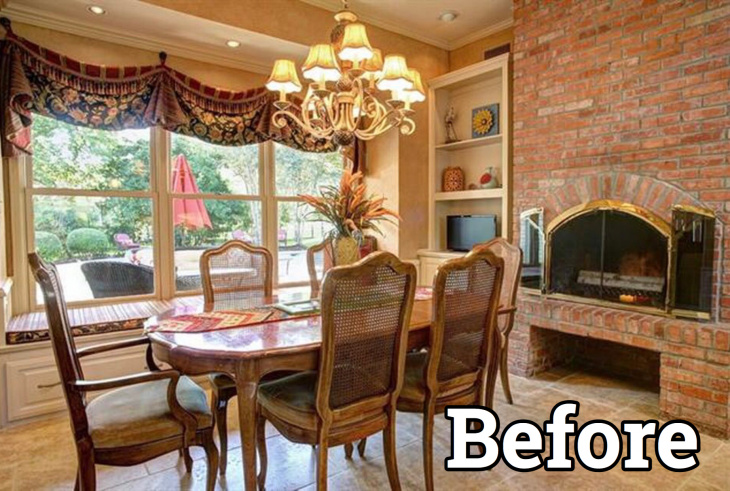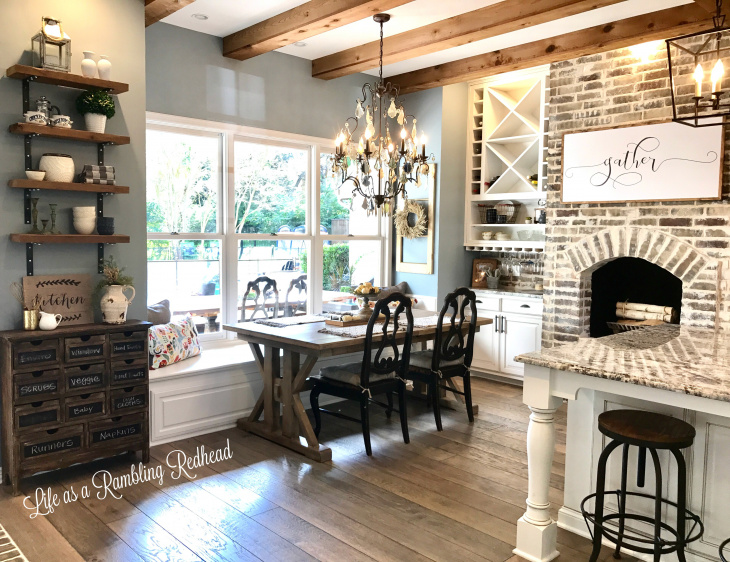 ---
As you can see, we decided to keep the window seat and use it as functional seating. While it's not the most regal form of sitting, my three-year-old and one-year-old child beasts love it. I wanted to have a cushion made for it, but there is just no way that cloth would survive a single meal. The white wood is so easy to wipe down at the end of the day and can withstand anything from spaghetti sauce to those boogers that become as hard as plaster. Plus- the plain white seat makes all of the pillows POP!
I've got to say that I myself have grown fond of sitting on the window seat because it's higher than a normal chair so the side of the table doesn't hit my esophagus like it usually does (short torso problems).
We also refinished the brick fireplace. Instead of the 1980s cherry red, we decided to go more gray-brown since that matches my style better. They literally just slapped new brick on top of the old red bricks. They are still in there, just sad and suffocating.
---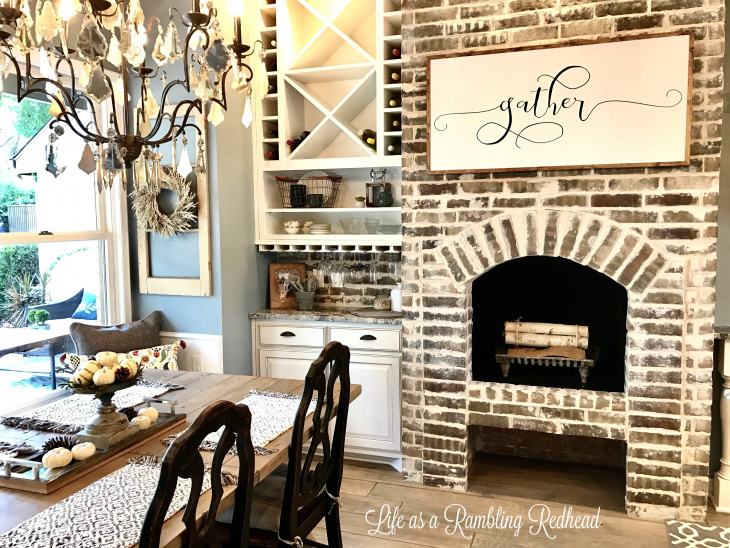 ---
See if you can tell in the pictures below where we knocked out a wall that opened the kitchen up to the entry. This was Mike's idea and it turned out awesome!
---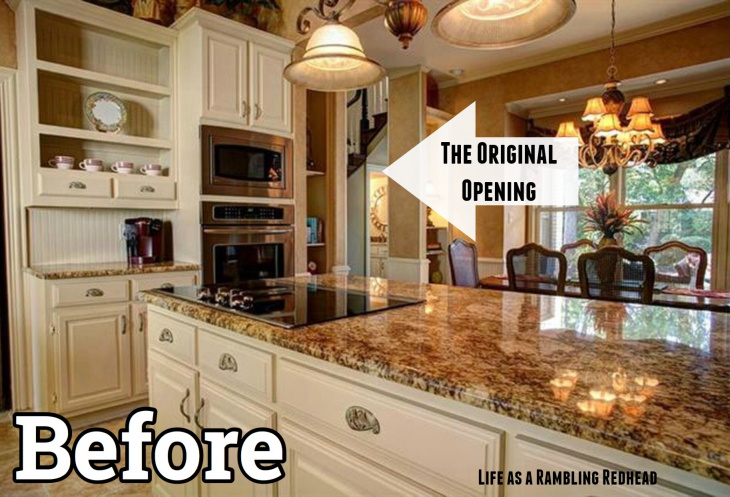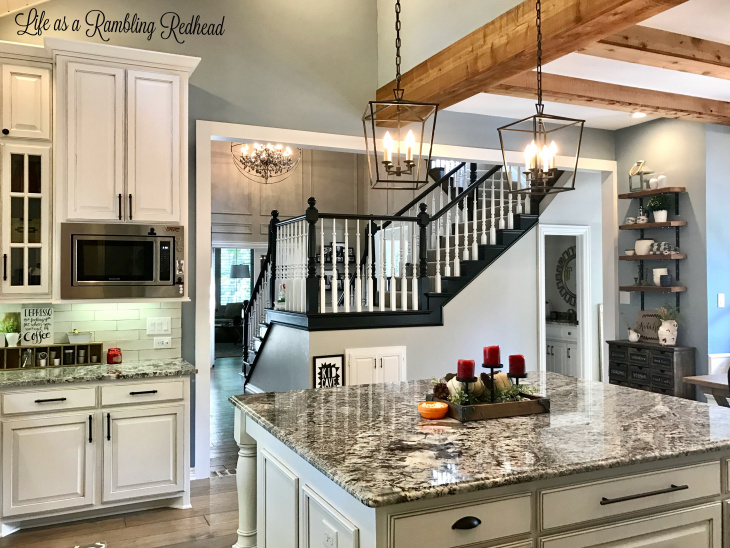 ---
We wanted to make this space more open and a better hangout spot since we all tend to congregate in the kitchen when we have company (oink oink).
We enlarged the island and changed the direction it was facing (it used to face the window seat and had a small stovetop in it).
We then put the new oven/stove where the existing pantry once resided.
---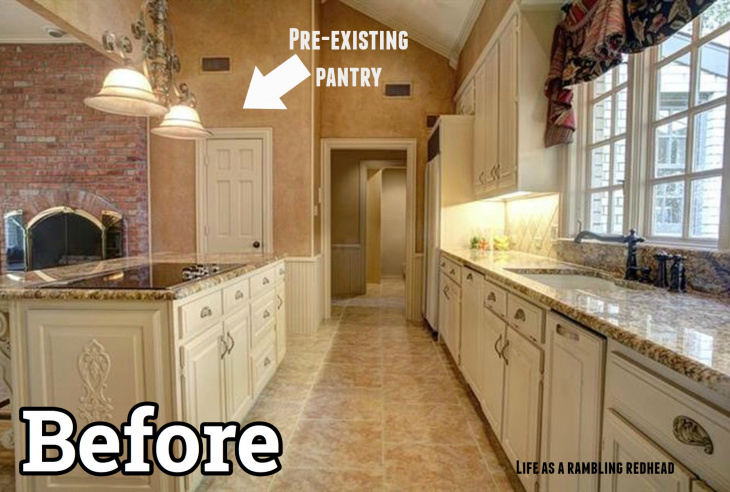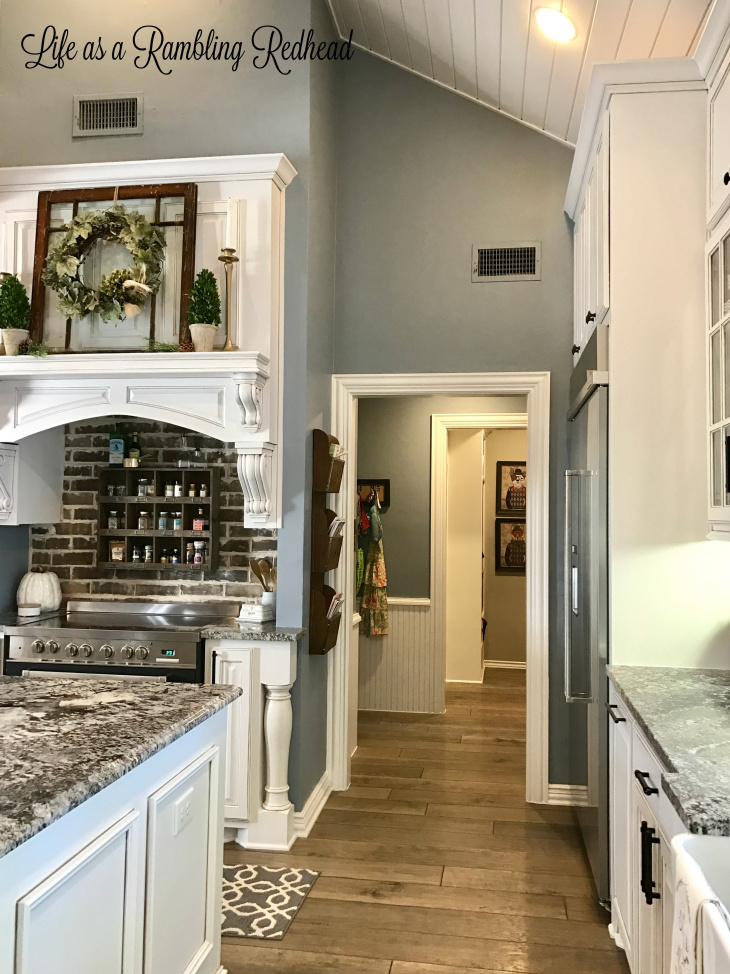 ---
Our new pantry is now behind the stove, it's a little on the small side but I am noticing that I am not wasting near as much food as I did when my pantry was large and in charge.
Here there was a swinging door that lead into a dining room, which we transformed into a playroom for the kiddos. We ended up closing the doorway in order to create more upper cabinets. We didn't need that doorway anyway since we opened up an entire wall! 
The swinging door also looked like a death-trap for my rambunctious toddler's fingers. Buh bye.
---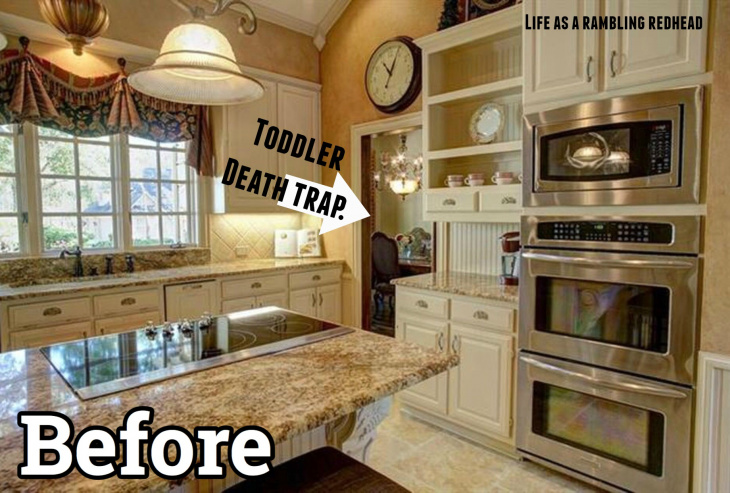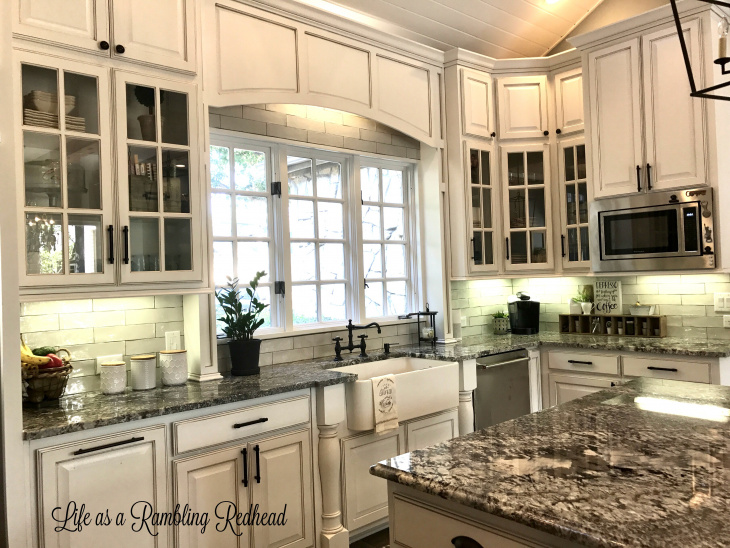 ---
I have always loved a white kitchen. I made my kitchen in my last house white as well (before it was cool) because white kitchens are absolutely timeless and go with any style. White kitchens just feel light and clean, don't they? I want ALL the natural light to radiate off these crisp glass front cabinets!
---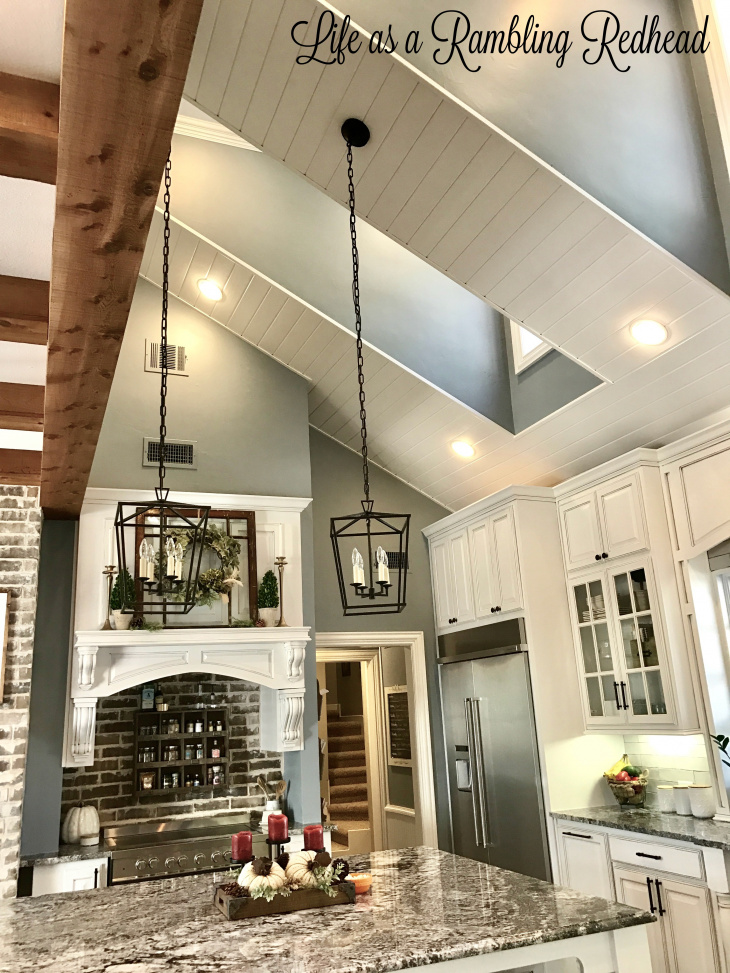 ---
I added shiplap to the sloped part of the ceiling. I thought that it would be a nice contrast to the blue-gray paint that I hand mixed! (I'm pretty picky with paint colors…. I need it just right.)
---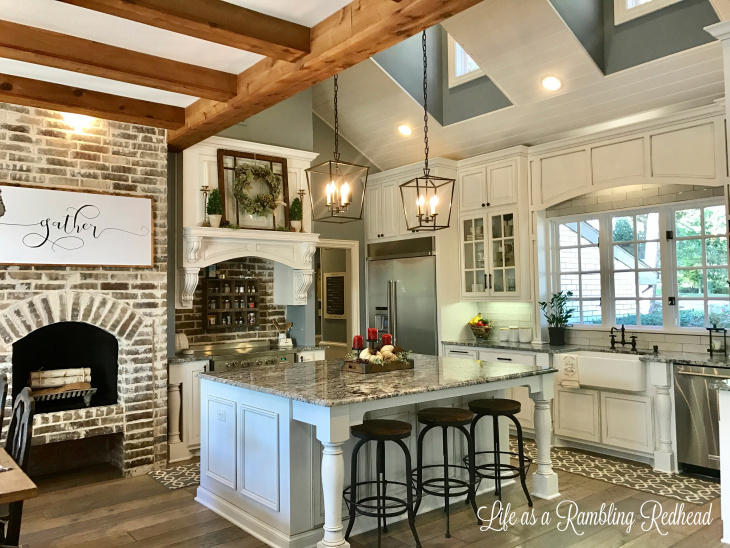 ---
We also added the raw cedar beams. In my last house, I had beams as well and stained them super dark, so this time around I wanted zero staining! Keep it raw, baby! We had the painters cover it with one coat of Danish oil (which darkened it ever so slightly) and called it good!
---
People often ask me what my decorating style is and honestly, I really don't know. I used to call my style Rustic Elegance, but now I definitely have added some farmhouse into the mix because of this home being so traditional. So, if I had to pick a name I would say that my style is Rustic Elegant Farmhouse…..y. Sounds SO great! Super professional for sure.
CHEERS! To the renovation that about killed us physically, mentally, and just about every other way possible. We are so happy with the turnout but even more happy that it is DONE!
-Until the next time this Redhead rambles decorates.
---
More Popular Home Décor Posts:
---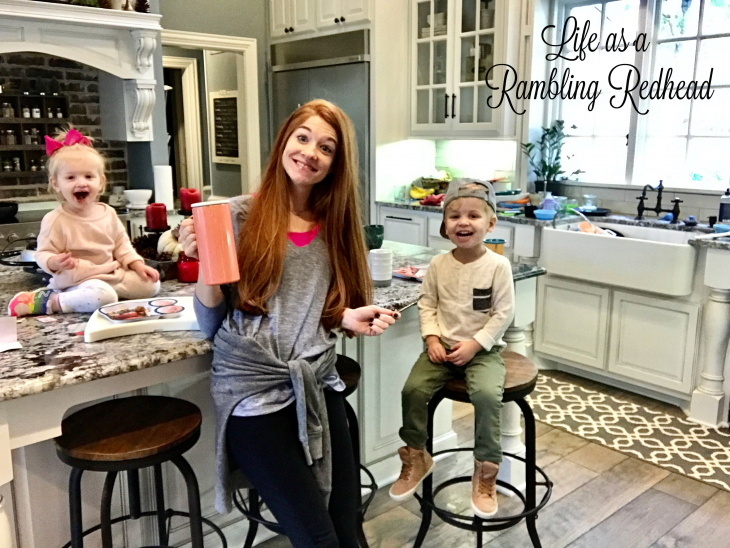 This is how our kitchen usually looks. This is us in our natural state of chaotic living.
---
*If you also share my love for pretty home things then you should find me on Instagram! Follow along as I post pictures of my house, home decor, family, and my DIY projects! @theramblingredhead
---
For more humorous, honest parenting and home decor posts like this, please "Like" my Life as a Rambling Redhead Facebook Page!
Or subscribe, so you never miss a new post! Your life will be changed for the better. Follow on Instagram, Twitter, and YouTube .
---
Source List:
Island pendants: Restoration Hardware
Dining table chandelier: Restoration Hardware
Island stools: Local Homegoods
Entry Chandelier: Restoration Hardware
Kitchen Table: IOMetro
Dining chairs: Local Trade Days
Open Shelving: Made them myself!
Cabinet and ceiling paint: Sherwin Williams Pure White
---
Thanks for pinning!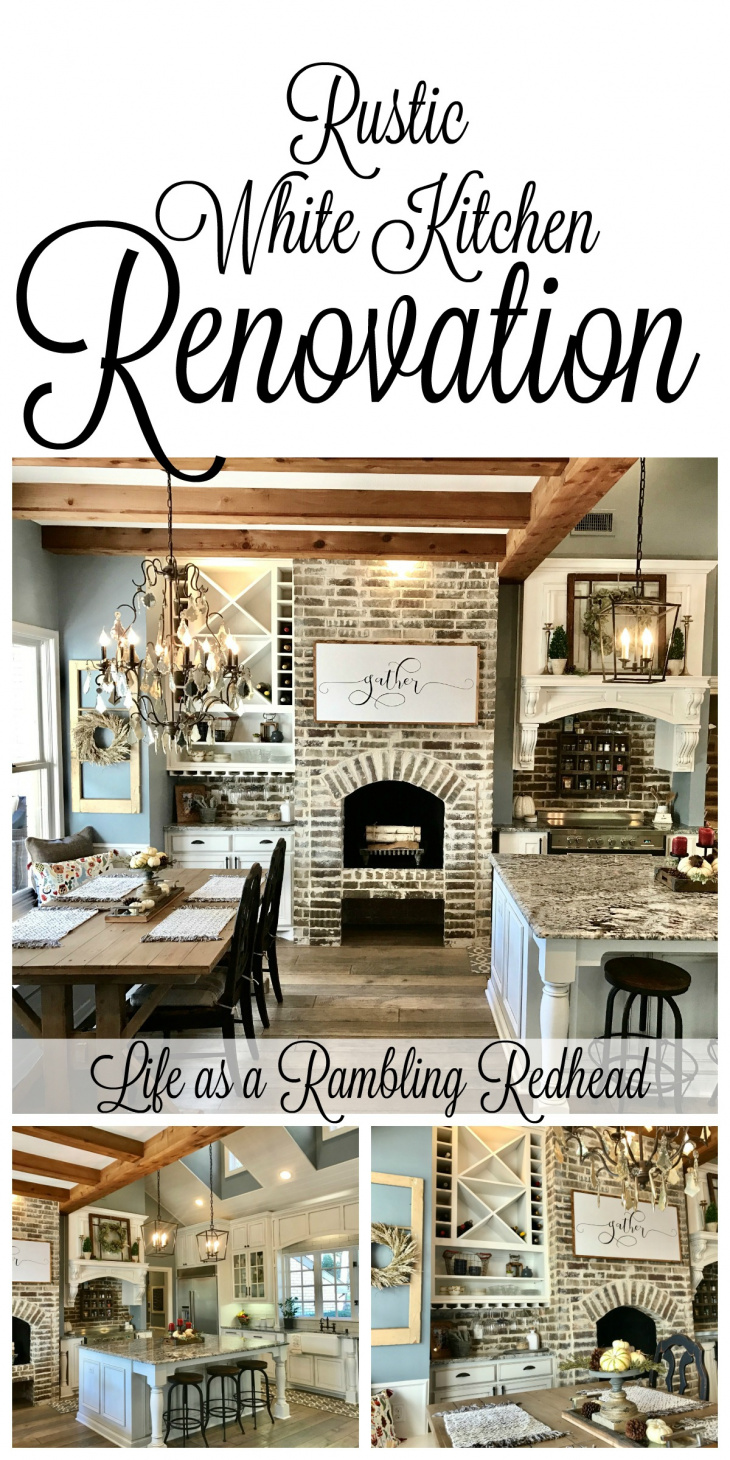 ---
See a tour of my previous home here: Rambling Redhead's Rustic Abode