I'm not going to lie, I had big decorating plans for the room that you are looking at.
Plans that did not involve plastic rulers, the pledge of allegiance or Elmer's glue. But unexpectantly, all of these things made their way into this room.
You see, this space was supposed to be my gorgeous, well-lit Moffice.
(Moffice= Mom + Office)
I had cute matching floral chairs in front of the windows with a little table that was the perfect resting spot for my current book and a hot cup of joe. Except I don't have time to read and my coffee is never hot unless it's been microwaved out of its usual cold state. So truthfully, this room was kind of a waste of space.
Pretty… but pointless.
I was offered this awesome set of table and chairs from a neighbor for a ridiculously low price. I didn't need a kid craft table since we already had one in their playroom and I had nowhere to put another table. So, I did the only thing that made sense both logically and financially…
I picked up the table and chairs by three o'clock that afternoon.
I couldn't pass up the price! I felt that not buying this Restoration Hardware table and chairs set for a mere $100 would have been irresponsible.
I was going to make it work.
The table doesn't fit?… pfffft. Nonsense.
… and this is why I can't be a minimalist.
---
Welcome to our School Room!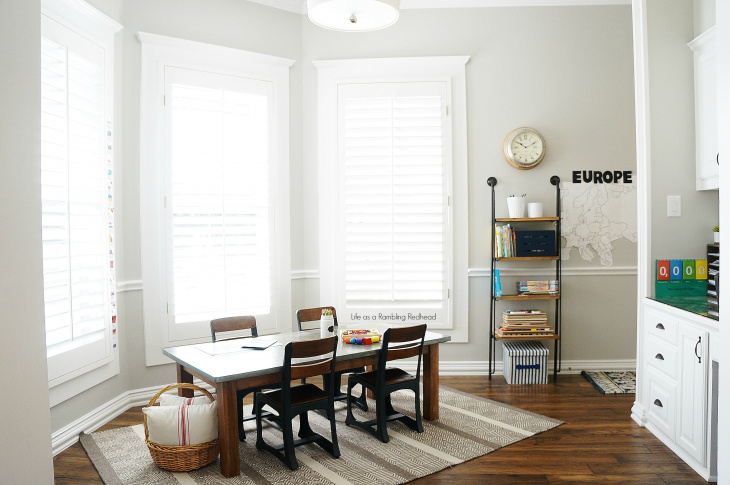 Warning: This room does not meet "magazine standards" due to the random handwritten posters, maps, and European flags that hang from the walls. We are in the middle of our unit study about Europe and hang stuff wherever we can find a few inches of wall!
You'll notice that there is very little wall space making this a bit tricky!
---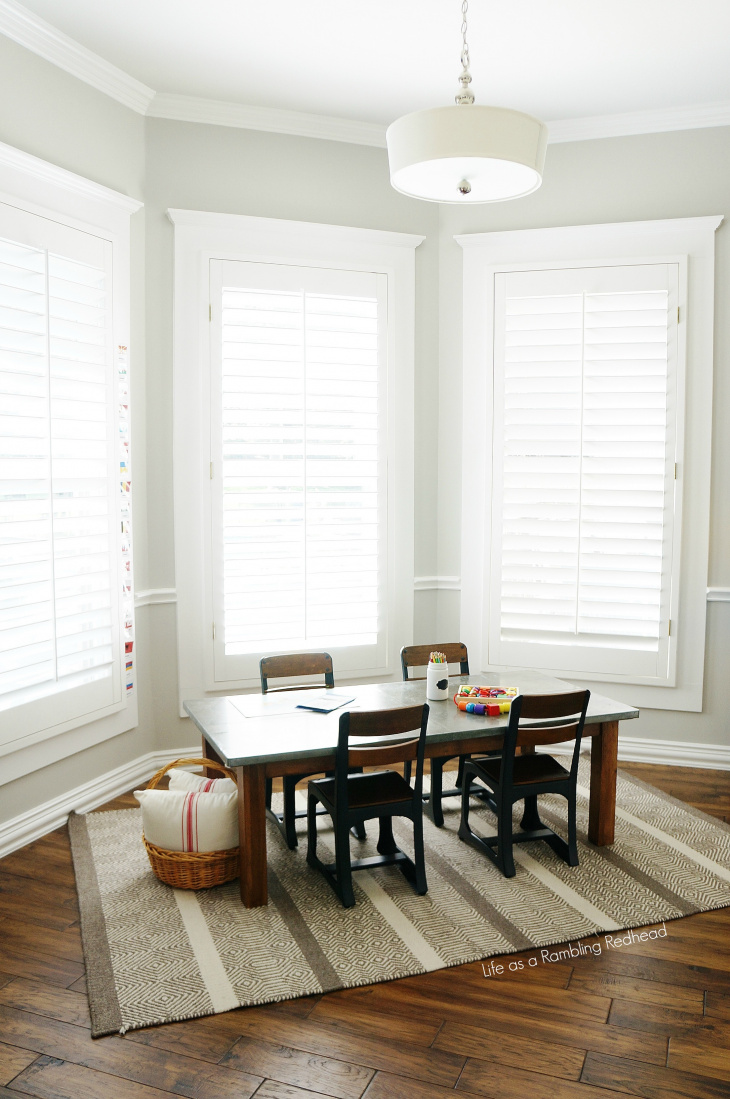 We are in this room all day long. And it's such a small space! But the windows make it the brightest room in the entire house. The sun is shining in here no matter what time of the day it is! I am obsessed with these wooden windows that are original to my 1980's newly renovated home.
(See Home Renovation Post Here)
---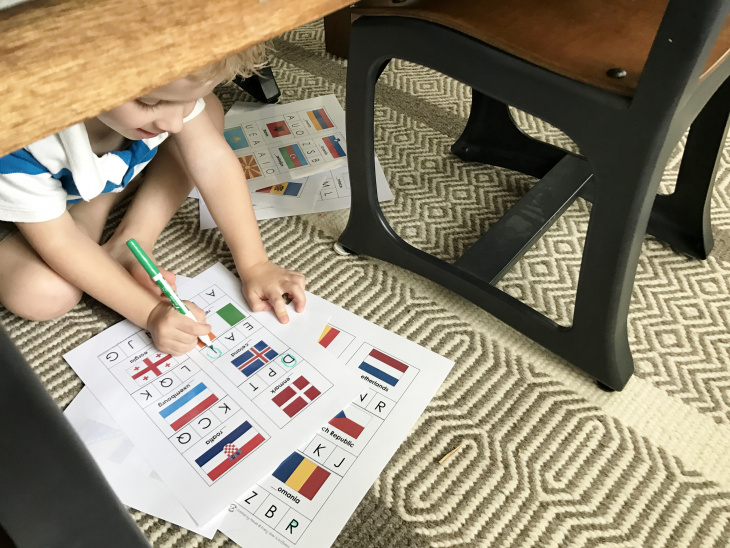 My son has this new thing about doing phonics work under the table. Only phonics though.
---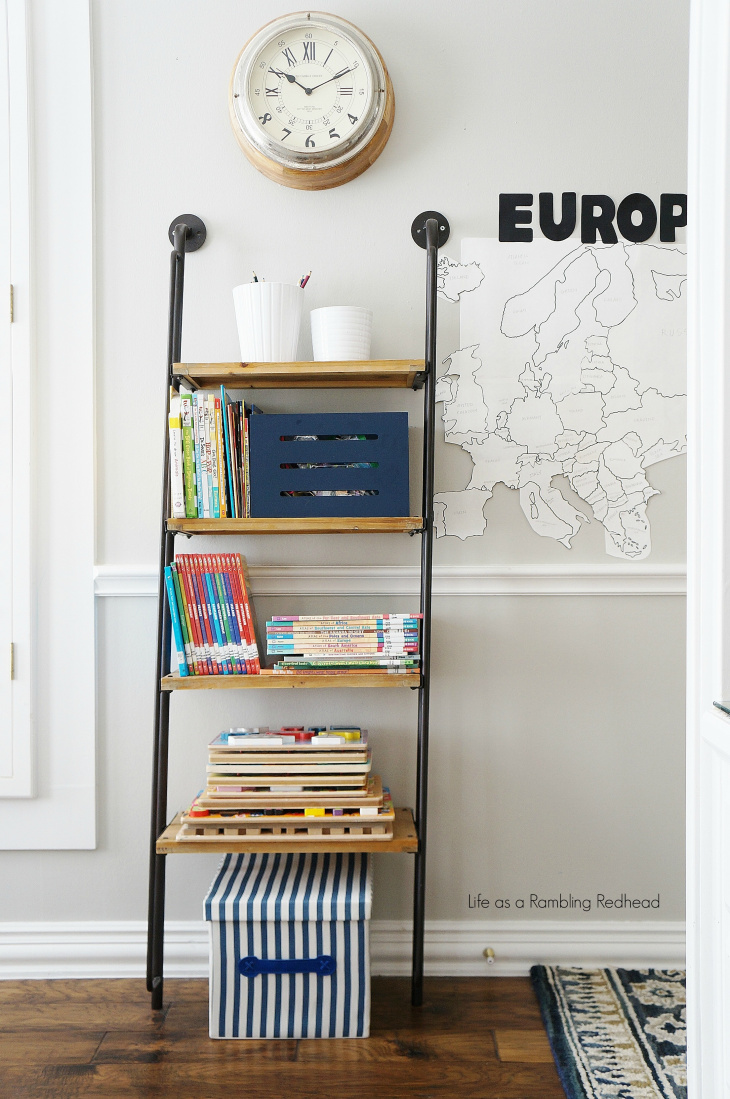 I got this little ladder shelf from a magazine that was randomly in my mailbox. It is no longer available but I have linked the company at the end of the post. It makes for the perfect "Library books shelf" as well as a tall surface to hide the colored pencils and crayons. My toddler's puzzles are down on the bottom shelf for easy access (some days I regret this decision) as well as a blue striped bin that contains her sticker books and random activity pages.
Y'all, I'm not going to lie… I am a little too proud of my Europe map that I drew free-hand. The countries are not perfect whatsoever and Russia looks like the outline of an injured seal, but I don't care. We are loving it! It gets used every single day.
---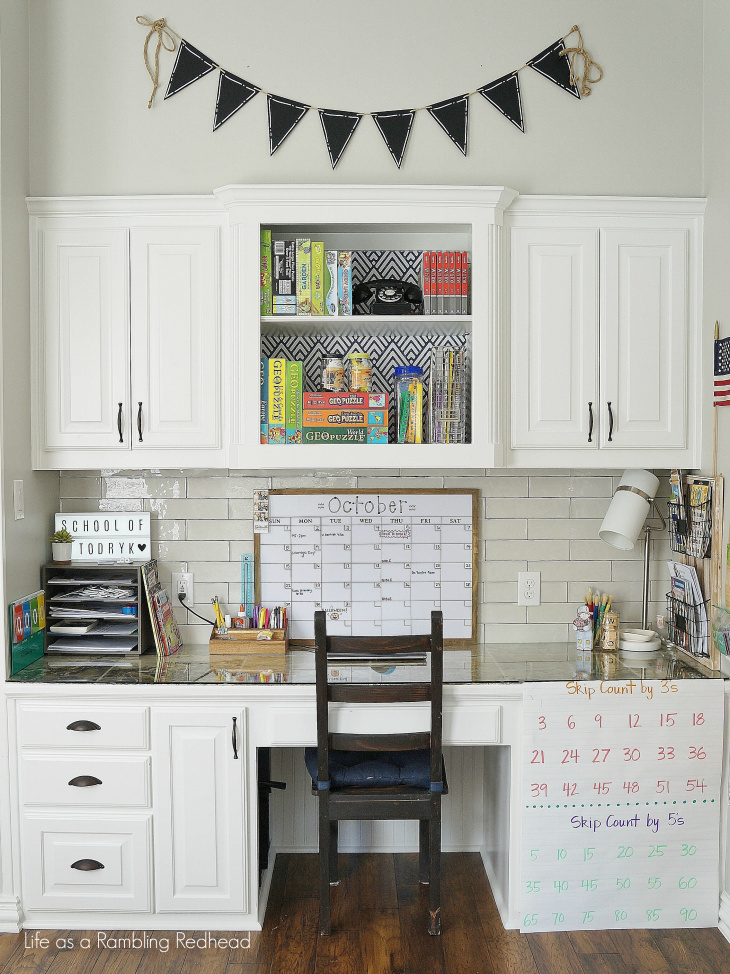 Oh, my desk.
There is just not enough storage for all of our things but I make it work! As you can see, I was forced to hang one of my son's counting charts on a cabinet because we have officially run out of wall space. It ain't pretty, but it gets the job done!
If you squint and look really hard you will see a few copies of my book that have been shoved way up high and over to the right. Homeschooling tools own this room now.
And that decorative wallpaper in the shelving area? It's totally stick-on, because the only way this Mama is applying wallpaper is if it's basically a large sticker.
---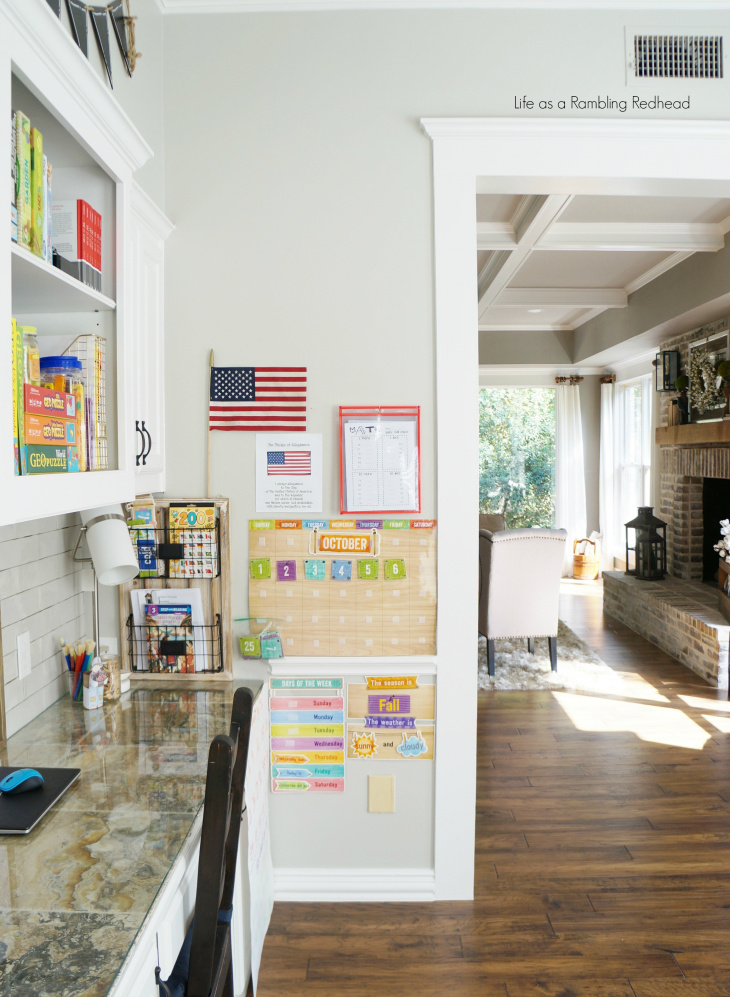 Feast your eyes on the busiest, smallest wall in this room. Here is where my four-year-old does his calendar, day of the week, and weather work every morning. I printed out the pledge of allegiance because I had that little yard flag and thought, why not? He loved this idea!
In the pink dry-erase pockets I have some worksheets loaded up and ready to go for when I need an activity for the child-beasts to do while I am cooking dinner or on the phone.
In the top little wall basket, I keep our calendar accessories as well as some stickers we have been messing around with. We are currently using Fall stickers to make up stories as well as stickers of various countries' flags simply because my son is obsessed.
In the bottom little basket, I keep our month-specific activities. Right now, for October, you'll find Christopher Columbus books and worksheets as well as Halloween and leaf activities.
---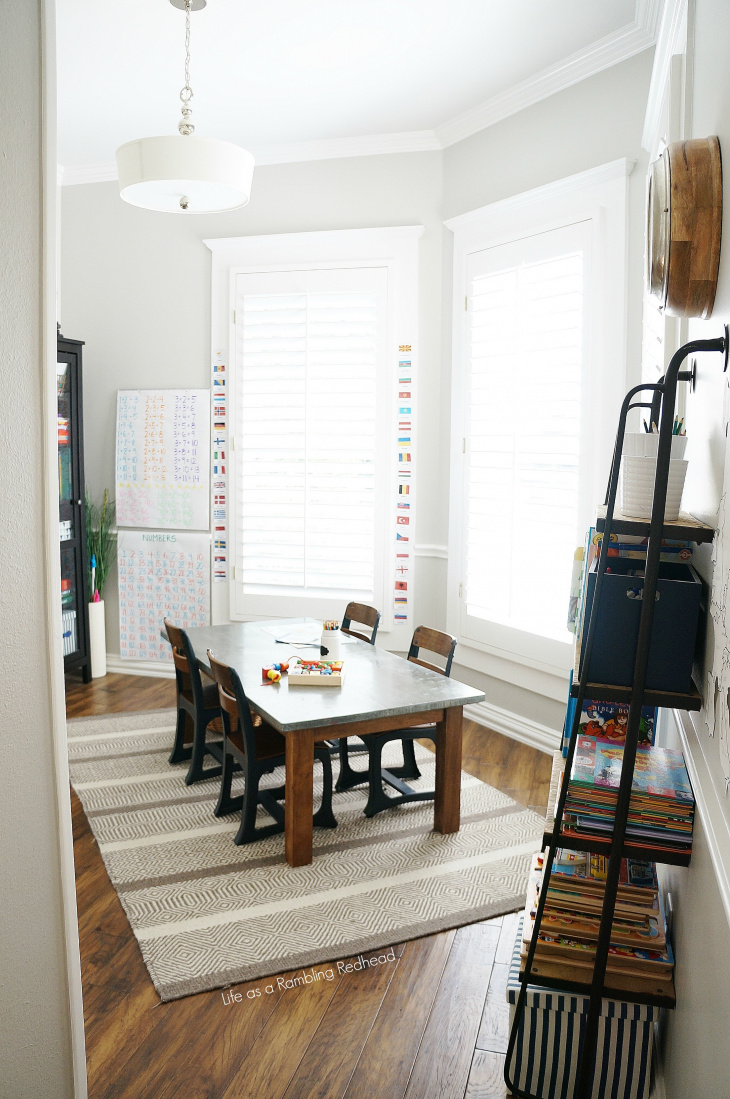 I know what you're thinking… the tiny flags framing the window really finish off the look of this room.
Jokes.
I do wish we had more wall space, but at the same time, if we did have more space I'd just hang more stuff. So maybe this is one of those less is more type of situations.
These little flags are the guts of our Europe unit study. After we finish reading about a country in Europe my son finds the correct flag, pulls it off of the wall and places it onto a board.
This board.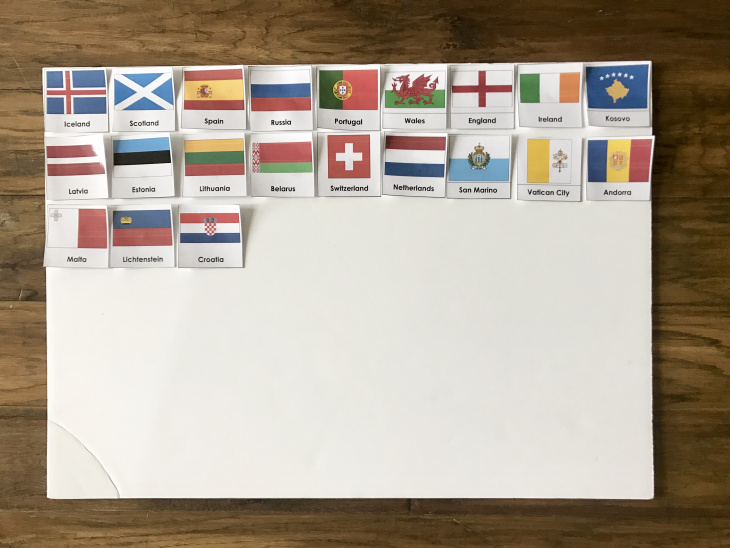 This helps us keep track of where we are and what we've covered!
---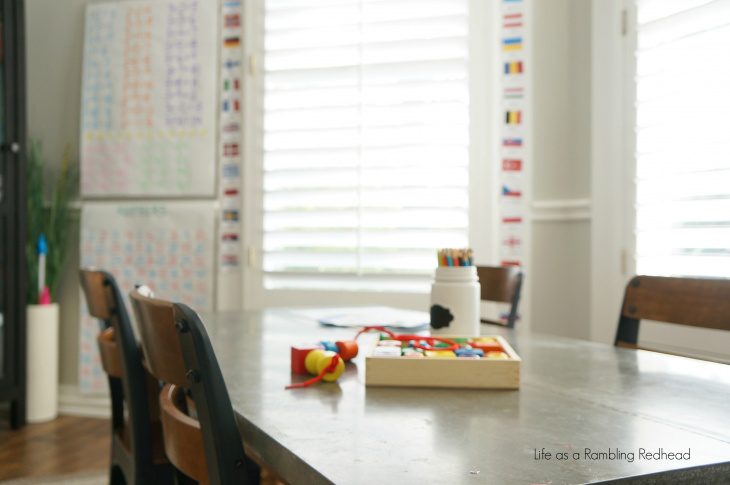 ---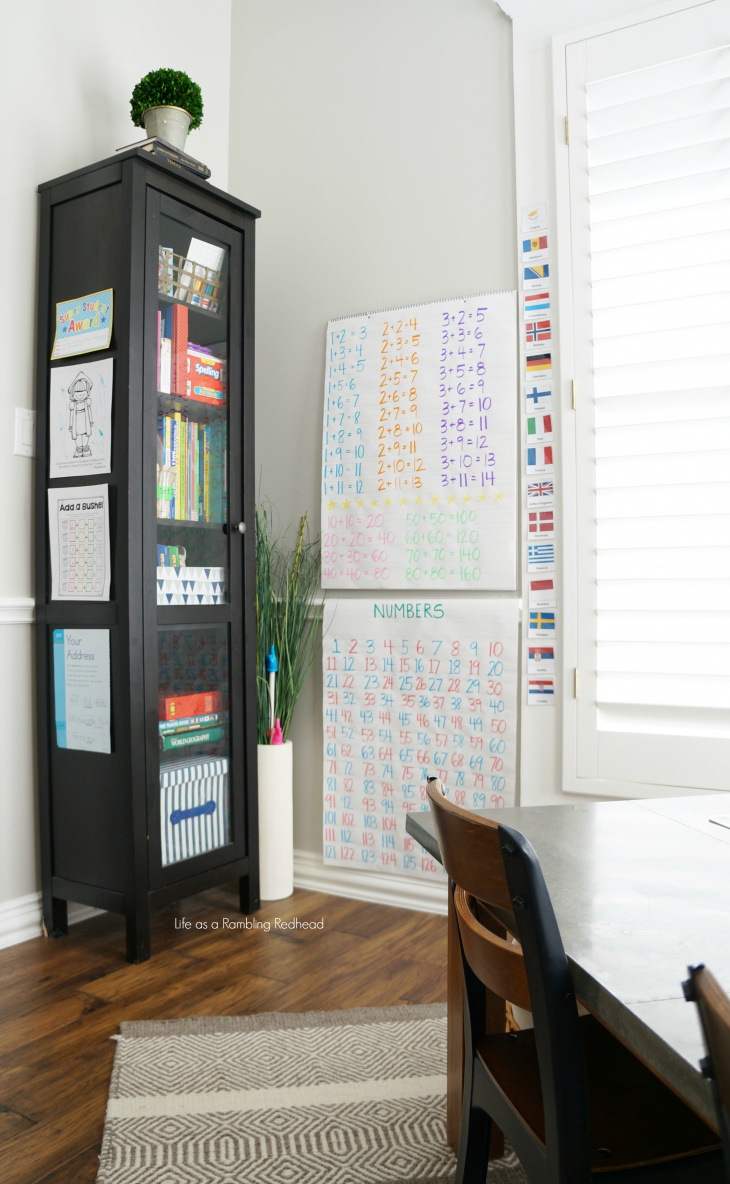 I call this the ugly wall because… it's ugly.
But, I have no choice but to hang ALL OF THE THINGS right here because it's basically the only wall space we have.
As you can see, I even use the side of the cabinet to display some work that my son finishes each week as well as any awards he earns at school.
That cabinet houses most of our workbooks, flash cards, and reading books (which are all linked at the end of this post if you are curious!). The bottom striped box contains my daughter's legos, again, for easy access.
All of the puzzles and games with tiny parts are on the top two shelves because the beasts can't reach that high, suckas.
---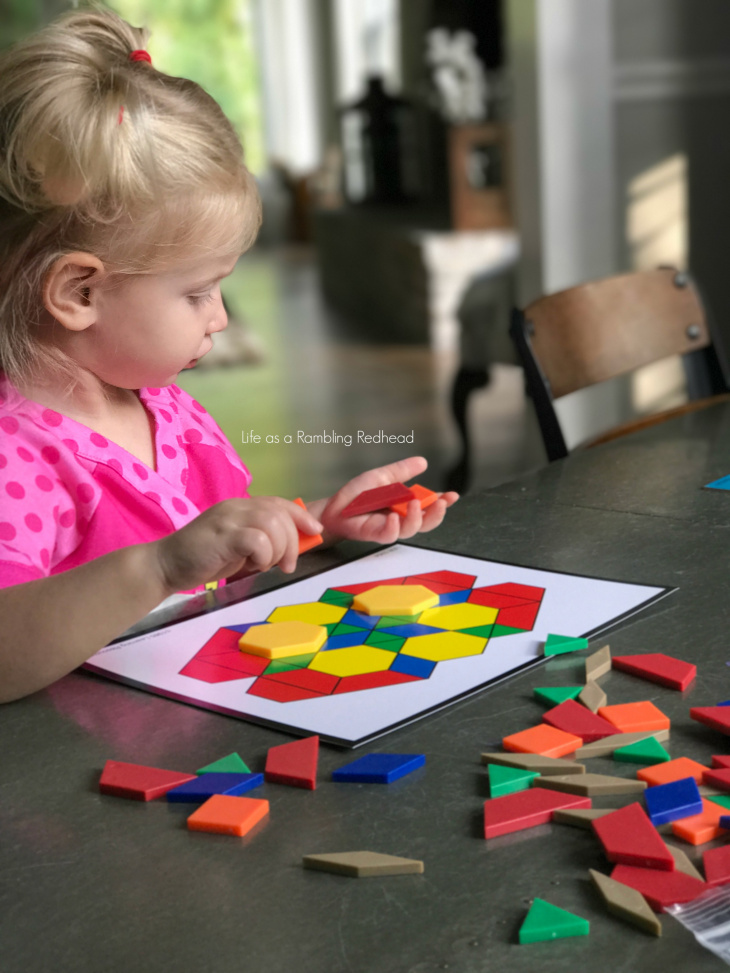 ---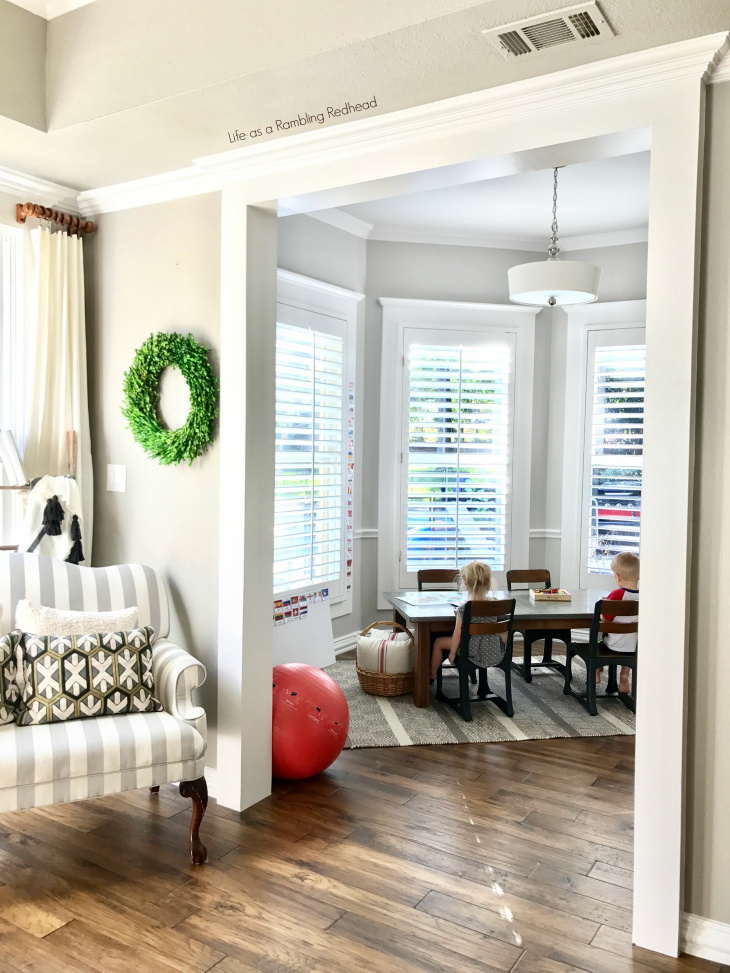 This is a view into the school room from our formal living room. That's right, formal living room. A 1980's throwback, y'all!
---
Shop This Picture For A Similar Look!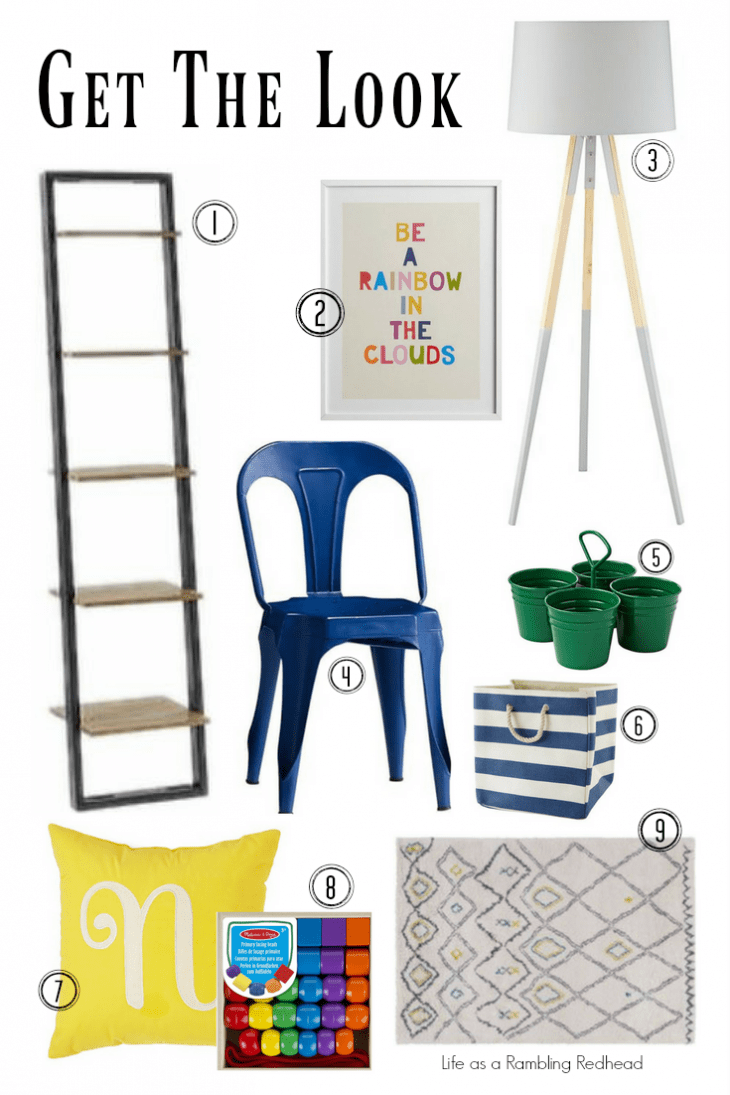 1. Ladder Shelf | 2. Rainbow Wall Art | 3. Floor Lamp | 4. Metal Chair | 5. Art Caddy | 6. Striped Bin | 7. Throw Pillow | 8. Wooden Beading Set | 9. Gray/White Area Rug
---
Thanks For Pinning!

---
Want to see the rest of my home renovation? (It was a painful doozy….) 
Click on the links below!
White Farmhouse Kitchen Renovation (total gut job)
Daughter's bedroom with shiplap wall
---
Make sure you're following me on all of my social media accounts for more tours, home decorating inspiration, as well as random Mom-life funnies!
Subscribe to my YouTube channel
Like my Facebook Page to read all posts and live broadcasts!
Follow on Instagram for home decor inspo!
---
Items shown or mentioned in this school room tour:
Wall Paint color: Sherwin Williams Repose Gray
Table and chairs: Restoration Hardware
Ladder wall shelf: (item is no longer available but this is the company)
Rug: HomeGoods find!
Kid's wall calendar with seasons/weather: http://amzn.to/2z5TgHu
---
WORKBOOKS & BOOKS:
Brain Quest Workbook: http://amzn.to/2ygaZPF
Interactive Workbook Science: http://amzn.to/2xvRq3Y
Star Wars Math Workbook: http://amzn.to/2xw3Dpq
Tracing Letters Workbook: http://amzn.to/2jTGngi
Tracing Numbers Workbook: http://amzn.to/2xwCkLB
DK Geography Workbook: http://amzn.to/2xwA2Mo
DK Math Workbook: http://amzn.to/2y0oCC6
Geography Workbook Grade 3-6: http://amzn.to/2xwEhYm
Science and Space Workbook: http://amzn.to/2xwPvfq
The Travel Book: http://amzn.to/2xwzwOs
BOB Books: http://amzn.to/2xwFjnc
Dr. Suess Big Book of Beginner Books: http://amzn.to/2xwyzpu
---
FLASHCARDS, GAMES, AND PUZZLES
Professor Noggins Countries Game: http://amzn.to/2xwsw4h
Professor Noggins Human Anatomy Game: http://amzn.to/2yysjfy
Eboo Natural Science Cards: http://amzn.to/2wOGCuj
GeoCards World: http://amzn.to/2jUHdJO
GeoCards United States: http://amzn.to/2xqUGfn
GeoCards Europe: http://amzn.to/2fHEjTV
GeoPuzzle Europe: http://amzn.to/2fI5CNY
GeoPuzzle World: http://amzn.to/2xqK1S8
GeoPuzzle Africa: http://amzn.to/2jW2bbk
GeoPuzzle North America: http://amzn.to/2xwEwD7
GeoPuzzle Bundle of 6: http://amzn.to/2wOdHGC
Melissa and Doug Human Body Floor Puzzle: http://amzn.to/2fGyupR
Gathering a Garden Board Game: http://amzn.to/2fGz6Mb
Race To The Treasure Board Game: http://amzn.to/2xwkZCp
Sight Words Bingo: http://amzn.to/2yxP3we
Pattern Blocks Game: http://amzn.to/2yymT3V
---
OTHER LEARNING TOOLS MENTIONED:
Telly The Timeclock: http://amzn.to/2xANhfE
Dry-Erase Board Letter Practice: http://amzn.to/2xwG9AI
Math Educational Keyboard: http://amzn.to/2wOoqAQ
Place Value Flip-board: http://amzn.to/2y1aR68
Math Snap-Blocks: http://amzn.to/2xwLyrr
Didax Letter Cubes: http://amzn.to/2fIV2X7
Didax Blends Letter Cubes: http://amzn.to/2hrhkNk
Dab and Dot Markers: http://amzn.to/2wKsB5J
Dry Erase Pockets: http://amzn.to/2wOyeuZ
Handwriting Finger Grips: http://amzn.to/2fyOgpY
My First Pencils: http://amzn.to/2xD3BdE
Happy shopping and learning! Some of these are affiliate links, thanks for using them as they help support this blog at no cost difference for you! 🙂
---