Hello, friends!
After my Instagram inbox got flooded with messages about my garland that I had shown in my Instagram stories a couple days ago, I decided to make it into a do-it-yourself blog post! I'm going to keep this short and jump right on into it since you have garland to make and I have two toddler beasts to chase after and keep alive (just like I'm sure you have beasts of your own to feed, husbands count.)
"All I am using is the garland that was passed down to me from my mom years ago!", a few of you said in your messages. All I gotta say is, this ain't your Mama's garland 😉 It is not anyone's typical Christmas garland but that's exactly what I wanted!
So, let's do this.
---
Supplies:
I found all of my garland strands at Michaels and used twine that I had on hand. You can find twine at Homegoods, target, really anywhere right now since it is so popular!
---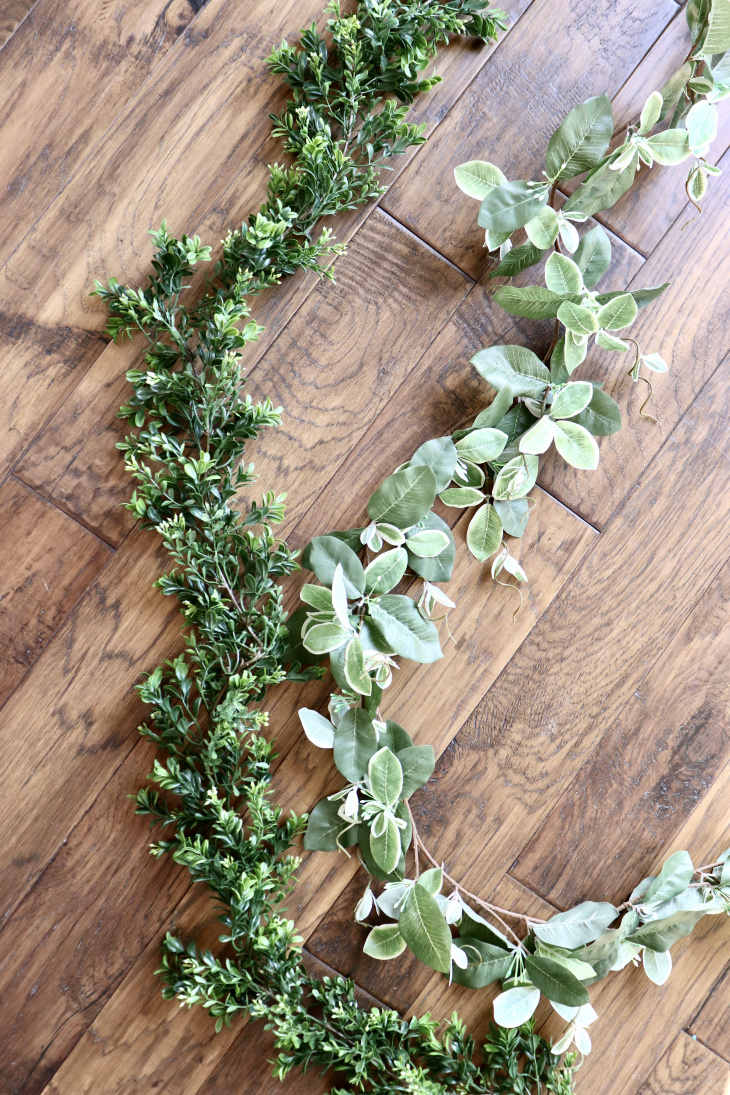 ---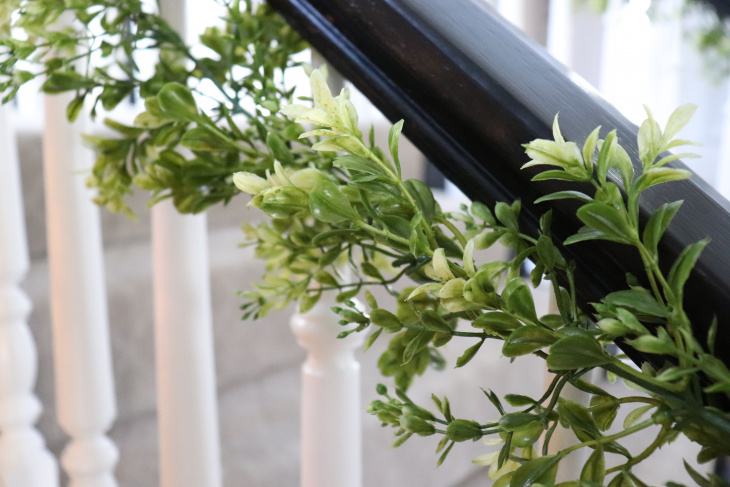 ---
I ended up having to use two shades of the greenery because finding eight of the same strands was almost impossible! I love how it turned out though and you can't really tell that they are different colors.
---
How To:
I assembled my garland the hard way, by tying each strand separately to my banister, piece by piece, one on top of the other.
Take it from me, the easier way to do this would be to lay the two pieces side by side on the floor and attach those to each other first. Then tie them to the banister after they are already tied together, less string will be used this way!
---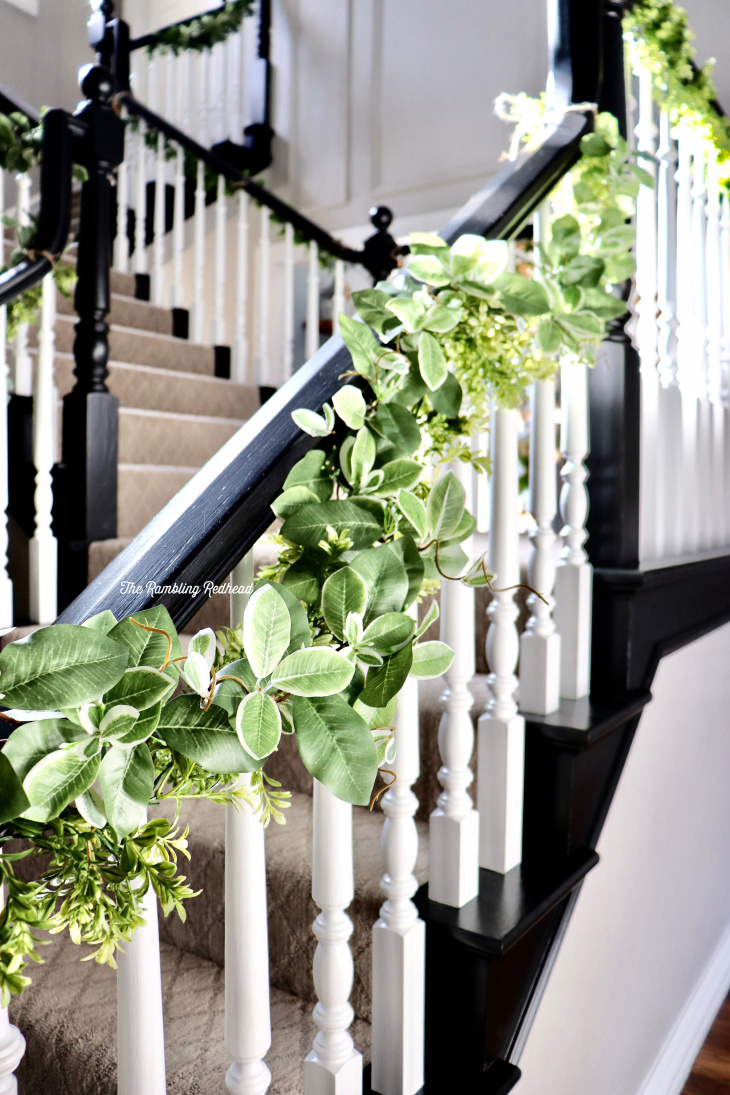 ---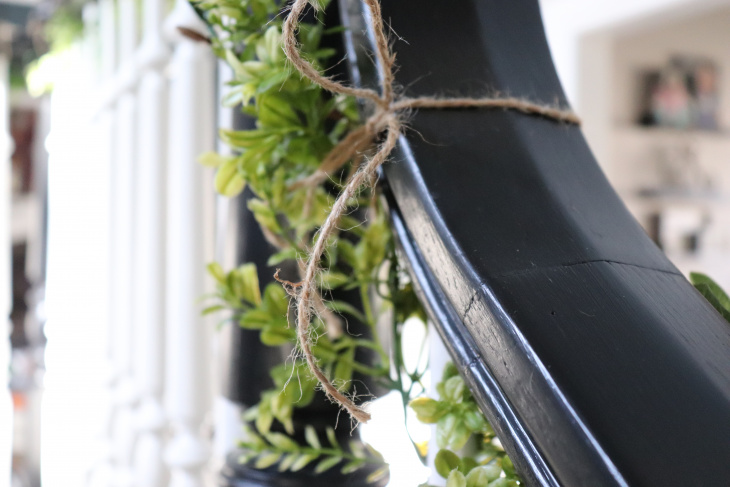 ---
As far as how to hang it, I honestly like the exposed twine just because it adds to the natural, farmhouse vibe, but if you wanted it to be more hidden you could hang it like this…
---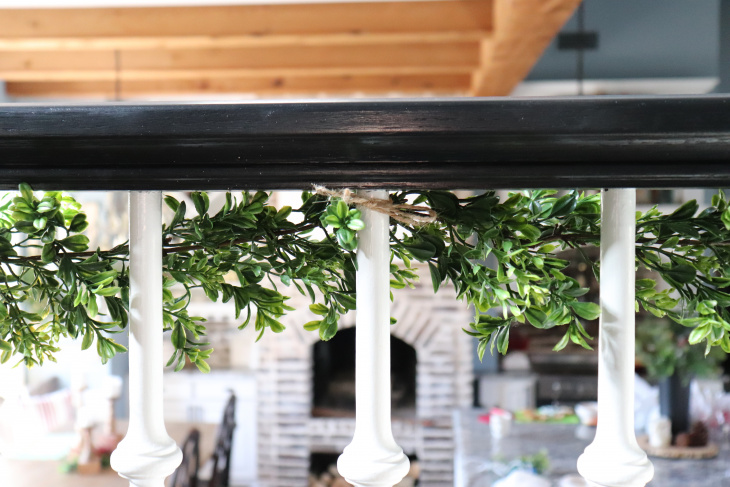 ---
The only issue I had with this is that it slowly starts to slide down over time and I have kiddos grazing the garland as they blow on by. I want my two-year-old to hold on to the stairs as she walks down, so for me, tieing it around the handrail is just how it needs to be! It's definitely more sturdy if you have young kiddos! I have found it to be even better than hooks, it doesn't move!
---
At the ends of my banister, I wanted something there but I needed it to be simple. No fabric bows or glitter spraying angel figurines since my child terrorists would be messing with it constantly, so I just decided to tie some fabric and thick rope and calling it good! I like the simplicity of it… it's a nice touch rather than the star of the show, the garland gets to be the star!
---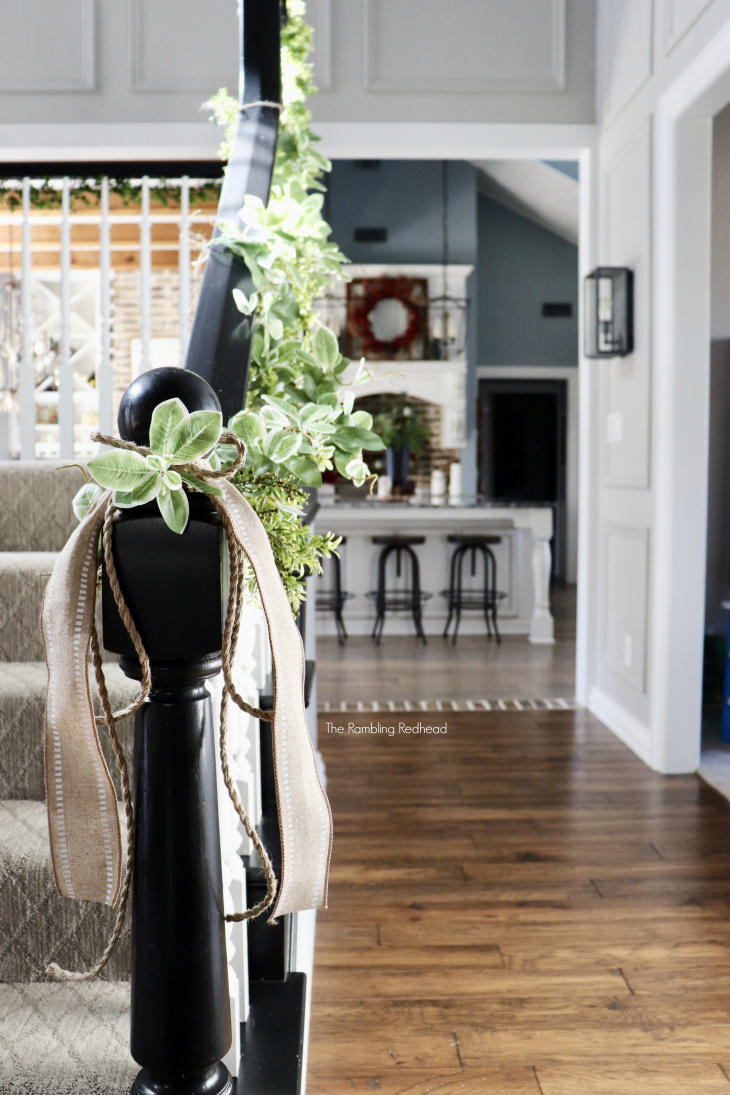 ---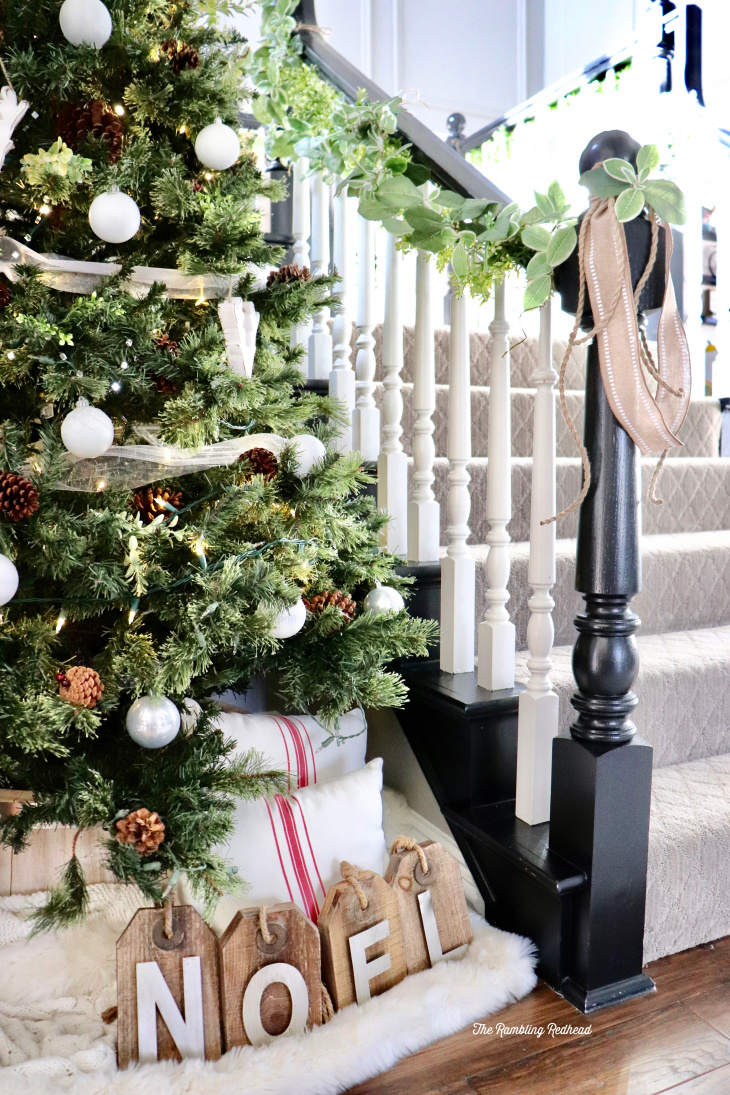 ---
I do think that adding white lights or white berries to the garland would be GORGEOUS, but I just don't need one more sparkly, shiny thing hanging around for my toddlers to demolish. Or eat.
This really is so easy, so run out to your closest hobby/craft store, pick whatever garland strands stand out to you and have fun with it! I'd love for you to post your finished product on Instagram and tag me so I can see it! (Tag me: @TheRamblingRedhead)
---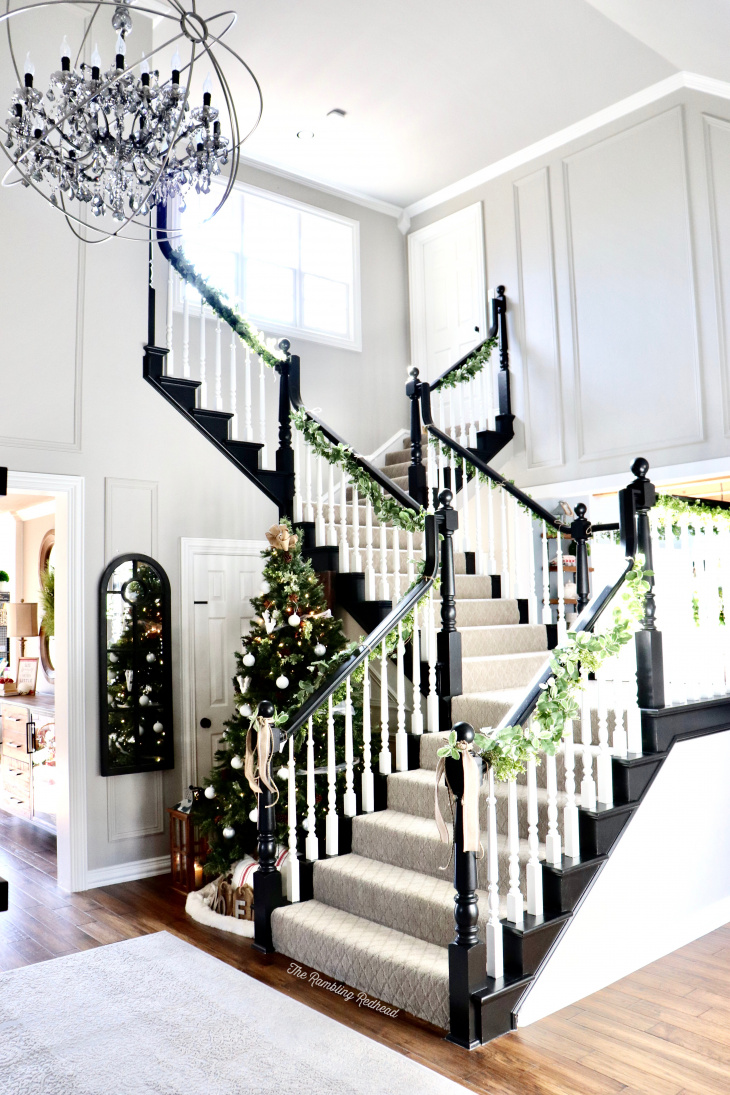 ---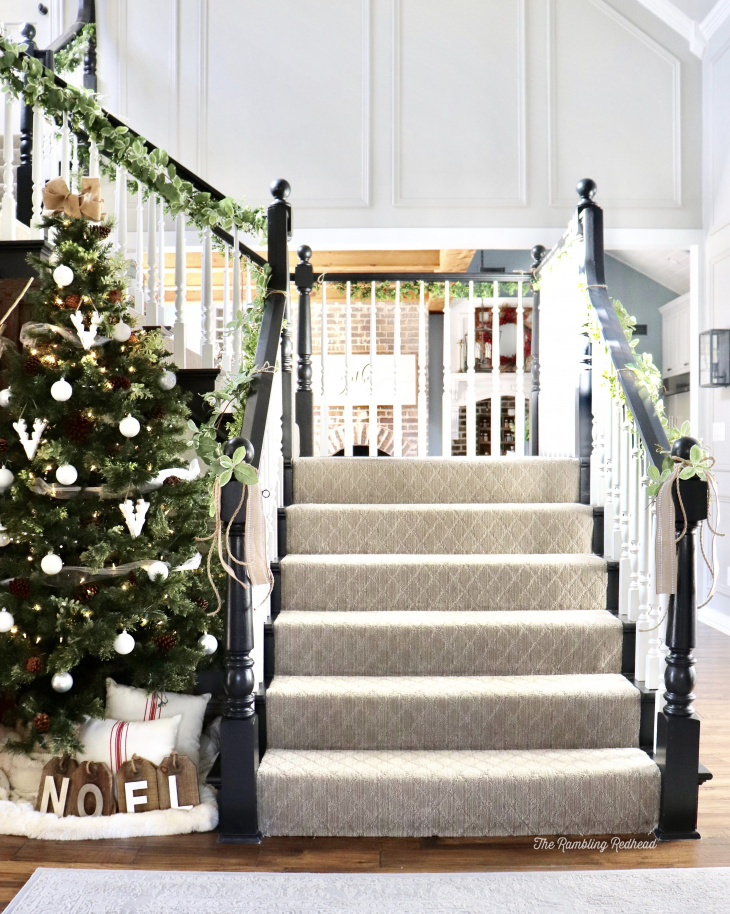 ---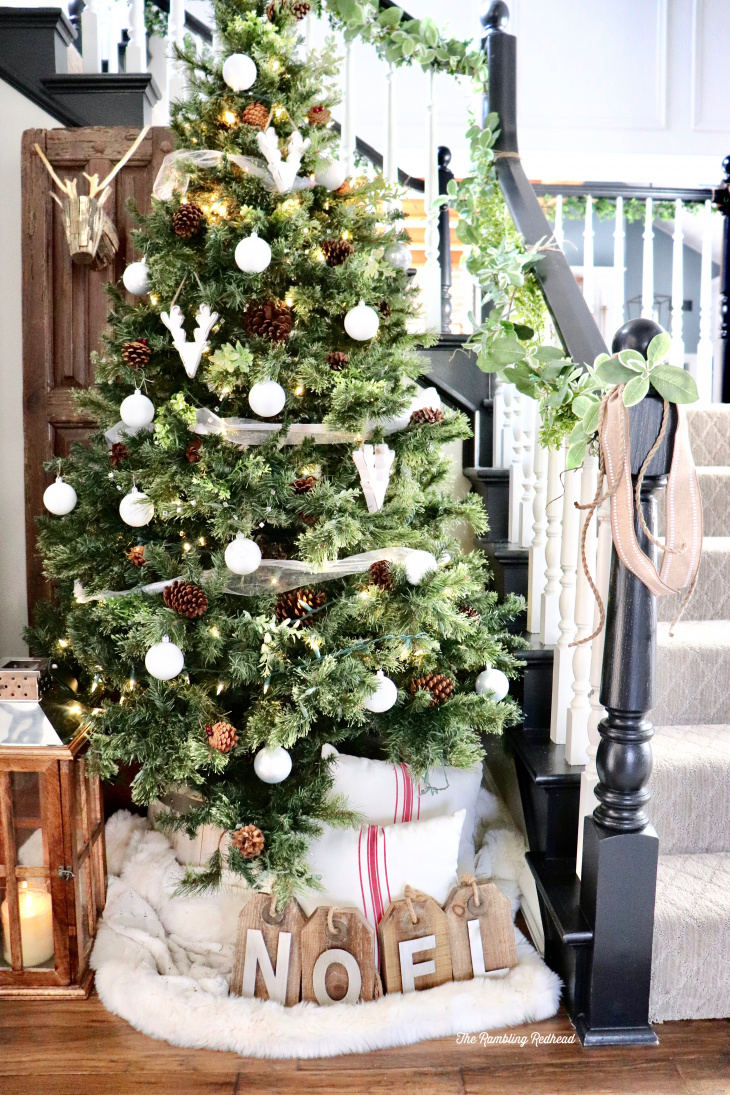 ---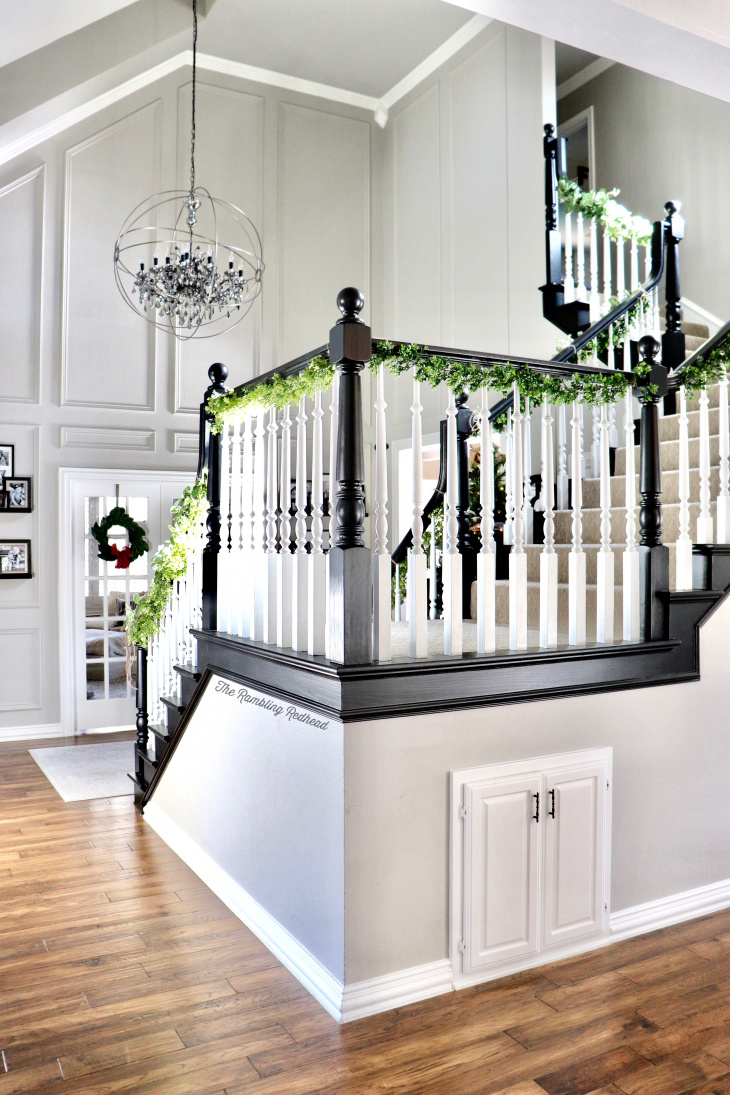 (Little secret… I didn't add the beautiful leafy greenery on the backside of the staircase! Saved me time and money and no one can tell unless I point it out!)
---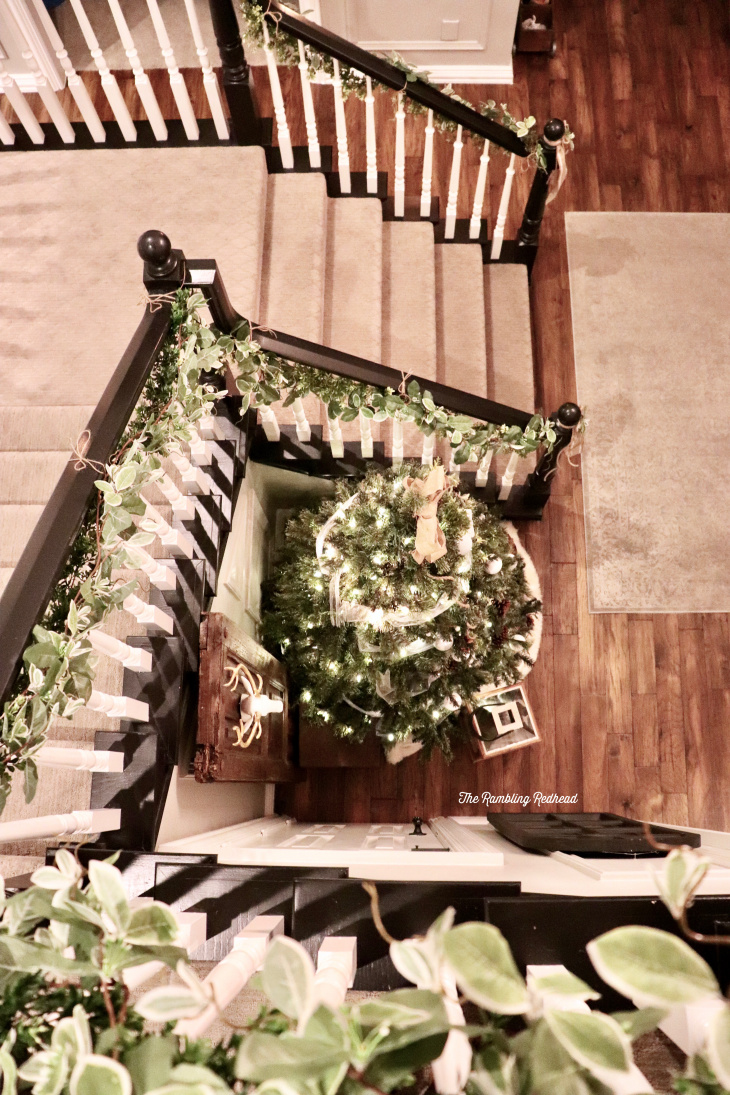 ---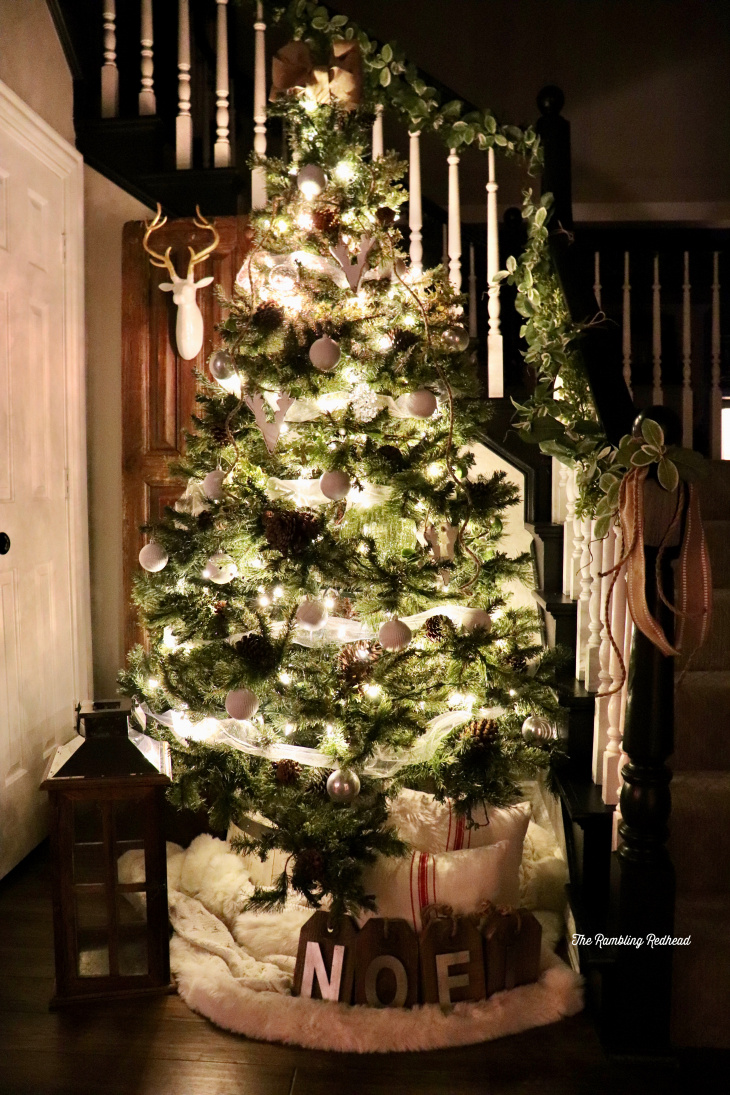 A night time shot… because it's my favorite time to see Christmas trees 🙂
And because I changed my deer head to a white one 😉
---
The tree above used to be our main Christmas tree but I just bought a larger tree on Black Friday and I am anxiously awaiting its arrival tomorrow! So this tree is now in our entry and I am so in love with its neutral color scheme. I love white up against the dark green tree! I didn't  buy anything new on this tree. I used old leftover rope and wrapping supplies and I didn't have any white ornaments on hand but I did have some white chalk spray paint, so I spray painted some old bulb ornaments that I hadn't used in a few years and voila!
---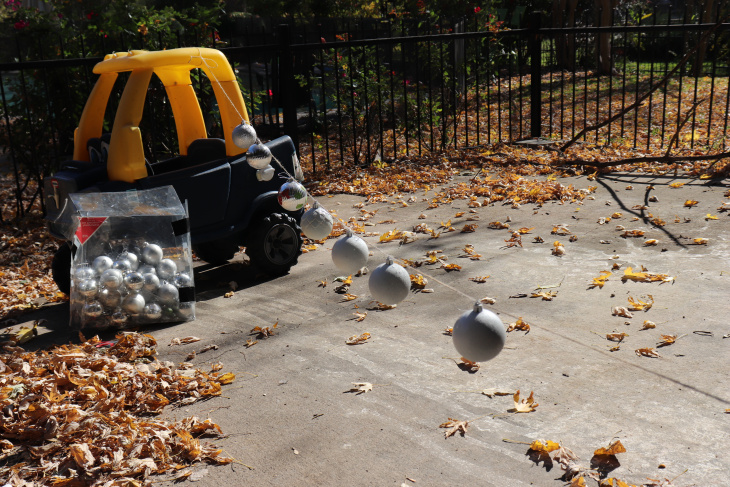 Spray painting in action. Thanks, little tykes truck.
---
Follow on Instagram for daily inspiration!
Need more Christmas decoration inspiration? Check out my Holiday Home tour here! 
Want to see my white farmhouse kitchen renovation that almost killed us? Click here!
---
Thanks For Pinning!

---
 For more humorous, honest parenting and home decor posts like this, please "Like" my Life as a Rambling Redhead Facebook Page!
Or subscribe, so you never miss a new post! Your life will be changed for the better. Follow on Instagram, Twitter, and YouTube .