Happy Memorial Day weekend! Hope you have a super fun weekend in the sun (hopefully!) Thought I'd start this news letter with the goods: SALES! While I didn't link every store under the sun for you, I picked the stores offering the best sales! I don't want no 15% off, and I assume you don't either… GIMME THAT 50%!
Memorial Day Sales! There are so many good ones!
Wayfair Memorial Day Sale–Most Items included on 75% off Sale!!
Joe's New Balance Outlet Store: 50% off Memorial Day sale! Women's, Men's and Kids!
Target 30% off home and patio!
Abercrombie is 50% off entire site!
American Eagle extra % off clearance
American Eagle 25% off all Jeans and Shorts!
Express is 40% off entire site! Free ship for orders of $50+
Francesca's Buy one get one 50% off! This is where I've gotten a few of my layered necklaces, VERY affordable!
Kendra Scott is up to 60% off! Where I get my dainty necklaces 🙂
Old Navy Shorts Sale 50% off!!
Carters 50-60% off entire site!
The Children's Place: 50-70% entire site! Awesome sale!
Ulta Gorgeous Hair Event: 50% off best selling hair items!
Kirklands 40% one regular full price item with code: MEMORIAL
Kohls: SO MANY DEALS. Patio sales, Vacuums, clothes, shoes, kitchen accessories… all the things!
Macy's: I've linked their sale page! Don't forget the code for some major savings! SO many things on sale!
Walmart: Basically, it's all on sale! Patio, vacuums, furniture, appliances, clothes, shoes, your dog is for sale on that site I think.
World Market is 20% off everything + free ship over $99!
MAY GIVEAWAY:
As most of you know, every month I've started giving away items that I love and are currently using. This giveaway is simply just a thank you to all of you who take the time to engage on my page! All you have to do is "like" every photo on my feed in the month of May to be entered! That's it! 
This community means more to me than you will ever know, again- thanks so much!!
– * Winner's choice of $100 Giftcard to either Amazon or Wayfair
-My fav hair products- 
–Briogeo Rosarco Milk Leave-In Conditioning Spray
---
Things I've mentioned this week in IG stories
My Amazon makeup/toiletries travel case (On SALE!)
---
Outfits from this week
Black sale New Balance shoes *lightest pair of tennis shoes I own!
Boys two pack of lounge shorts
Von's Fav Light Wash Denim Shorts
---
Weekly Try-on (American Eagle)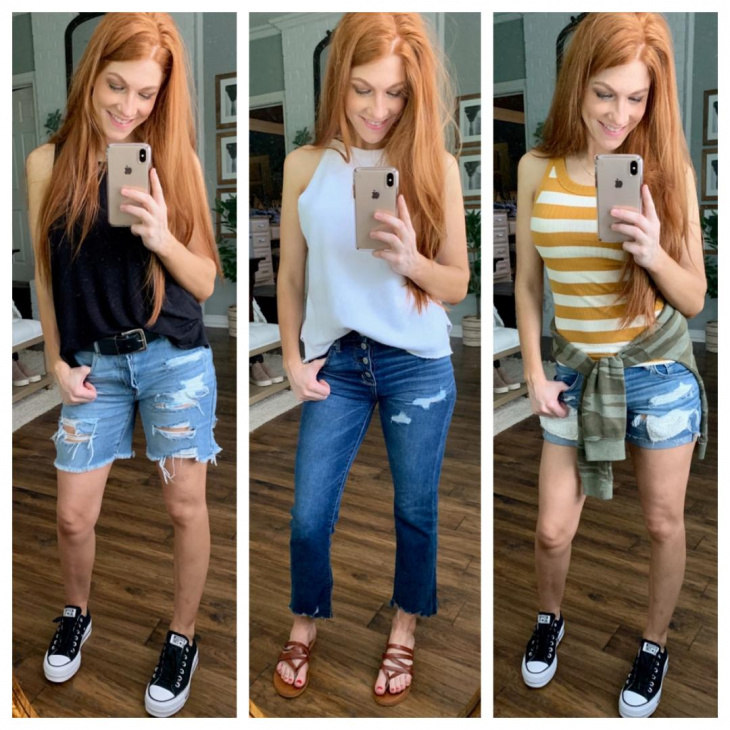 ---
Currently Watching
Bachelorette. DUH.
Finished Game of Thrones along with the rest of the world.
Finished Dead to Me. Highly recommend!
….. now I need something else to complete meeeeeeeeee.
Currently Reading
The Wife Between Us updates to come! So far it's great!
The Couple Next Door: READ THIS. I read this last summer in three days. SO so so so addicting and awesome. It's a suspenseful, who done-it thriller!
---
Beauty
My shampoo and conditioner! I've used this for a couple of years, Mike's mom is a hair stylist and she got me hooked on this product! The smell is so addicting!
Dry Shampoo: I use this even when my hair is clean just to give it more volume! It's seriously magic. Once you use it you'll never switch, for real.
---
Summer outdoor fun/toys
My exact Slackline is back in stock!
Tree swing that multiple kids can swing on at the same time *life changing (CLOSEOUT SALE!!)
---
Home Decor
Wayfair Open Box Deals Page : Many of y'all have asked for the "Open Box" deals on Wayfair! They currently have a lengthy list of Open Box specials right now!
Wayfair outdoor fun page: Lots of great Memorial Day sales included!
Wayfair Patio Sale: Because EVERYONE seems to be needing new outdoor furniture… including myself! 🙂 Great deals right now!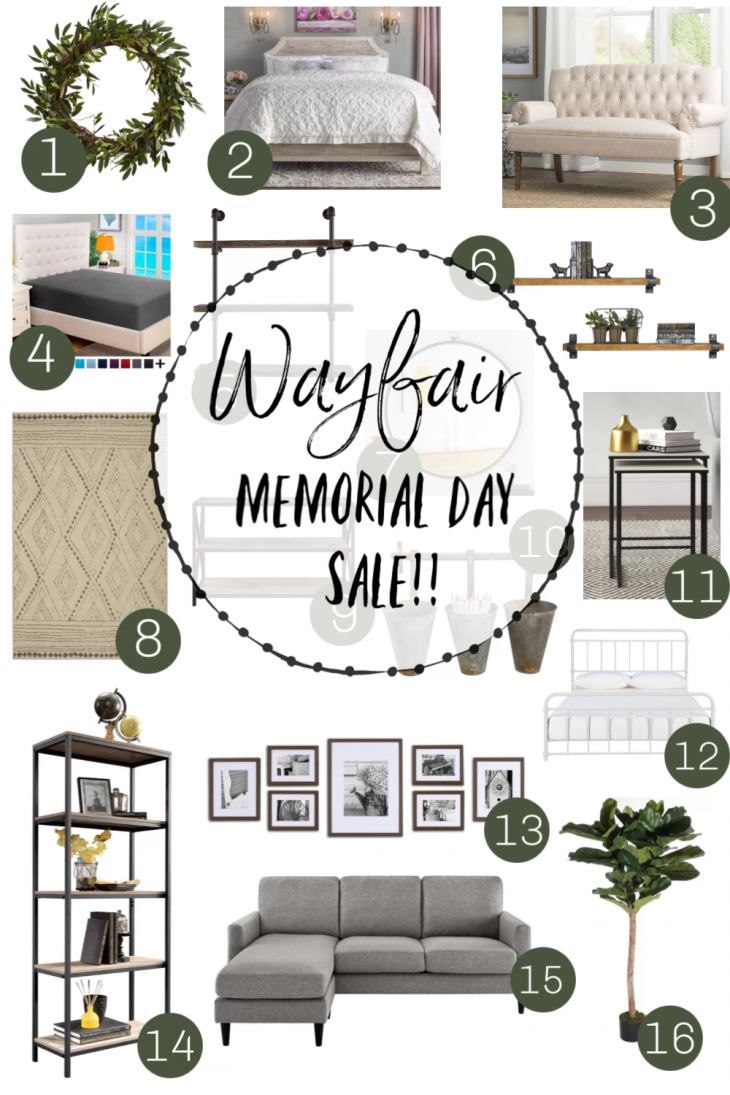 Olive Wreath / 2. My Comforter Set! / 3. Bjorn Settee / 4. Microfiber Deep Pocket Sheets / 5. Kennard Wall Shelf / 6. Industrial Wall Shelf / 7. Minerva Accent Mirror / 8. Vado Area Rug / 9. Adair Bookcase / 10. Metal Wall Rack / 11. Nesting Tables / 12. Matheney Platform Bed / 13. Picture Frame Set / 14. Ermont Bookcase / 15. Cazenovia Sectional / 16. Silk Fiddle Fig Tree
---
Educational Tools
Science games and learning tools, Von's favorite subject!
Science Workbook Grade 1 / 2. Ready, Set, Bodies! / 3. The Human Body Game / 4. Kitchen Science Kit / 5. The Everything Kids Weather Book / 6. Tell Me Earth and Sky / 7. Night Sky / 8. Jumbo Human Floor Puzzle / 9. What's Biology all about? / 10. Science and Space / 11. The Everything Kids Human Body book / 12. M&D Anatomy Puzzle. / 13. 77 Science Activities / 14. DK Grade 1 Workbook / 15. Human Body Grade 5-8 / 16. Science Flash Cards
Personal Updates
Vivienne is attempting to sleep UNSWADDLED! The naps are significantly shorter these days and she is still swaddled at night. A lot of you have messaged me asking for tips and even though I've done this three times now, I have no tips for you. Ha! It just depends on the baby and I feel like you'll know what to do based on how the baby is acting! 🙂
…. the fact that this is the only thing I can think of for the "personal updates section" – my life is riveting, what can I say.
---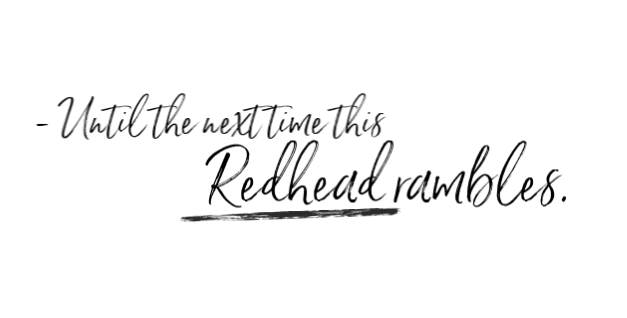 ---