HAPPY WEEKEND!
Mother's Day weekend to be exact ? Hope your Sunday is exactly how you want it to be. I feel like each year is different as far as what I want. Some years I like doing lunch and normal life with the family and other years I want to board a flight to Mexico only if it meant I'd have to come straight back that same night… at least I got out and drank some mojitos on the flight. Do they sell mojitos on airplanes? Not important.
First Newsletter in the books y'all! So how this works is super simple- I'm listing out all the things for easy skimming. Some people don't like to read much and I want to make this as painless as possible to find what you're looking for each week. For my peeps who dig a good life update with personal details, I've got that for you down at the end of each newsletter ??
---
Blog Posts Published
Mother's Day Amazon Gift Guide– May be a little late for Mother's Day but all of these things I would buy for myself so thought I'd re-share!
---
Things I've mentioned this week in IG stories
American Eagle White Shorts: Fav white shorts because they are granny panty safe- none of that see through business. I'm talking, dark purple granny panty approved ??
American Eagle Bermuda Shorts: Waiting for these currently but thought I'd share since they will most likely be my new favorite and they are BOGO 50% off right now!
American Eagle Denim Shorts: Favorite denim shorts I own and they aren't show-your-butt-shorts which is a complete win in my book. Longer in length but not bermuda length.
Amazon Earrings with Flower back detail: OBSESSED with this ten pack of earrings. And they are $11. These were my number one seller this week after I showed them in my stories. I'm surprised they didn't sell out! (They just raised the price a dollar… we see you, sneaky Amazon.)
Layered necklace: One of the Amazon necklaces I've been wearing in stories this week. Love me an inexpensive Amazon necklace.
Tanning System: I gave away this tanning system for my April giveaway! Lots of people ask about this weekly so I'm posting it here for ya!
Tanning Solution: I get the liter and it lasts me over a year, tanning once a week.
Foot covers: These keep the bottom of your feet looking like an oompa loompa. They work great!
---
Outfits from this week
Black Jumpsuit: Amazon find and I'm buying a second color! So so cute! I have the size small.
Old Navy Kids 2 Piece Swimsuit: Berkley's gingham two piece that was in stories!
Old Navy Kids Blue One piece Swimsuit: Berkley's blue stripe with ruffle one piece!
Flowered Shoes: Her little rubber tennis that make great "pool shoes"
Over-sized olive lightweight sweatshirt: I always get a ton of messages asking for this link when I wear it. One of my all time cozy-favs!
Amazon leggings: The bomb and one of my best sellers. Comes in like 1,956 colors.
---
Weekly Try-on (Old Navy)
Mid Rise Cuffed Denim Shorts– $10
Mid Rise Boyfriend Dipped Dyed Shorts
Slim fit high neck tank My new FAV for Summer! A must have and only $10 right now!
---
Sales
American Eagle extra % off clearance & 25% off online only with code: YASSS25
American Eagle 25% off all Jeans and Shorts!
Old Navy up to 50% off jeans and more!
Old Navy Shorts Sale starting at $10!!
Joe's New Balance Outlet FREE SHIPPING + EXTRA 20% OFF WITH CODE: MOM20
Carter's 50% off swim this weekend
---
Currently Watching
Netflix series You: We are only three episodes in. Graphic "adult relations" sessions may do me in… we shall see how long I can be uncomfortable. Definitely intriguing and holds your attention!
Currently Reading
The Wife Between Us: So, I'm only a few chapters into this book but it's good. It's in the same wheelhouse as Gone Girl and Girl on the Train- suspenseful- psychological thriller, so I'm hoping it keeps my attention… I'll keep you posted!
The 52 Storey Treehouse is what I am currently reading with the kiddos! Von and I take turns reading aloud and Berkley is just along for the ride. It's super goofy, language is okay… I've skipped over stupid one time "that was a stupid idea" but other than that it's just a silly and over the top read. The kids will learn nothing but will laugh!
---
Beauty
Dry Shampoo: I use this even when my hair is clean just to give it more volume! It's seriously magic. Once you use it you'll never switch, for real.
Detangler: This smells AMAZING and what I use to tame all of the rats nests in my hair as well as Berkley's hair. So so good! It's very apparent when I forget to use it…. ?
---
Summer outdoor fun/toys
Slackline similar to ours! Ours is sold out, y'all sold out two models to be exact! The kids have had the best time with ours, such a great find!
Infant / toddler swing we attached to slackline for Vivi!
I thought this fort structure kit was awesome for indoor fort building during hot days! $30- just add sheets on top ?
---
Educational Tools
For all of my Mamas who need Reading and Letter Practice suggestions- this is for YOU! *You can pin and save for later ??
(All items are numbered and linked below graphic)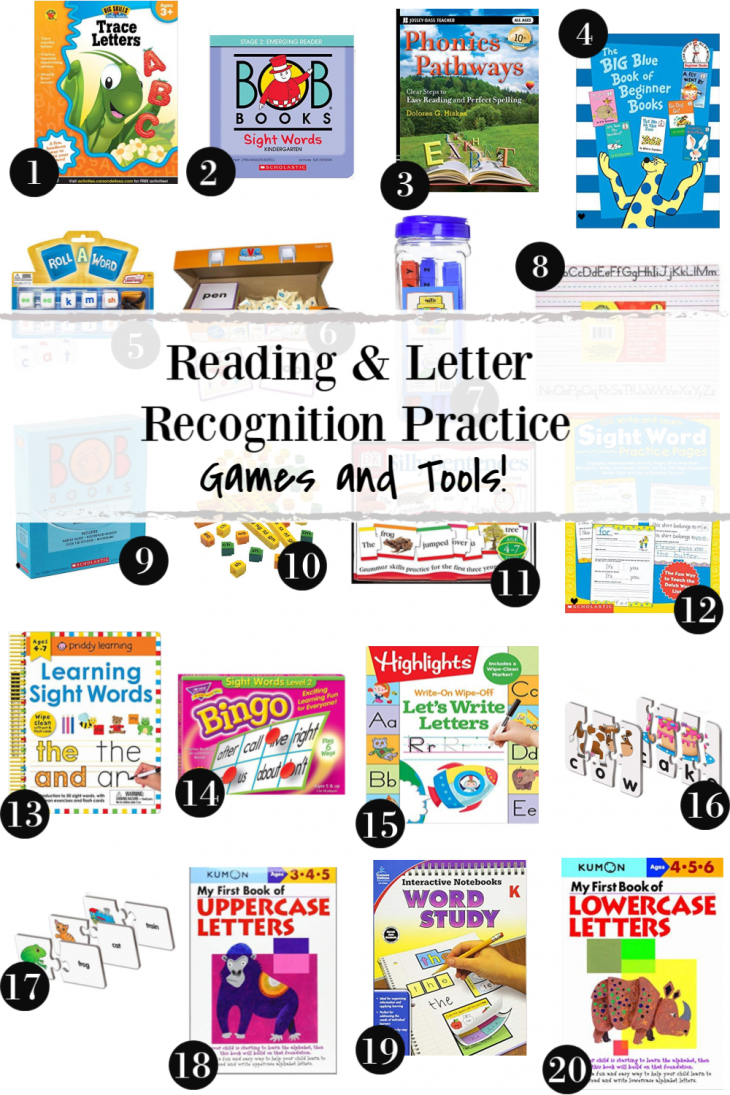 1. Tracing book / 2. Sight words Readers / 3. Phonics Pathways / 4. Dr. Seuss / 5. Roll-A-Word / 6. CVC Toolbox / 7. Letter Cubes / 8. Letter Practice Dry-Erase Board / 9. Beginners Reading Book / 10. Letter Cube Blends / 11. Silly Sentences / 12. Sight Words Practice Pages / 13. Wipe off Sight Words / 14. Sight Words Bingo / 15. Wipe On-Wipe Off Letters / 16. Self Correcting Puzzle / 17. Word Puzzle / 18. Uppercase Letters / 19. Word Study / 20. Lowercase Letters
---
Personal Updates
Coffee shop news: We're working on getting gift cards and awesome merch! We still have a long way to go with the renovation that hasn't started yet and the entire re-branding process. We're so ready to not only get started but also be done with it completely. Mike and I stop in the shop for a while almost daily so come by and see us!
Mike is still lucky to be married to me 😉 He's doing well and is finding so much happiness in that little coffee shop. He can't wait to expand to more locations- it's coming!
I'm always tired since Vivi started waking up in the middle of the night once she hit five months old, her sister did the exact same thing! BUT I'm so happy right now. Tired but the happiest and most content I've been in a long time. I consider myself to be an overall happy person, always have been, but lately it's just been this constant "I love my life" joy that I've been carrying and for that I am so grateful ? Choosing to wake up and be happy is a skill that we have to choose to practice but once we wake up looking for the happy stuff in our day to day grind life just becomes a little more sunny, don't you think?
Von and Berkley are still crazy.
Vivi sits up so well, farts as loud as the rest of her family members (not me though, duh), and is obsessed with the chaos her brother and sister force upon her every day which is so good because there is just so much chaos ?
---
As always, I am so glad that y'all are here doing life with us. Your encouragement and support mean more to me than you will ever know! Wishing all of you a GREAT weekend!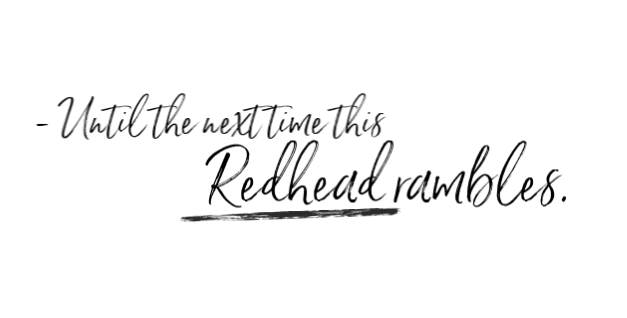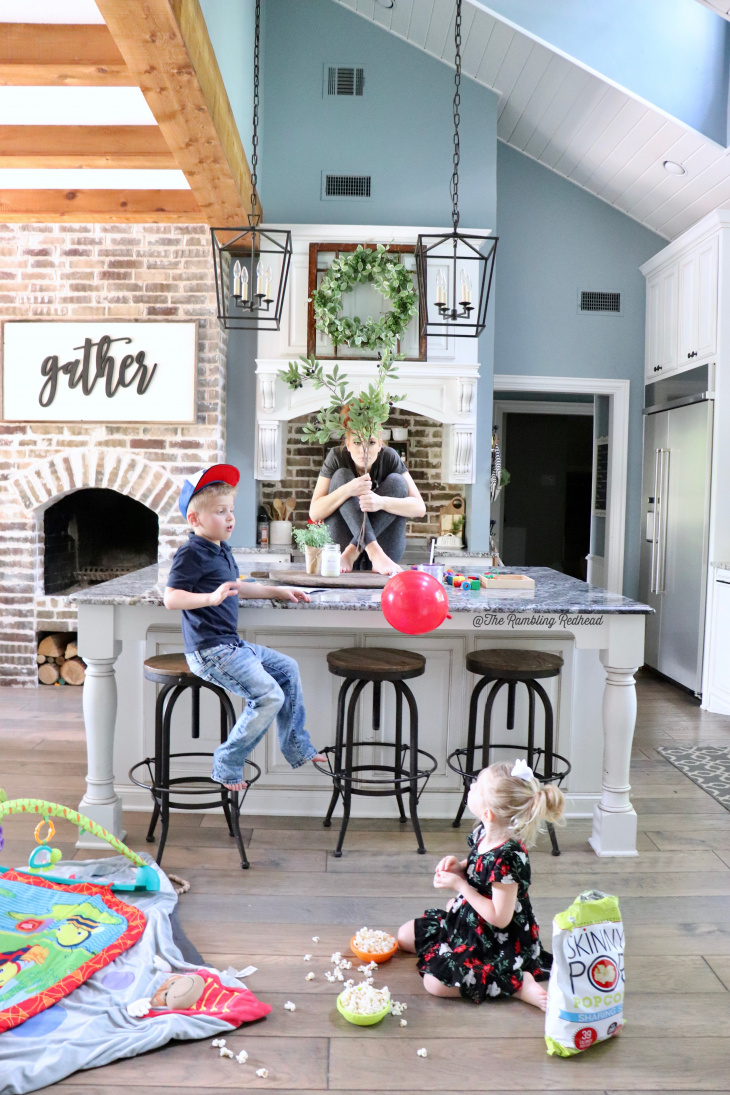 *one of the pictures I ended up not using for our recent giveaway… the balloon releasing air and flying in action ?