So here was my dilemma… I wanted black windows but didn't really want to pay for new windows since our home renovation cost us a lot of pretty pennies last year. and nickels, and dimes, and a lot of dolla dolla bills, but that's a different story.
---
If you missed my home renovation post with before and after pictures, read it here!
If you missed my white kitchen renovation post, read it here!
---
After stumbling across an article from HGTV where "painted black windows" were deemed one of the hottest new design trends (super popular amongst farmhouse lovers) and having my Instagram followers take a poll on whether I should make the drastic change or not, that's right, I let Instagram decide my fate, I decided to take the plunge.
I was going to paint my beautiful white windows black. I honestly never thought that I would see the day, but I was doing it. I wanted black metal windows but the painted black windows panes looked almost identical at a fraction of the cost.
I had some leftover paint from our recent home renovation, I had my tape, and I had it set in my mind that black windows were going down and that's really all I needed.
"We can always repaint them white", and with that uplifting tidbit from my loving husband, I started on the window with nothin' but some blue tape and wavering confidence.
I taped for days, Y'all.
Just kidding, but it took forever.
After an hour of taping, I was ready.
After the first few strokes, I experienced my first minor panic attack but I kept on truckin' because I couldn't let my husband be right. Isn't that a great motivator? But seriously.
After a couple coats and touchups with a smaller brush, this was the result…
---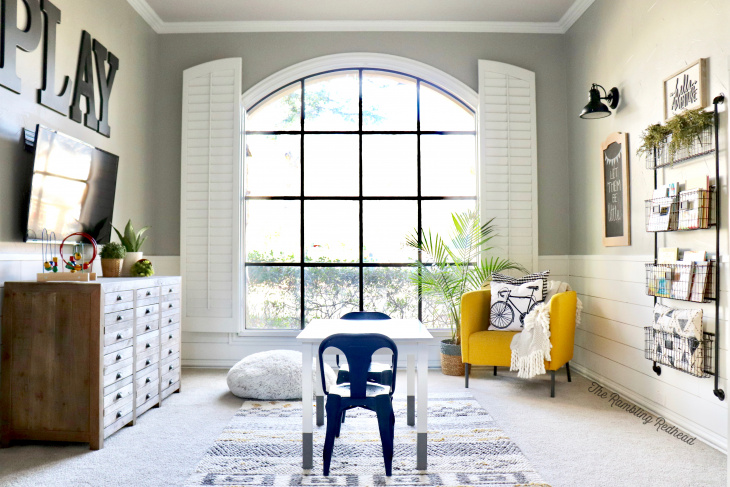 ---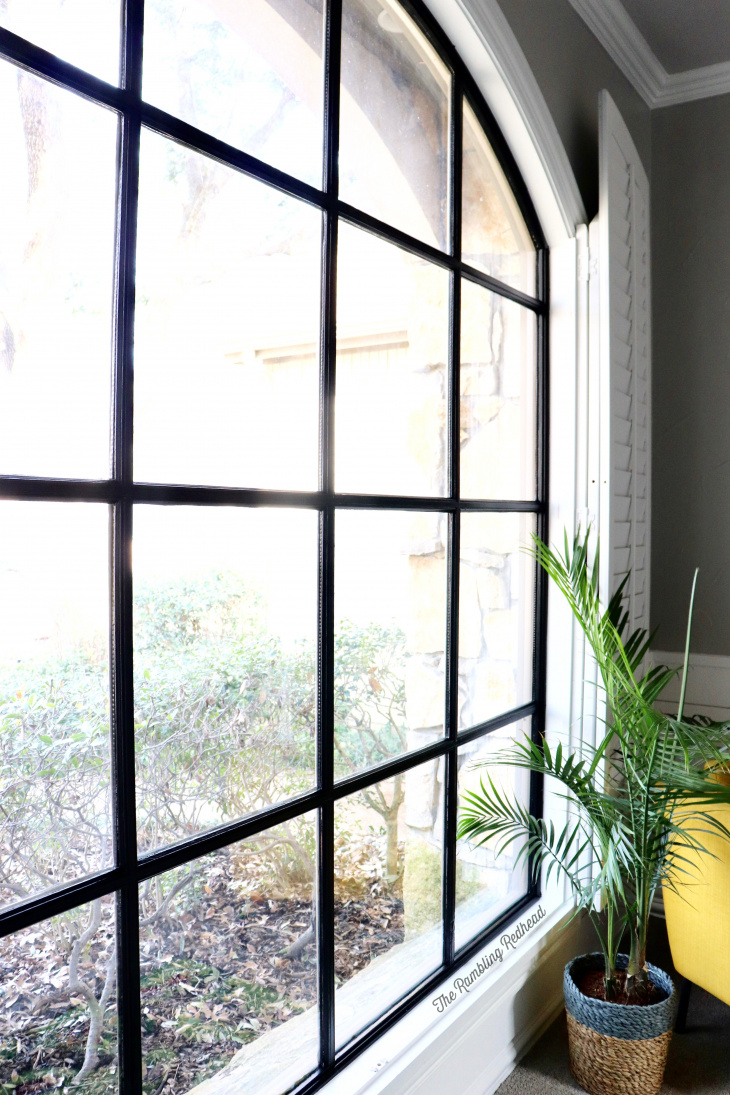 Don't mind the finger prints. Who really knows what type of DNA is on this window. Kids are gross.
---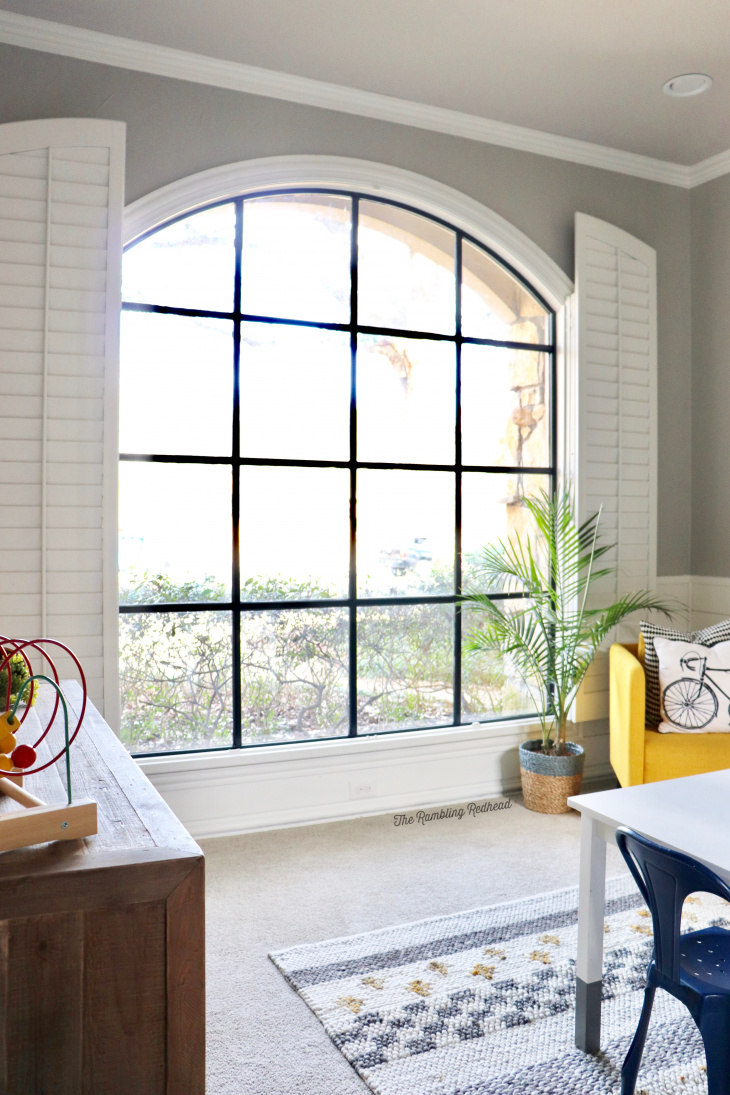 Yep! It's totally painted!
But guess what?…
you can't tell 😉
---
Here is what I used (Linked for easy shopping!)
Sherwin Williams Pro Industrial Tricorn Black. This paint is really good! These window panes have a few layers of paint on them and this paint still isn't chipping off, even when I scratch it with my nail.
Blue Painter's Tape (1 inch)
Paint Brush (1 inch)
Paint brush (tiny!)
---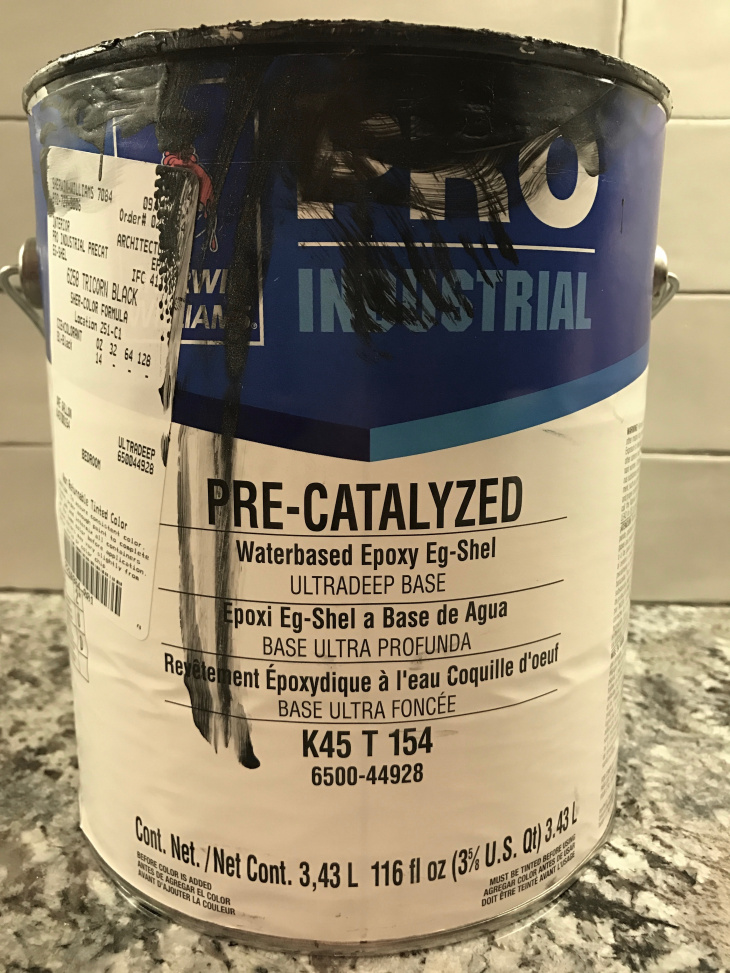 I wanted to show you the paint can so you could see the exact type of paint I went with 🙂
---
How I did the dang thang
Step 1: I first started off by wiping off the window panes thoroughly. I did not sand the panes but it definitely wouldn't be a bad idea! Since I had the painter grade paint and not an ounce of patience, I decided to skip the sanding.
Step 2: I taped around the window panes because it's absolutely necessary to tape for this paint job!
Step 3: I started laying on the black paint like my entire life depended on it.
Step 4: Freaked out. Started second guessing my decision.
Step 5: Kept painting.
Step 6: I painted two coats plus touch ups here and there. I didn't want any brush strokes since I wanted this black window to look like an actual metal window. Paint as many or as few layers as you like, I'm not the boss of you.
I removed the tape and found a lot of this…
---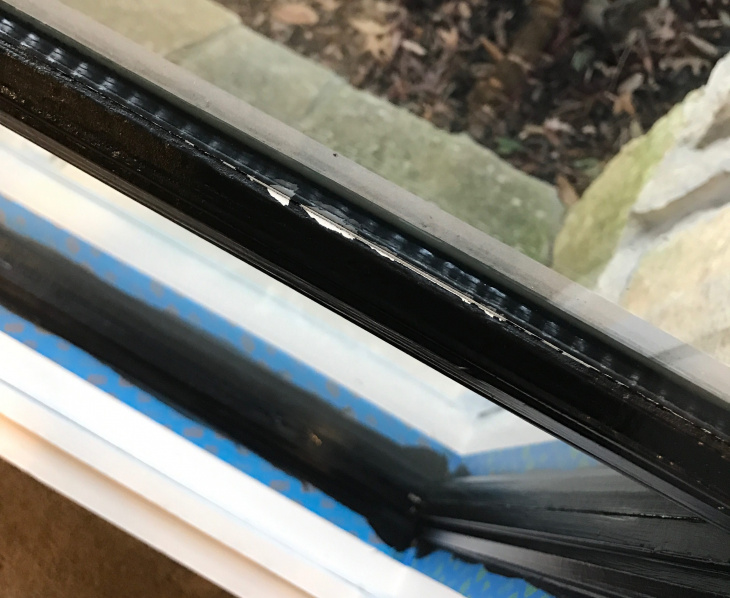 See the little white spots?
---
So, because I wanted no flaws, I went back in with some black paint on a very tiny paint brush (it may have been a child's paintbrush, I'll never tell.) and with the steadiest hand possible filled in all of the trim imperfections.
AND THAT'S IT! 
So stinkin' simple, folks.
Now go wild and paint a window black!
I dare you.
---
Make sure you subscribe to my blog so you get all of my new posts sent straight to your inbox! It's free and pretty darn life changing.
Follow on Instagram for daily home inspiration, tips, and tricks!
Thanks For Pinning!


---
More Popular Home Décor Posts:
White Farmhouse Kitchen Renovation
---
For more humorous, honest parenting and home decor posts like this, please "Like" my Life as a Rambling Redhead Facebook Page!
Follow on Instagram, Twitter, and YouTube.