First things first – I'm pro public school.
I went to public school, my husband who is a West Point grad went to public school, I've always been pro public schools.
I never wanted to homeschool. In fact, as a know-it-all teenager I said some pretty crappy things about homeschoolers, like, "Why would anyone homeschool their child? They can't shelter them from the real world! They are a little different."
*pausing one sec so I can finish eating all of my words.*
I think you get that this wasn't ever on my radar nor did I even know this kind of education existed until I started diving into the homeschool community for a reason that will be explained further into the post.
So here we go with all the explanations….
Disclosure: I am not a University Model/ Homeschool expert. I am simply sharing information and opinions from my own personal experiences. Basically, don't come at me if you don't agree, Sharon. ? Many thanks 😉
---
What is University Model Schooling?
Not all "UM" schools are exactly the same but they are a hybrid education. Some send their kids to the private school three days a week while others send them to school only two days a week. Just depends on the school they attend. The other days are homeschool days where a parent is in charge of teaching. It's basically college-style education taught from Kindergarten. "A days" and "B days" – different schedules. They are taught the lessons by their teacher on "A day" then at home doing assignments that correlate with those lessons on "B day" with Mom or Dad checking work or teaching as well. It's basically college, hence the name "University".
At least this is how our school is structured.
What curriculum do you use?
Again, this depends on the school. Our school picks the curriculum, tells us what we need to purchase on our school supplies list every year (some subjects are provided, just depends on the grade), and then we buy it and show up to Meet the Teacher with it all in hand ready to go!
A lot of moms say, "I could never do UM schooling because I wouldn't know what to teach my kids!" but at our school they have it structured where the teacher sends home the work that needs to be done from their in-school curriculum. It's fool proof. You're there to help assist, answer questions, and be the "homework checker". 😉 You don't have to do any extra planning if you don't want to!
However, I do choose to add in my own curriculum. Which brings us to our next question….
Why did you choose to do University Model Schooling?
Number one question I get on all socials, and I totally get the curiosity! 🙂
Long story cut very short- My son has been blessed with an Eidetic memory. Almost a photographic memory, from what we can tell. He can see things 1-2 times and it's locked in his brain for what seems like forever. Can you imagine how amazing this would be? No more forgotten grocery items... *sigh.
He started reading sight words at 2.5 years old. He could read sight words before he could form verbal sentences. I have a video of me laying out sight word flash cards and asking Von, "Which one says can?" and he'd point to the card that said CAN and I'd say, "say CAN" and he'd repeat it back sounding like a caveman. It made zero sense to me how he could read before he could speak well. It's because he'd hear me say the word and simply memorize it.
Von at age three would toddle into the kitchen first thing in the morning and ask me what the climate of Africa was. So we started there. We started learning about Geography. He was obsessed. By the time he turned four he had memorized the entire globe, each country by its shape. He could also tell you a lot of their populations. That's when he started collecting and reading encyclopedias on every topic you can think of.
Age five was the year of memorizing the periodic table (took him three days) and multiplication…. you catch my drift. Sending him to kindergarten to learn sight words and practice letter sounds seemed crazy… and honestly, just not the right choice for him at that moment.
I chose UM schooling, I say I because I had to talk my husband into the idea for a few weeks before he was on board ;), because he could go to school, have a teacher who was someone other than me, learn classroom rules, eat lunch in a cafeteria with friends, get invited to birthday parties, etc etc all while having a couple days at home where I could give him material to keep him learning at his educational level. Von is all across the board when it comes what "grade" he's in. We are starting a third/fourth grade history curriculum this year, he's in between a sixth to seventh grade level in geography ?, math he's around third/fourth grade, reading around middle school level, where as with handwriting he needs a little extra help! The boy hates writing. But that's what is so cool about this set up, we can totally do it this way! Bonus- I'm not worried about if I'm missing something (teaching wise) because I know that he's getting all of what he needs at his state recognized level in his first grade classroom, if that makes sense.
…. and if we're keeping it 100%, homeschooling two days a week sounded a heck of a lot better than homeschooling five days a week!
It just seemed like the best of both worlds and what he needed at this point, which leads me to….
Will you do UM schooling forever?
Honestly, probably not. It's great for him and what he needs right now but since it is a smaller school he may need better opportunities later in life that a large school district would be able to offer him. We fortunately live in one of the top school districts in the state so our public schools are amazing and have some pretty impressive high school programs. Engineering, robotics, pre-med, an awesome theater program (because we don't know what the kid will do!) all of these are offered in our public school district and if he has interest in those programs and we feel like he needs more then of course we will change course. If only we could see into the future, right?
Is it Christianity based?
Ours is, yes. Which is another aspect that we love. While it wasn't the main reason, educational reasons first brought me to the idea as stated above, now that we have been in it and done it for a year this aspect of the school is SO beneficial. I have teachers that not only teach my kids math that I royally suck at, but also teach them with how to treat people kindly, choose love, respect and obey your parents (can I get an AMEN?!), and tell them how much God loves them every day for who they are…. I mean, how is that anything but amazing for little kiddos? I love that our faith is being brought into the education especially in these young formative years. I feel like it's a great "base" to grow off of. Of course this is just my opinion!
Do you pay tuition?
Yes, just like you would at any private school except our school costs less since they are only going a few days out of the week.
Can anyone go to a UM school?
Of course! However, our school does have a mildly intense application process- student interview, student placement test (to make sure they are on par with their grade level), and then a family interview. It's basically like applying to college. But again, every school is different!
Does your school do state standardized testing?
No, but they do have quizzes and tests throughout the year. I personally am a big supporter of this because I believe that test taking is a skill set that needs to be practiced for college prep. At the end of the year the students do have a day of testing that is part written and part verbal with a teacher that confirms that they comprehended what they covered in their curriculum and are ready for the next grade. It has nothing to do with the state.
Do they have sports and extra curriculars?
Ours does! But again, that depends on the school and how many students they have attending. We also do extra curriculars on homeschool days which is a HUGE perk! No 6 pm dance/gymnastic classes that are packed and chaotic, we do them all during the day! It's so nice! This year both kids are taking piano lessons as well as dance again for Berkley and a coding class for Von all on homeschool days. Von is also doing flag football but those practices are at night since he's playing in a city league. He also does soccer camps at his school… we stay busy to say the least.
Do they have attendance rules?
So, this is the best perk of them all…. our school really fosters family time and vacations. We get something like 18 non-excused absences and then "family emergency days" as well. Needless to say, the families at our school travel quite a bit. It's very common to have kids gone every once in a while on Fridays because their family left for Disney World or Grandma's house on Wednesday after school. I've seen families keep their kids at home for a week because they had a new baby and they want that family bonding time. The reasons vary, but as long as you complete the work that you missed our school does a pretty good job letting the parents decide if their kids are in a good place to miss a few days here and there. What I appreciate most of all is that when kids are sick they typically stay home because the parents don't feel like they HAVE to go or they'll be dragged to court for having too many absences. That is life changing, lol! Traveling is something we plan to do more of once Vivi is just a few months older because we don't know how long we will have this kind of freedom. It really is a blessing!
---
So, that's it! That's University Model Schooling, from our experience, in a very tiny, blog post form, nutshell! This is what we choose to do at this point in our lives and we take it year by year never knowing what we will do the next year because things may change. It's definitely not for everyone but it's been a really cool opportunity for our family. It's put my mind at ease about our son's academic needs as well as given me some extra time with my babies since they are home more often than if they were in public school. 🙂
I don't think I'll ever look back and be like, DANG! I spent too much time with my kids! What was I thinking?! ? So, if anything I am hanging on to that thought and trying to soak up these moments that seem to be flying by.
I feel like I should also say that I love teaching. Like, I LOVE it. Don't get me wrong, some days are hard and not very enjoyable, but overall it has been such a learning and growing opportunity for myself. I'm a "creative" by nature so I love researching fun topics to teach and putting together unit studies for the year!
The last thing I want to leave you with is a reminder that people do this type of schooling for different reasons. Some are educational reasons like us, others love the Christian private school aspect, some families just want more family time, others have parents working unconventional jobs which have them traveling often so the homeschool days give them time with their parents in between business trips… I've heard so many reasons as to why people choose this. I can assure you that it's not because the outside world is scary and dangerous for our children, which is what my, at the time, ignorant self would have been thinking a few years ago.
At the end of the day don't we all just want to do what we feel is best for our kiddos?
I hope this article was insightful and explained a few things! If not, then I'm sorry you wasted minutes of your life reading to this point.
.…you'll never get those minutes back and for that, I apologize.
---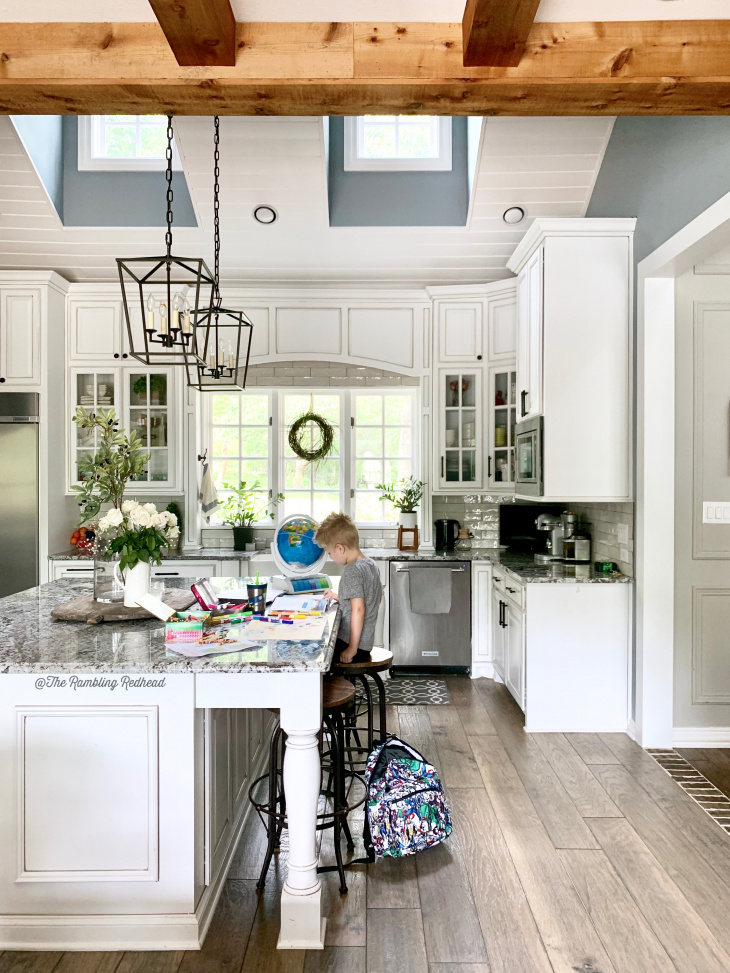 ---
If you're interested in reading more about this topic please check out my friend's blog post where she shares her perspective on a similar type of schooling! Erin (@Cottonstem) and I met through Instagram while mainly focusing on our home décor accounts and have recently learned that we have both chosen to do this type of education!
---
Feel free to share this post if you feel inclined to do so, that's why it's here! ?
---
Like YouTube? I have a large homeschool/ educational toys haul video (updated one coming soon!) As well as a few posts linking tons of educational games, toys, and tools listed below!
Educational Toys That Keep My Kids Busy
Best Amazon Educational Toys for Preschoolers
Coolest Educational Toys that Your Kids Will Want For Christmas
---